Tulsa Election 2011: Blake Ewing in District 4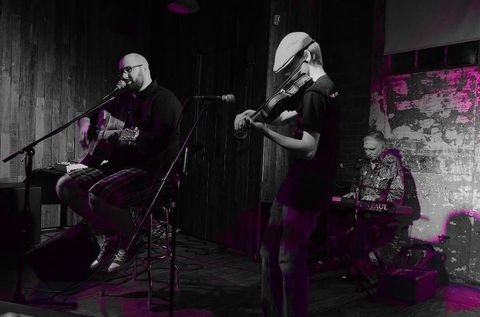 Blake Ewing, Joe Bates, and Rocky Frisco, September 9, 2011. Photo by Trish Molina. Copyright 2011 Aithne Studios. Used by permission.
Of the seven City Council races on today's ballot, the District 4 race, the only one in which I'm allowed to vote, is the only one in which I feel comfortable making an unequivocal and complete endorsement. I am proud to support Republican nominee Blake Ewing for District 4 City Council, and I'm proud to call him my friend.
Everything I said about Blake before the primary still applies:
Ewing is clearly the best choice. A creative entrepreneur, Ewing has built a group of businesses that employ over 100 workers, breathing new life into historic Blue Dome District buildings. He has personal experience with the ways that city government can help or hinder someone trying to start or grow a business.

What I appreciate most about Blake is his frankness and willingness to speak his mind. I don't always agree with him, by any means, but he is willing to think out loud, to think outside the box, and to defend his ideas in depth. Most politicians are content to speak in platitudes; Blake Ewing is willing to talk specifics. You can see that spirit at work in his personal blog.

In building his businesses and in running this campaign, Blake Ewing has come face-to-face with some of the ugliness of Tulsa politics and the establishment that works hard to defend its death-grip on the city. That can be said about many of my acquaintances, but Blake is one of the few people willing to speak out publicly, as he did about his interaction with political consultant Karl Ahlgren, whose services Ewing chose to reject.
After his primary win, Blake posted answers to tough questions about historic preservation and protecting neighborhoods against inappropriate infill development while encouraging quality infill development. Not surprisingly, the build-anything-anywhere developer lobby supports Ewing's opponent, Ken Brune.
(It's become a running joke: At every forum I've attended, Brune defends his preservationist bona fides by citing his involvement with "Tulsa Foundation of Architects." The name of the organization is, in fact, the Tulsa Foundation for Architecture. While his stewardship of the Reunion Building at 4th and Main is praiseworthy, Brune's willingness to sacrifice HP-zoned residential areas "on a case by case basis" for the right development means we can't trust Ken Brune to protect the investments of residents in historic neighborhoods.)
Blake Ewing has run a relentlessly positive campaign, despite the negative attacks from his opponent and allied elements of the Cockroach Caucus. Blake is willing to argue his views, but always in a respectful and positive way, with a view toward maintaining the ongoing relationship with those who hold different views.
It's crucial that Tulsa has at least one independent, intelligent, creative, and courageous voice on the City Council. Blake Ewing is the man for the job.
MORE:
Blake Ewing's response to the OK-SAFE questionnaire. (Brune did not respond.)
Audio of the KWGS / Kiwanis Club Tulsa City Council District 4 debate, October 25, 2011.
Blake Ewing's response to the Preserve Midtown questionnaire. (Brune did not respond.