International Western Swing: Little Kim and the Alley Apple 3
Second in our series documenting the international reach of western swing music and compiling an invite list for Tulsa's (purely hypothetical at this point) International Festival of Western Swing.
From the Bananapeel Jazzclub in Ruiselede, Belgium, here's Little Kim and the Alley Apple 3, performing the Johnnie Lee Wills song, "The Thingamajig," written by Cindy Walker. I enjoyed hearing her introduce the song in Flemish before singing it in unaccented English.
I don't believe her rig needs fixing at all.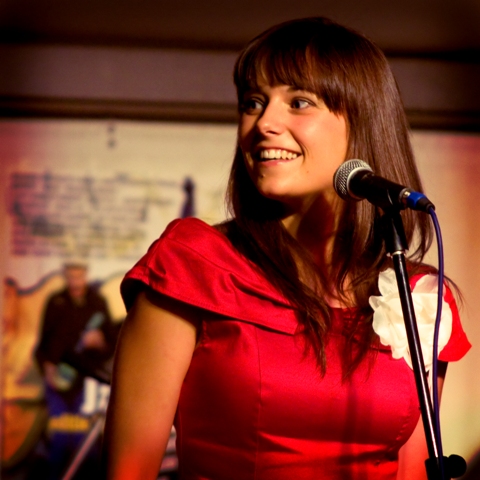 From the band's website:
The story of "Little Kim & the Alley Apple 3" begins with an ad in the music section of "Den Artiest". By the end of 2005 Kimberly (vocals) was looking for a new musical project ... in the tradition of the great female performers of the hot jazz era, like: Billie Holiday, Ella Fitzgerald, Blossom Dearie, Kay Starr, The Boswell Sisters, Bessie Smith, Mildred Bailey, ...

By the time Tom (Guitar) answered her ad ... he had already gathered around two fine musicians: the boy wonder of the lap steel guitar Pat Cattoir & the man with a plan Slappin' Slim (Bull Fiddle). Their intention was to go on the road with self written material ... in a traditional honky tonk style ... the kind Hank Williams would have liked .

When Kimberly and the gang finally met on a cold and windy winter evening, you could tell ... there was an immediate spark of inspiration between the four ... a spark that hasn't dimmed since ...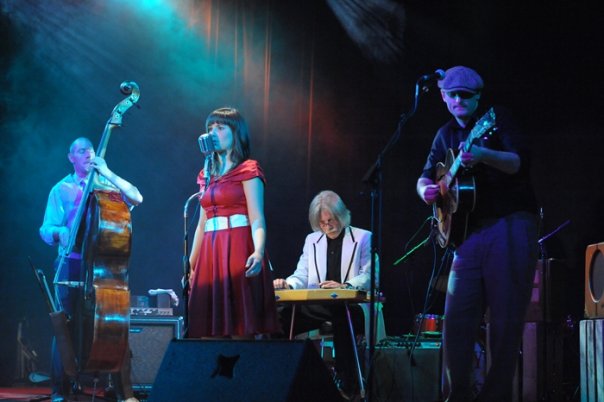 Photo from the band's Facebook page: "CC Cité Culture Brussel (photo: Freddy/ Rootsville)"
From an interview at Rockabilly Online:
Starting out as a singer, I was heavily influenced by Patsy Cline, Wanda Jackson, Peggy Lee, and too many to mention ...

Although "the Alley Apple 3" had a kind of honky tonk style in mind ... for everyone, it was very clear from the start that we needed to go ahead in this western swing genre. Mainly because my voice fits swing more than it fits honky tonk....

Sometimes we show up at a venue and people start coming in, dressed in cowboy boots and Indian costumes. No kidding They must think we play some cowboy- shooting-Indian-kind-of-music. But of course that's not really us. We just like to mix different genres ... and in the end, that's how western swing got started anyway. Mixing all kinds of music: polka, swing, jazz, honky tonk, ... It keeps it interesting for us.

Their gear, according to the description of a video of the band performing "Whoa Babe" and an original tune, "Before the Storm":
Little Kim & the Alley Apple 3 use:

a 1949 Fender Custom Double 8 lapsteel guitar
a 1848 French Double Bass 'Charotte Millot-Mirrecourt'
a 1947 Gibson L7 archtop
2 Gibson BR 6 amps (both 1951)
a fifties Floating Dearmond Pickup (Mod 1000 Rhythm Chief)
a fifties Floating Dearmond Pickup (Mod FCH-C)
a vintage Ampeg Portaflex bass amp
a Gibson 1955 L49 archtop
a Fender silverface Vibrolux amp
MORE LINKS:
Little Kim and the Alley Apple 3 on YouTube
Little Kim and the Alley Apple 3 on Facebook