Tulsa Playboys at Cain's tonight, Thursday, January 12, 2012; Tommy Duncan Celebration Saturday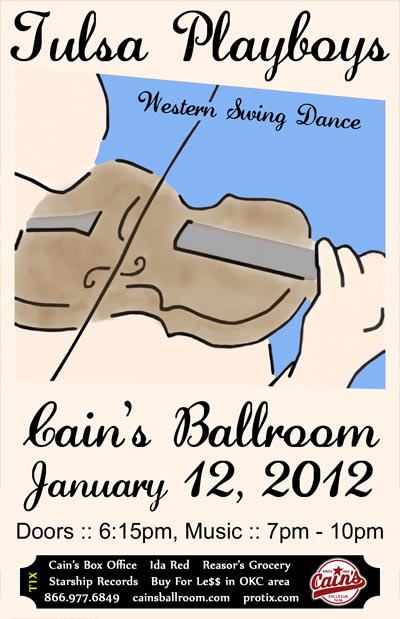 Local western swing band, the Tulsa Playboys, play their monthly dance tonight (Thursday, January 12, 2012) at Cain's Ballroom tonight at 7 p.m. Tickets are $12.50 and can be purchased at the door or by phone at (866) 977-6849. Student tickets ($5) are available only at the door.
According to Shelby Eicher, posting on the TexasPlayboys.net discussion board, they'll have triple fiddles tonight with Jake Duncan added to their usual lineup: Shelby Eicher and Rick Morton, fiddles; Steve Ham, trombone; Mike Bennett, trumpet; Steve Bagsby, steel; Spencer Sutton, piano; Rodney Lay, bass; Ryan Shephard, drummer and Danny McBride, guitar.
Distinctly Oklahoma magazine has a great story in their January 2012 issue about the Tulsa Playboys and the Tulsa western swing tradition they've inherited from Bob Wills and Cain's Ballroom.
The article is headed by a great quote from Bob Wills that gets to the heart of western swing: "I need no applause. The only clapping I want to hear comes from the sound of dancing feet...."
(No mention, though, of two former Texas Playboys who kept western swing going in Tulsa long after World War II, when Bob left for California: Johnnie Lee Wills, who carried on for another 14 years or so at Cain's and on KVOO, and Leon McAuliffe, whose Cimarron Boys played at the Playmor and Cimarron Ballrooms and on KRMG.)
MORE:
DFW.com has a story this week about the western swing scene in Fort Worth and the rest of Texas, mentioning Hot Club of Cowtown, Asleep at the Wheel (both based in Austin), Shoot Low Sheriff (from Dallas), Great Recession Orchestra (from Fort Worth), the Quebe Sisters Band, and the long-running Light Crust Doughboys, founded by Bob Wills and Milton Brown in 1931 for a radio show advertising a flour mill, before they launched their own bands. That article has several embedded videos of the aforementioned bands.
The story also links to the website of Western Swing Monthly, which has a calendar of all the big western swing festivals around the country.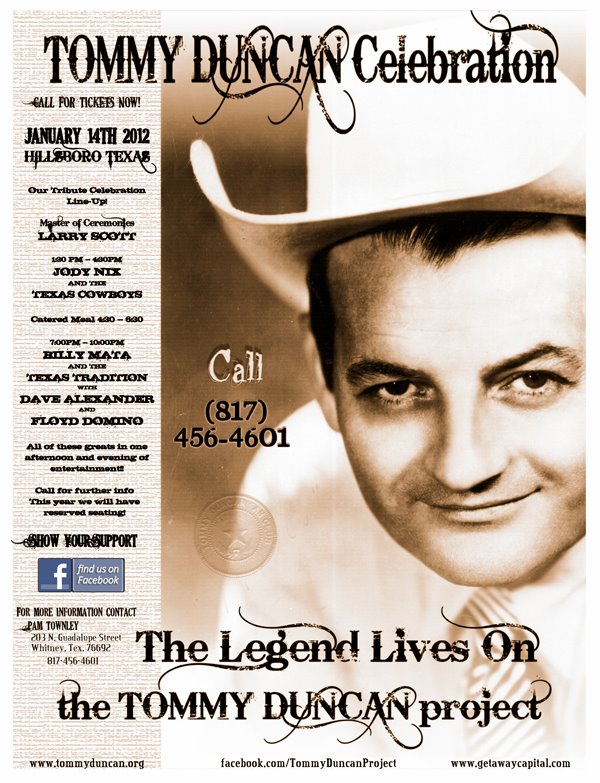 Coming up this Saturday, January 14, 2012, in Hillsboro, Texas, (where I-35 W meets I-35 E south of DFW) is the 2nd Annual Tommy Duncan Celebration, remembering the talented Texas Playboys vocalist on his 101st birthday. Jody Nix and the Texas Cowboys will perform from 1:30 to 4:30, a catered dinner from 4:30 to 6:30, and then Billy Mata and the Texas Tradition performs from 7 to 10, with Floyd Domino and Dave Alexander. Billy's voice has an uncanny resemblance to Tommy's, and he is in the midst of issuing a trilogy of albums tracing Tommy Duncan's career. Call Pam Hulme-Townley in advance for tickets and guaranteed seating -- 817-456-4601. You'll find all the details about the Tommy Duncan Celebration at this link. The story in the Hillsboro Reporter notes that they're still working on a documentary about Duncan:
A documentary on Tommy Duncan, entitled "In The Shadow of the King," by director Curtis Callaway and his crew from Baylor University continues in its production. It will include interviews with many of the former Texas Playboys, other prominent members of the Western Swing community, plus the official Cowboy Poet of Texas, Red Stegall.

The documentary also will feature interviews with Merle Haggard and Willie Nelson.
The documentary is in need of funding. For more information on sponsorship opportunities, visit www.tommyduncan.org.
The Reporter story also mentions that Scottish playwright Duncan MacLean will be at the Tommy Duncan Celebration. MacLean is also a guitarist in the Orkney Islands-based Lone Star Swing Band, and the band is in the US to perform MacLean's play Long Gone Lonesome about the life of Shetland Islands musician and fisherman Thomas Fraser.
When you consider the worldwide reach that western swing music has, with fans and bands from Tulsa to the Orkneys to Japan to Australia, don't you think there ought to be an international western swing festival to bring those bands and fans together, and don't you think it ought to be right here in Tulsa?
VIDEOS:
Here are the Tulsa Playboys with "Miss Molly," from last July:
Here are the Quebe Sisters, putting the swing in western swing playing triple fiddles on "Take the 'A' Train":
But you really have to hear them sing -- here they are on "It's a Sin to Tell a Lie," from their 2010 UK tour: