House District 71 primary Tuesday; UPDATE: Candidate confused about 1st Amendment?
CORRECTION 2012/02/12: I had erroneously listed Evelyn Rogers as a librarian at ORU. According to her response to the House 71 League of Women Voters candidate questionnaire, she is a librarian at TCC, and I have corrected the text below accordingly.)
UPDATE 2012/02/12: See below regarding an odd complaint about this entry which appeared (briefly) on candidate Lydia d'Ross's website.
In addition to a handful of school board races around Tulsa County, there will be a primary on Tuesday, February 14, 2012, to fill a vacancy in House District 71. The incumbent, Dan Sullivan, resigned to replace Kevin Easley as head of the Grand River Dam Authority. The primary will choose two candidates to compete head to head on April 3.
District 71 covers the area between Lewis and Riverside, 21st and 81st, minus a small section just southwest of 21st and Lewis (part of Precinct 71). The district has almost always voted Republican, but this time there will be a Democratic primary, too. Democrat Roy McClain was the only Democrat ever to represent HD 71, winning the general election in 2002 after a scandal involving Republican incumbent Chad Stites surfaced too late in the process for Stites to draw a Republican challenger. Dan Sullivan defeated McClain for re-election in 2004.
The north end of the district includes some very expensive neighborhoods; the south end includes some middle-class subdivisions and apartment complexes, many of which are subsidized.
Four of the Republican candidates are women; both Democrats and one Republican are men.
Lydia d'Ross is the Oklahoma State Director of the National Hispanic Christian Leadership Conference (NHCLC). She has a Master's in Public Administration from Regent University School of Government. She serves on the Tulsa County Republican Executive Committee and the Greater Tulsa Hispanic Chamber of Commerce
Katie Henke is a native Tulsan, a graduate of the University of Alabama in early childhood development, and formerly a teacher at the Little Light House, Montessori School, and Riverfield Country Day School. She has served on the Tulsa County Republican Executive Committee. Her husband, Frazier Henke, is president of American Bank and Trust and has served as chairman of the City of Tulsa Board of Adjustment and vice chairman of the Tulsa County Republican Party.
Bonnie Huffines is a songwriter of Christian worship music, a former owner and operator (for 16 years) of a state-licensed day care, is a board member of the Brookside Neighborhood Association, and is active in local Republican organizations. She and her husband John Huffines have a Christian ministry called Jesus Praise 24-7, which appears to have as its goal establishing places where worship would take place around the clock.
Gerald Lovoi is an attorney. He ran in the Council District 9 Republican primary in 1998. (I remember appearing at a couple of candidate forums with him.) He does not appear to have a campaign website; the link goes to his law firm website.
TCC librarian Evelyn Rogers is a perennial candidate.for office. It doesn't appear that she has a website this time around.
Among the Democrats, Dan Arthrell is the Community Service Council's Director of Public Policy and Intergovernmental Relations.
Robert Walpole is an attorney and doesn't seem to have a website.
Here's the complete list of candidates, with website links where available.
Republicans:
Lydia M. D'Ross, 48, 7742 S. Victor Ave., Tulsa, OK 74136
Katie Henke, 31, 2300 Riverside Drive Unit 5E, Tulsa, OK 74114
Bonnie Huffines, 60, 256 E. 46 St., Tulsa, OK 74105
Gerald J. Lovoi, 51, 3905 S. Norfolk, Tulsa, OK 74105
Evelyn L. Rogers, 59, 6710 S. Quaker Ave., Tulsa, OK 74136
Democrats:
Dan Arthrell, 65, 1626 E 36 Place, Tulsa, OK 74105-3222
Robert J. Walpole, 57, 1133 E. 36 St, Tulsa, OK 74105
History of HD 71 representatives:
Warren Green (R), 1964-1976
Helen Arnold (R), 1976-1982
Bill Clark (R), 1982-1988
Rob Johnson (R), 1988-1994
John Sullivan (R), 1994-2002
Chad Stites (R), 2002
Roy McClain (D), 2002-2004
Dan Sullivan (R), 2004-2011
MORE: The House District 71 League of Women Voters candidate questionnaire was completed by four of the five Republican candidates and both Democrats. Lydia D'Ross did not return a questionnaire. From the responses, particularly on whether to reduce or eliminate the state income tax, it's apparent that the general election will feature a clear contrast between the Democrat and Republican nominees.
Four of the five Republicans responded to the House District 71 Oklahomans for Life questionnaire. (Neither of the Democrats did, and, once again, D'Ross was the lone Republican not to respond.) Of the four Republicans who answered the questionnaire, three -- Henke, Lovoi, and Rogers -- hold pro-life positions across the board, while Huffines gave pro-life answers to 10 questions and did not answer the remaining two questions which dealt with life-saving medical treatment.
And here is a strange: Sunday morning, February 12, 2012, Lydia d'Ross's website included a special page, headlined "Bateline News" [sic], with a link to this entry and the statement: "Bateline news writes about Lydia without permission." (Click to see full-size, as it appeared on a smartphone screen.)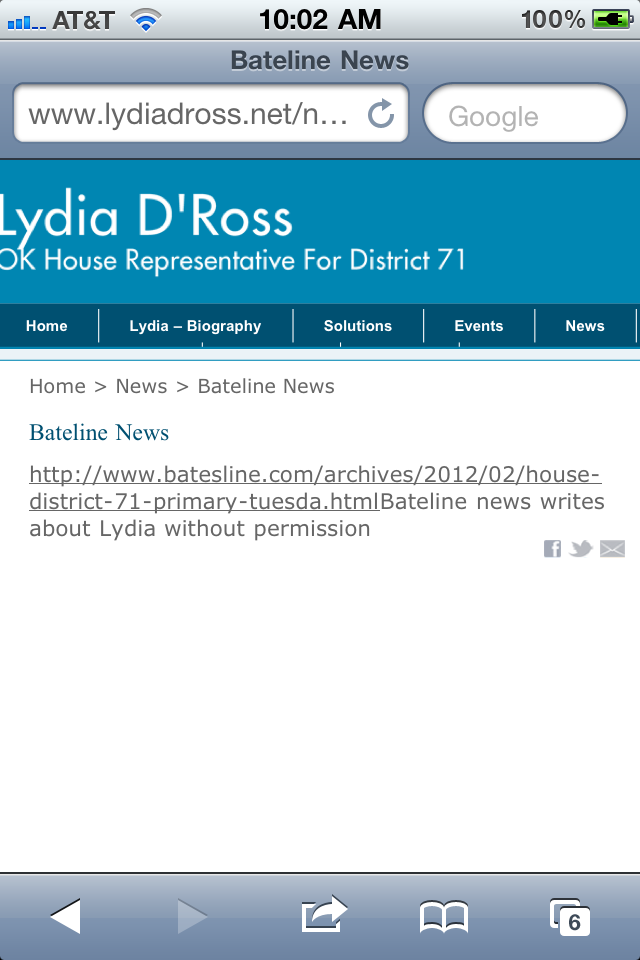 By the time, I learned about it, the page had vanished, but a remnant still appeared in the Google search results (click for full-size):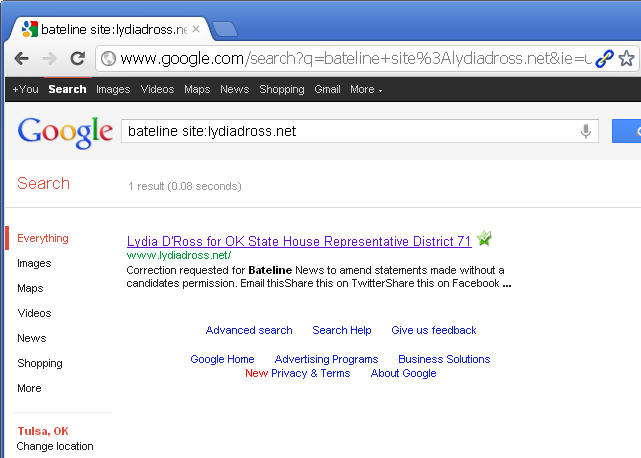 The search result excerpt read: "Correction requested for Bateline News to amend statements made without a candidates permission."
There may be some confusion here about freedom of speech and freedom of the press.
And stranger still, it appears that a reference to the Greater Tulsa Hispanic Chamber of Commerce has vanished from her list of involvements on the home page of her website. A Google search for "hispanic chamber" site:lydiadross.net turns up three results, including her home page. The Google screen capture (click to view) shows "Greater Tulsa Hispanic Chamber of Commerce" between "Greater Tulsa Hispanic Affairs, Chair, International Committee" and "Tulsa Hispanic Human Resources Association," but a visit to the site at 10 p.m. Sunday shows that the Hispanic Chamber reference has vanished from her homepage.