Tulsa school board: For Bruce Niemi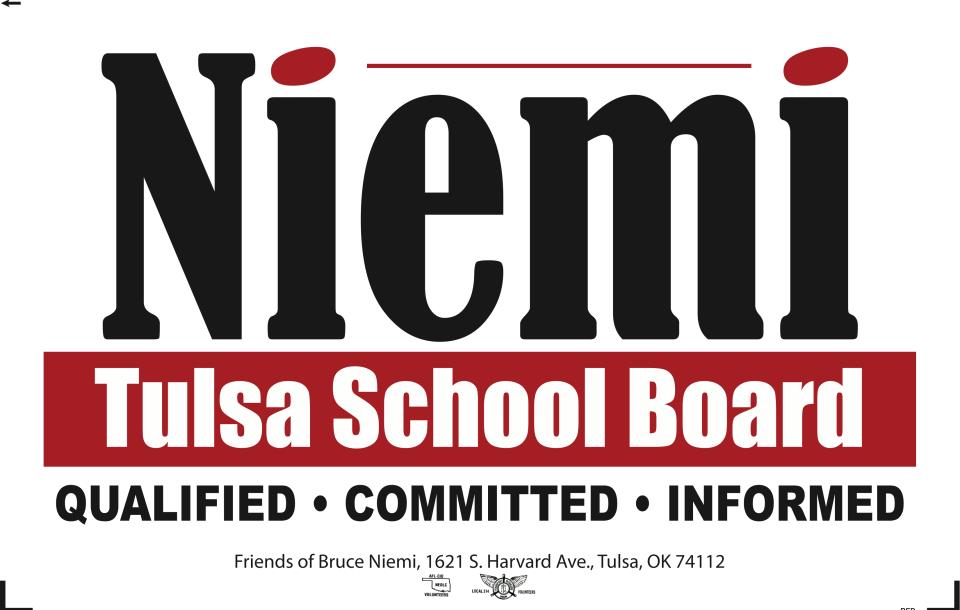 Although two Tulsa school board seats are expiring, only one has a contested election next Tuesday, February 14, 2012. That's in School Board Office 5, where former State Rep. Bruce Niemi faces Leigh Goodson in a contest to replace incumbent Brian Hunt, who chose not to run for re-election.
Election DIstrict 5 can be described as 11th to I-44, Yale to the Arkansas River, minus everything northwest of 21st and Utica, and minus everything southeast of 41st and Harvard, plus a bit south of I-44 between Riverside and Peoria. (Here's a map showing all of Tulsa School's election districts.)
I wish I could tell you that a conservative Republican reformer is on the ballot, but both candidates are registered Democrats. One, Niemi, is an outsider running an issue-driven campaign fueled by a lifetime of involvement in education; the other, Goodson, is an insider running a personality-driven campaign -- pretty four-color pictures and glib generalities.
Without a doubt, Bruce Niemi is a liberal, and he and I disagree not only on national issues, but on some local and school issues as well.
But Niemi is not afraid to deviate from the party line. He was a vocal and visible supporter of the Taxpayer Bill of Rights, pointing out that state spending had doubled between 1992, his last year in office, and 2005, when the TABOR initiative petition was being circulated. Niemi also supports limits on eminent domain, backing a state proposal that would have expressly prohibited government from using eminent domain to transfer property to a private entity.
Often, on matters of government transparency, accountability, and openness, conservatives and liberals can be allies, working together to defeat the insiders who nominally belong to the left or the right, but whose real driving interest is working the system for their own benefit.
Bruce Niemi believes that the school board should act as the governing body of the school system, overseeing and holding the administration accountable. That seems obvious, but too often a school board serves as a rubber stamp for the current superintendent and administration. (That's when you wind up with a mess like the Skiatook school scandal.)
Niemi appreciates the importance of schools to the fabric of a neighborhood, and I trust him to ensure that whatever is done with our closed schools, like Barnard and Wilson, is respectful of the neighborhood and of the school's history.
Niemi supports the expansion of charter schools, opposes the district's wasteful lawsuits against state school choice laws, and supports the idea of the "Tim Tebow" law, which would give homeschooled children equal access to extracurriculars at their local public schools.
Last Saturday morning, Republicans gathered at precinct caucuses across Tulsa County. Precincts in House District 70 had a joint meeting at the Herman & Kate Kaiser Library in LaFortune Park. Niemi took the time to come by and to introduce himself briefly. As an active grassroots Democrat, he could appreciate the importance of these little meetings. (Goodson didn't come by, nor did she send a surrogate.)
If you live in Election District 5, I encourage you to join me in voting for Bruce Niemi next Tuesday.
MORE: Tulsa Kids profiled Bruce Niemi and Leigh Goodson in the February issue.
0 TrackBacks
Listed below are links to blogs that reference this entry: Tulsa school board: For Bruce Niemi.
TrackBack URL for this entry: http://www.batesline.com/cgi-bin/mt/mt-tb.cgi/6327