MEND marks 25 years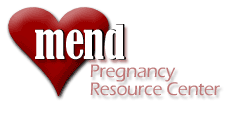 Earlier this evening, I attended the annual fundraising banquet for MEND Medical Clinic and Pregnancy Resource Center. MEND was founded in 1987 to provide pregnant women in crisis pregnancies in the Tulsa area with the resources they need to say "yes" to the new life growing within.
In 2011, MEND worked with over 1,500 clients, and provided tens of thousands of diapers, infant and maternity clothes, baby food and formula. MEND's clinic conducted 278 ultrasounds, and of 226 pregnancies confirmed through ultrasounds, 204 clients chose life. MEND accomplishes much with a small staff and a small budget. They are happy to receive gently used maternity and baby clothing and equipment, but their greatest needs are for volunteers and financial support, so that they can expand the number of women they can help.
According to their website, MEND can help with limited ultra sound, limited STD testing, confidential counseling, childbirth and parenting classes, adoption referrals, medical, legal, and housing referrals, maternity and baby clothes, baby furniture, diapers, formula, and baby food, abortion information and education, and support groups.
The MEND wish list includes $3,400 to buy a new outdoor sign for the facility, $1,300 to cover the cost of pregnancy tests, $750 / month to rent a billboard to advertise MEND to women in need of help. It also includes 30 committed volunteers: Spanish speakers, client mentors, client advocates, and clerical and computer help in the office.
Contrary to the caricatures of the pro-abortion industry, pregnancy resource centers are there to help women for the long haul, providing support and encouragement through pregnancy and after the baby is born. At the same time, they offer help and support to those hurting from abortions in their past.
There was a special acknowledgment of recently retired cofounder and director Nancy Roe, who spoke about the founding of MEND, how it was inspired in part by Bernard Nathanson's film "Silent Scream" and her own experience helping a young woman in a crisis pregnancy and the sense that God was calling her to respond with action.
Nancy Roe's successor as executive director is Forrest Cowan. He noted the incongruity of being a man in an organization with an overwhelmingly female staff, but the situation has already brought opportunities for him to talk with the young men who sometimes come along with women to the clinic. Many times what makes a pregnancy a crisis is the absence of a man to support and care for the mother and the baby. While it isn't MEND's core mission to address the deficit of male leadership, commitment, and responsibility, that deficit is one of the reasons a place like MEND is needed.
A highlight of the evening was a live pre-natal ultrasound. MEND Medical Director Dr. Matthew Stevens and his assistant were in a partitioned room with the mom-to-be, while the images were shown on big screens at the front of the room. It brought back happy memories of seeing the ultrasounds of our three children to see this little one wiggle and kick, and to see and hear its tiny heart beating.
I was pleased to see State Rep. Pam Peterson, who served on the MEND board prior to her election to the legislature and who has authored many pro-life bills, including the heartbeat bill in the current session; State Sen. Brian Crain, who is the lead sponsor for the personhood bill; and Rogers County Republican vice chairman Jason Carini, who is a candidate for State House District 23, a seat that is open because Rep. Sue Tibbs is term-limited. The political aspect of the pro-life cause is important, but these politicians understand the vital needs filled by an organization like MEND, which is there to provide direct assistance to women in crisis.
It was also encouraging to read the names of companies in the list of donors: Apache Corp., Thermal Windows, Warren Clinic/St. Francis Health System, Dixie Moseley Interiors, KCFO, Improving Lives Counseling Services, Coreslab Structures, Helmerich & Payne, Paradigm Construction & Engineering, Smith/Latta, Trinity Chemical. Carpentree.com, Glenpool Flowers, Heart's Desire Baskets and Gayle Falconer, TheBookProducer.com and Jim Weems, Doug & Norma Latta, musician Faith Kelley, and graphic designer Anna Rose were acknowledged with special thanks for their in-kind contributions to the fundraiser.
Eight churches were on the list of donors, demonstrating their commitment to the sanctity of human life: Christ Presbyterian Church, First United Methodist Church of Tulsa, Grace Lutheran, Kirk of the Hills, Northside Christian Church, Trinity Lutheran, Tulsa Christian Fellowship, Victory Christian Center.
If you believe in the sanctity of human life, I urge you not only to vote your values on election day, but also to get involved with MEND. Give -- you can sign up online for a one-time contribution or a recurring contribution. Encourage your church to support MEND as part of reaching the local "mission field." Volunteer to be a mentor. Pray for the women who come to MEND, for women who in crisis pregnancies who are looking for support but have yet to find a place like MEND, and for the staff and volunteers who work with them.
MEND Medical Clinic / Pregnancy Resource Center is located at 6216 S. Lewis, Suite 100, Tulsa, OK 74136, 918-745-6000.
0 TrackBacks
Listed below are links to blogs that reference this entry: MEND marks 25 years.
TrackBack URL for this entry: http://www.batesline.com/cgi-bin/mt/mt-tb.cgi/6378