Why we need voter ID: Investigator offered Attorney General's ballot
A member of the Project Veritas investigative journalism team went into a District of Columbia polling place last Tuesday and was offered a ballot by a poll worker who assumed he was U. S. Attorney General Eric Holder.
Man: "Do you have an Eric Holder, 50th Street?

Poll worker: "Let me see here."

Man: Xxxx 50th Street.

Poll Worker: Let's see, Holder, Hol-t-e-r, or Hold-d-e-r?

Man: H-o-l-d-e-r.

Poll Worker: D-e-r. Okay.

Man: That's the name.

Poll Worker: I do. Xxxx 50th Street NW. Okay. [Puts check next to name, indicating someone has shown up to vote.] Will you sign there . . .

Man: I actually forgot my ID.

Poll Worker: You don't need it; it's all right.

Man: I left it in the car.

Poll Worker: As long as you're in here, and you're on our list and that's who you say you are, we're okay.

Man: I would feel more comfortable if I go get my ID, is it all right if I go get it?

Poll Worker: Sure, go ahead.

Man: I'll be back faster than you can say furious!

Poll Worker: We're not going anywhere.
Holder is seeking to block implementation of Texas's voter ID law and has denied that there is a problem with in-person voter fraud.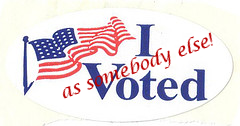 The Department of Justice calls this video a "manufactured example" of voter fraud, but had this been a real voter fraud effort, there would be no evidence at all that it had occurred. Holder might have shown up later in the day to vote for his boss in the DC presidential primary and been turned away as having already voted, which would reveal that a fraudulent vote had been cast. The only hope for catching the culprit would have relied upon whether the poll worker had a sharp enough memory to recall the appearance of one among thousands who had asked for a ballot that day. An organized fraud effort would use publicly available voter records to identify infrequent voters unlikely to show up on the day of the targeted election.
Opponents of voter ID laws claim that there's little to no evidence that this sort of fraud exists, but that's usually because the sorts of tests you might do to uncover it are either against the law or are not pursued by authorities. What Project Veritas is doing here is probing the system, the way TSA might try to send someone through airport security with contraband, to see if the screening process is adequate and is being correctly carried out by the agents. Perhaps fear of being embarrassed by an independent investigation will spur election boards to be conducting such probes themselves. If they really cared about election integrity, they'd be probing the system already.
The problem here is not with the poll workers but with the rules they have to follow. John Fund notes:
There is something surreal about the voter-ID issue. As James O'Keefe demonstrates, it is comically easy to commit voter fraud in person, and, unless someone confesses, it's very difficult to ever detect. With absentee balloting, there is a paper trail that makes it easier to uncover fraud, making it a problem that even some critics of photo ID will admit.
Voter ID support usually breaks along partisan lines, but Fund tells of one Democratic legislator who has bucked his party for getting a voter ID law passed:
State Senator Harold Metts of Rhode Island got a photo-ID law put on the books in his state last year after he was told by several constituents of a pattern of voter fraud in his home town of Providence. Indeed, his own state representative and her daughter had their votes stolen by someone voting in their names in one election. "The old system was not set up to readily weed out fraud, and it would be very hard to prove," he told the Woonsocket Patch newspaper. Metts, the state senate's only African-American member, says that he took a lot of heat from national Democrats for getting the ID law approved by an overwhelmingly Democratic legislature. But he says party loyalty only takes him so far. "It's time to stop crying wolf and make the voter-ID law work for those on both sides of this issue who want to ensure the integrity of the system, while guarding against disenfranchisement."
I'm thankful that Oklahoma, at long last, has a voter ID law, thanks to the tireless efforts of State Rep. Sue Tibbs.