Bill Christiansen opposes Vision2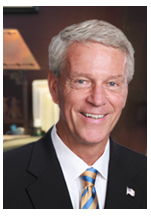 In a Thursday press release, former Tulsa City Councilor Bill Christiansen, the only announced candidate for next year's mayoral election, announced his opposition to the Vision2 Tulsa County sales tax scheme on the November 6, 2012, ballot.
In his statement, Christiansen, who served on the Dialog/Visioning Task Force Steering Committee that assembled the Vision 2025 plan in 2003, contrasts the lengthy process that led to Vision 2025's list of projects to the hastily and haphazardly assembled Vision2 grab-bag.
Christiansen rightly characterizes the public meetings on Vision2: "The five Vision2 meetings consisted of people who wanted money for their project or people who were against the proposals all together." He calls for a focus on meeting our essential needs first and then talking about how to prioritize the "nice to have" items.
Christiansen's statement in full:
The citizens of Tulsa have before them a new $748.8 million Vision2 Plan that contains two propositions for the voters to consider on November 6th. The Vision2 Plan has an "Economic Development" portion and a "Quality of Life" portion, with each part approximately the same size. The sponsors of the proposal have had an input period of roughly two months to hear one-way public comment on the "Quality of Life" issues only.

I attended all the public Vision2 meetings and was amazed to see the process moving forward so quickly, especially considering the staggering financial size of the issues and the far reaching ramifications of the projects themselves. As a member of the Vision 2025 leadership team, we spent over a year taking public input and having public discussion with complete transparency and openness of what that vision entailed. On election day, all citizens of Tulsa County knew exactly what they were voting for. Vision2 is considerably larger and is being pushed through the process without open discussion and one-on-one dialog with their elected officials. The five Vision2 meetings consisted of people who wanted money for their project or people who were against the proposals all together. Many of the projects are worthy, but when you get into the details, many are things that would be nice to have rather than the essential needs of our citizens.

I am not against exploring the needs of the city. I am not against these proposed projects. I am for focusing on our immediate needs. Once those needs are met, let's prioritize our "wants". We need to focus on repairing and widening our streets and making certain public safety is funded properly so all Tulsans can feel safe in their city.

This process deserves the same level of analysis we did with Vision 2025. There is no need to rush these Vision2 projects. I believe we need to hold on this Vision2 proposal and believe we can accomplish a better vision for our future.

We have the time to do it right, we won't have the chance to do it over.
0 TrackBacks
Listed below are links to blogs that reference this entry: Bill Christiansen opposes Vision2.
TrackBack URL for this entry: http://www.batesline.com/cgi-bin/mt/mt-tb.cgi/6590