Reason misses the story on Dewey Bartlett Jr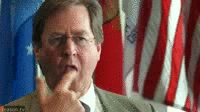 My guess is that Tulsa Mayor Dewey Bartlett Jr has a friend at the libertarian Reason Foundation or has a friend who is a major donor to the organization, because they've posted another story -- with video this time -- hailing him as a budgetary genius. Clearly, the only Tulsans they've been asking about Bartlett's record are Bartlett himself and his publicist. Earlier this year, an article appeared on the Reason Foundation's website under Bartlett's byline.
The article, posted on December 10, 2012, began:
When Mayor Dewey Bartlett took office on December 7, 2009, Tulsa, Oklahoma was in its worst budget crisis since the Great Depression.

"We would have probably had to file for bankruptcy," Bartlett tells Reason TV. "It certainly got us focused on how to run a government better."

With a $10 million budget shortfall and employee compensation spiraling out of control, thinkng about layoffs was just the beginning. Bartlett schooled himself about the budget and decided to focus "on things a government really should do and also make a decision on what a government really doesn't need to do." He reformed pay for police and firemen, sold unused vehicles and property, and privatized some city services, including the city's zoo.

Worst budget crisis since the depression? Tulsa had a deeper crisis in 2002, when Susan Savage was leaving office. Officials projected a $11.3 million shortfall. Incoming Mayor Bill LaFortune and the City Council approved an FY03 budget that was $13 million lower than its FY02 budget. They didn't raise taxes, either.
Bankruptcy? Mayor Junior doesn't know the meaning of the word. There was no chance that Tulsa would default on its general obligation debt, funded by property tax, or its revenue bonds, funded by sales taxes. You don't declare bankruptcy just because you don't have as much money to spend as you expected. You declare bankruptcy when you can't even make the payments on your debt. The City of Tulsa had to tighten its belt, like nearly every Tulsan has had to do. Unlike cities in some other states, Oklahoma's cities and towns are required by state law to balance their budgets every year.
It's nice that Bartlett Jr bothered to "school[] himself on the budget" after he was sworn in. Many candidates for public office feel an obligation to study the issues before running, but clearly that was unnecessary for a candidate with a famous name and a pile of daddy's money.
In the video, there's a cameo (likely unintentional) by Bartlett's former chief of staff Terry Simonson, who is seen pushing through a door marked Office of the Mayor at 14 seconds into the video.
At 2:22, Bartlett begins to talk about the Management Review Office, and a pull-quote appears from a May 2011 Tulsa World web story, headlined "Management Review Office tackles 18 projects."
The city's Management Review Office - created to vet and help implement the KPMG study's efficiency recommendations - is working on projects that are expected to save Tulsa a minimum of $2.6 million annually.
$2.6 million is certainly worth saving, but it's not all that impressive as a percentage of the city's more than half-billion-dollar annual budget.
The graph at 2:30, comparing City of Tulsa spending to the rate of inflation, was produced by City Council researcher Jack Blair at the request of Councilor John Eagleton. Eagleton was at times the lone voice for fiscal restraint during the Kathy Taylor administration, calling for limiting budget growth to the rate of inflation. Because Eagleton's counsel was rejected in 2006, 2007, and 2008, the cuts were far more painful when the revenue shortfalls hit in late 2009.
Apparently ignorant of the fiscal warnings from Eagleton and colleagues Bill Martinson and Rick Westcott, Bartlett Jr endorsed Kathy Taylor for reelection until she opted to quit the race. By his own statement, Bartlett Jr didn't seem to get hip to the budget crisis until the day he was sworn in, when Finance Director Mike Kier came into his office "with a very concerned look on his face." Bartlett Jr's 2009 mayoral campaign didn't address fiscal issues at all; rather it was focused on his Democratic opponent's support for Barack Obama's 2008 presidential campaign.
I applaud Bartlett Jr's initiative to apply the penny test to detect unused and unneeded vehicles and his efforts to sell off surplus capital equipment and real estate. It's good to see managed competition, an idea that emerged about 20 years ago from Indianapolis in the administration of Mayor Stephen Goldsmith, at work in Tulsa, but I seem to recall some of that began under Bill LaFortune. (In managed competition, when a city function is considered for privatization, city employees are able to bid against private companies and have an incentive to find savings.)
It's notable that the City Council gets no mention from Bartlett Jr in this exercise in self-backpatting. The Council spends weeks examining, amending, and ultimately approving the city's budget. Their effort to restore key services without raising fees was thwarted by Bartlett Jr's veto, according to then-Councilor Rick Westcott, in a November 24, 2010, UTW news story by Mike Easterling.
From Westcott's perspective, other factors have contributed to the falling out between the mayor and the council, particularly the list of fee increases Bartlett proposed in the spring to help restore the city services that had been cut. When the council shot down those increases and countered with budget amendments of its own that restored those services without raising any fees, it appeared to make the mayor angry, Westcott said.

"He vetoed our budget, specifically our amendments, and that's not the way a fiscal conservative should approach the budget," he said.

Westcott also maintains the day-to-day operations of the new administration leave a lot to be desired.

"He's missed several deadlines of several different issues," Westcott said. "It does not appear there is anyone on the staff paying attention to those things ... There have been several examples over the course of the year where he's missed deadlines. I find that very disappointing. That's basic stuff."
As I noted in the same story, Bartlett Jr was the first mayor in my recollection who had managed to alienate all nine city councilors. You might expect a budget-cutting mayor to face the ire of councilors supported by public employee unions, but he managed to tick off the most devout fiscal conservatives on the council as well. There are indications that his relationship with the new crop of councilors isn't much better.
Bartlett Jr's mishandling of police layoffs should have caught Reason's attention. A federal grant could have been used to avoid layoffs and the significant costs of processing the layoffs and recall -- possibly exceeding $1 million, not to mention the bad publicity for the city.
The next time Reason decides to lionize a local public official, I hope they'll do some independent research first. Maybe talk to other elected officials, talk radio hosts, city hall reporters, local bloggers. I'm sure the city officials of Bell, California, would have told Reason all sorts of good things about themselves, too.
MORE: Reason surely wouldn't approve of Vision2, the corporate welfare and pork barrel plan that Bartlett Jr spent months promoting as campaign co-chairman. Vision2 would have borrowed money today against revenues that wouldn't be collected for four years in order to fund specialized equipment for the benefit of a bankrupt airline and in order to accumulate a "deal-closing" fund that would be doled out to benefit politically favored companies.