Booker T. Washington High School curriculum, 1921
This Land Press has posted photos of every page of the Booker T. Washington High School Yearbook from 1921, the year of the race riot that destroyed the community which Washington High served.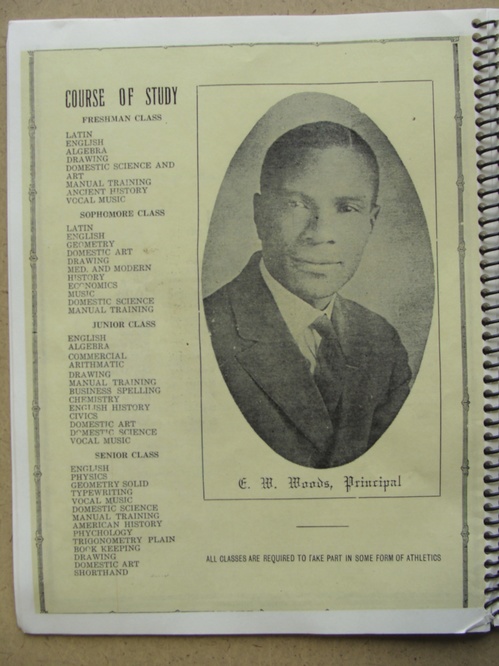 Faculty: Nine men, six women, and all appear to be African-American.
Freshman Class
Latin
English
Algebra
Drawing
Domestic Science and Art
Manual Training
Ancient History
Vocal Music
Sophomore Class
Latin
English
Geometry
Domestic Art
Drawing
Medieval and Modern History
Economics
Music
Domestic Science
Manual Training
Junior Class
English
Algebra
Commercial Arithmetic
Drawing
Manual Training
Business Spelling
Chemistry
English History
Civics
Domestic Art
Domestic Science
Vocal Music
Senior Class
English
Physics
Geometry Solid
Typewriting
Vocal Music
Domestic Science
Manual Training
American History
Psychology
Trigonometry Plain
Book Keeping
Drawing
Domestic Art
Shorthand
"All classes are required to take part in some form of Athletics."
1 TrackBacks
Derryck Green, an African-American writer currently pursuing his doctorate in theology and ministry, has written several recent columns at JuicyEcumenism critical of the way certain evangelical groups are falling all over themselves to embrace #BlackLi... Read More