Folds of Honor Foundation dedicates Cross Timbers cottage
This afternoon, at Cross Timbers resort on Skiatook Lake, a cottage was dedicated for the use of the families of fallen and disabled veterans who are affiliated with the Folds of Honor Foundation. The cottage is to be a retreat for relaxation and recuperation for our wounded warriors and their families.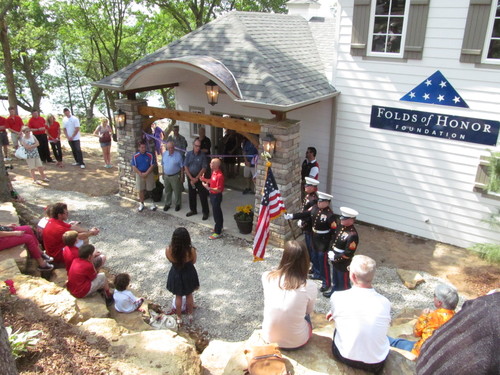 Folds of Honor, based here in Owasso, provides "scholarships and other assistance to the spouses and children of soldiers killed or disabled in service to our country." It was founded in 2007 by Maj. Dan Rooney, a professional golfer, golf course owner, and decorated F-16 pilot who did three tours in Iraq.
Today's dedication was MCed by Cross Timbers developer Ron Howell and featured remarks by Col. Michael Teague, Commander and District Engineer of the Tulsa District of the U. S. Army Corps of Engineers, Suntex Marinas CEO Johnny Powers, Folds of Honor vice president Maj. Ed Pulido, golf course designer Robert Trent Jones Jr., actor Craig T. Nelson, and Folds of Honor scholarship recipient, Spec. B. J. Jackson. John Gibson Miller led the crowd in the national anthem. Rev. David Nahlon offered the invocation. Ree Drummond, the Pioneer Woman, and her husband Ladd were on hand to meet guests and to give signed copies of her cookbook to Folds of Honor families.
The cottage, which sits on a wooded hillside on the shore of Skiatook Lake, was designed by SGA Design Group and built by Hunter Homes.
Johnny Powers of Dallas, principal and CEO of Suntex Marinas, spoke of his intentions to have a Folds of Honor "floating cottage" for the use of veterans' families at his company's marinas across the country. Ron Howell mentioned that the next Folds of Honor cottage would be a "floating cottage" on Keystone Lake. The use of marina space will allow Folds of Honor families access to lakes where building on the shore is impossible or impractical.
Robert Trent Jones, Jr., the designer of the new Patriot Golf Club course east of Owasso near the Tulsa Port of Catoosa, is also a poet, and he read his poem, "Memorial Day."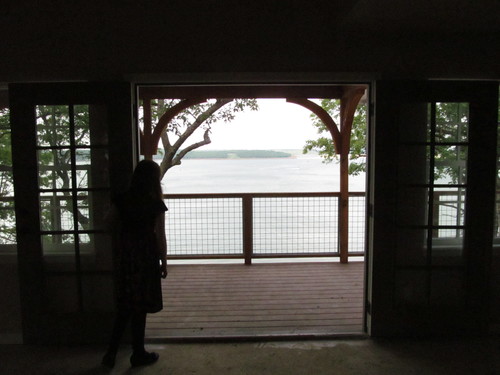 MORE: Monday, May 27, 2013, is the fourth annual Patriot Cup golf tournament, a fundraiser for the Folds of Honor Foundation, featuring seven major-tournament winners -- Rich Beem, Tom Lehman, Larry Mize, Corey Pavin, Craig Stadler, Scott Simpson, and Bob Tway. Following the tournament, Dierks Bentley will give a performance benefitting Folds of Honor at the Hard Rock Hotel and Casino in Catoosa at 8:30 p.m.
1 TrackBacks
At yesterday's dedication of the Folds of Honor cottage at Cross Timbers on Skiatook Lake, Robert Trent Jones, Jr., golf course designer and poet, read his poem "Memorial Day": Upon his lonely bower I set a flower plucked as he to die in glory before i... Read More