Josh Lewis for Tulsa City Auditor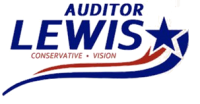 Overshadowed by expensive campaigns for Tulsa mayor and county commissioner, the other race on next Tuesday's ballot is for the crucial office of Tulsa City Auditor.
The city auditor was envisioned by the drafters of Tulsa's 1989 city charter as a counter-balance to the power concentrated in the mayor's office. The auditor has full organizational independence to build a team of auditors and to pursue investigations into the operations and spending of city departments, authorities, boards, and commissions.
But all that power does no good if the auditor refuses to use it or can't manage his own team effectively. While good things can be said about each of three men who have served as auditor under the '89 charter, it can't be said that any of them made full use of the job's authority to save the taxpayers money. Phil Wood, who served for over 20 years, was a pioneer in putting city government information on the web, using his own personal website until the city's official web presence caught up. Wood assembled a well-regarded team of internal auditors. But Wood was reluctant to call public attention to his team's findings for fear of seeming too political.
Preston Doerflinger defeated Wood in 2009 with a promise to do better, and he was slated to head the effort to implement the KPMG efficiency study, but he only stuck around for two years before being called up to serve as State Finance Director.
The current auditor, Clift Richards, was appointed by Mayor Dewey Bartlett Jr in 2011 to fill Doerflinger's unexpired term. A Wednesday, June 5, 2013, story in the Tulsa World paints a statistical picture of poor performance under Clift Richards's leadership. The number of improvement recommendations produced by the auditor's office have plummeted from 43 in fiscal year 2008-2009, Wood's last full year in office, to 7 in FY 2011-2022. Under Richards, the office's budget is 25% higher than the average for offices of 6 to 10 auditors, and only 49% of the auditors time is spent on actual audits, compared to a national average of 72%.
Richards's analysis of his department's shortcomings doesn't exactly inspire confidence in his leadership:
He attributed productivity shortfalls mainly to high employee turnover, saying the office often serves as a stepping-stone for better-paying private auditing jobs. He said that forces the office to spend more time training workers while losing progress on audits being conducted by outgoing employees.
An effective city auditor has to be able to counter the lure of the private sector with a sense of mission and cameraderie. If salary is a stumbling block, he has to be willing to go to the City Council and argue for the budget to build and keep a good team together -- not as much money as the private sector, but enough to keep good people on board. Wood managed that much; Richards, by his own testimony, has not.
Meanwhile down the turnpike, State Auditor and Inspector Gary Jones and his team have cleared a massive backlog of required audits and have uncovered misdeeds and shoddy financial practices at every level of state, county, and municipal government. Jones is what Oklahoma has always needed in our State Auditor -- he's persistent, he's efficient, he takes the initiative to protect the taxpayers, and he's unafraid to step on toes, even if those toes belong to a member of the same party.
One of the Jones team's blockbuster audits uncovered extravagant and questionable spending at the Emergency Medical Services Authority (EMSA) which serves Tulsa, Oklahoma City, and a number of other municipalities. A leading member of the EMSA audit team is now seeking to bring that same spirit to the Tulsa City Auditor's office.
Josh Lewis, CPA, graduated summa cum laude in accounting from the College of the Ozarks, worked five years in private sector accounting, and for the last two years has worked as the most senior member of the State Auditor's Tulsa office. According to his campaign bio, Lewis has audited "county governments, federal grants, emergency medical services, and perform[ed] multiple investigative/fraud engagements."
Josh Lewis points out that he is the only candidate without close ties to a mayoral candidate. Clift Richards was appointed by Bartlett; Kathy Taylor appointed Cathy Criswell as Chief Risk Officer in the Mayor's Office and has given $1,000 to Criswell's campaign. We need a City Auditor who is not beholden to the mayor or anyone else whose work his team will be scrutinizing.
Tulsa taxpayers need an energetic, assertive team leader to protect our interests at City Hall. His record, his experience, and his vision for the role indicate that Josh Lewis is the best choice to be Tulsa's City Auditor.
MORE: The State Auditor's audit of EMSA and a News on 6 story about the EMSA audit. From the report:
During the period examined, Mr. Williamson was reimbursed for a number of expenditures that the general public would consider unwarranted and extravagant such as spa goods and services, an American Airlines Admirals' Club membership, and multiple lifetime subscriptions to Sirius Satellite Radio. However, these expenditures are merely indicative of more serious Board inadequacies that allow abusive expenditure patterns and negatively impact public confidence in EMSA's performance, such as a disregard for the organization's fiduciary responsibilities, deficient financial oversight, and insufficient performance assessments.

It is incumbent on the Board of Trustees to aptly govern EMSA. Policies in support of the Authority's mission must be implemented and consistently followed to ensure effective oversight and accountability. Without proper policies involving purchasing, expense reimbursement, and conflict-of-interest disclosure, the Board has unintentionally fostered a culture of acquiescence in which officers and employees are permitted to establish inappropriate patterns of expenditure behavior and fail to disclose potential conflicts of interest, unbeknownst to members of the Board.
0 TrackBacks
Listed below are links to blogs that reference this entry: Josh Lewis for Tulsa City Auditor.
TrackBack URL for this entry: http://www.batesline.com/cgi-bin/mt/mt-tb.cgi/6876