Billy Cowsill, Gary Lewis and Tulsa's "Mazeppa Scene"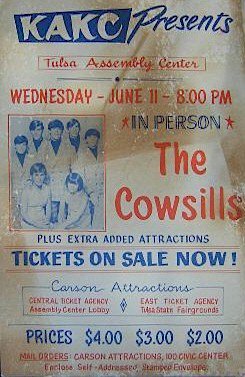 The poster at right was posted on the KAKC - Memories of the Big 970's Page and the Tulsa Memories of the '60s and '70s page and spurred by a comment that Billy Cowsill and Gary Lewis had a band in Tulsa in the early 1970s.
The Cowsills were a family band, the real life inspiration for the Partridge Family, a group of brothers, backed by their mom and their little sister, singing close-harmony, sunshiny pop music in the late 1960s. The eldest brother, Billy, was fired from the band by his dad after an argument in a Las Vegas coffee shop. In his journey to find his way forward, one of his first stops was in Tulsa, the Tulsa of the early 1970s. The Tulsa of Mazeppa Pompazoidi and his Uncanny Film Festival. To Baby Boomers in particular, this was a golden age of creativity in Tulsa, led by Leon Russell and the musicians that he brought to the attention of the wider world. It was the age of the Tulsa Sound.
First, an overview of the times, as captured by John Wooley:
If you were of a certain age in the early '70s, and you were living in or around Tulsa, Oklahoma, the name "Mazeppa" symbolized something almost magical, a shared experience of a place and time in Tulsa when our youth-culture scene was enriched and enlivened by some special creators.

Leon Russell was living in town, with people like George Harrison and Eric Clapton dropping by to jam. The likes of J.J. Cale and David Teegarden were recording hits that popped onto the national charts. Any number of rock bands, including one fronted by Gary Lewis and Billy Cowsill, were making their homes here, and making the clubs at night.

And Mazeppa was on television.
An interview with Gary Lewis, who headed up the 1960s pop band Gary Lewis and the Playboys.
Q - Before I ask you about your days with The Playboys, I see that you were in a band called Medicine out of Tulsa, Oklahoma. How successful was that group?

A - Not successful at all. It was just something I thought I would try because most of the original Playboys were from Tulsa, Oklahoma. So, I knew a lot of musicians back there. Our arranger was Leon Russell and he was from Tulsa. He got me the original Playboys. So, knowing a lot of people from back there, I decided let's go back there and see what we can do. I was also in that band with Bill Cowsill. It was me and Bill Cowsill and a bunch of Tulsa guys.
An profile of Billy Cowsill from 2001, "Bill Cowsill, The Road, and Other Things":
There followed a hard discovery period for Cowsill, predictably accompanied by a swan dive into the world of hard drinking and drugs. Still, at last, the young artist as finding sheer joy in playing music freely and creatively in the seminal Mazeppa scene of Tulsa after years of being the musical equivalent of a battery hen.

"My odyssey really began in Tulsa, Oklahoma," Cowsill says. "I was playing for ten bucks a night and all the whisky you could drink, but I was sitting in with Harry Nilsen, JJ Cale. I got to play with Carl Wilson. And finally I was playing with roots people, playing the kind of music I wanted to play. That's when I really started learning."

As it turned out, it was less his considerable playing talent than the production savvy picked up through spending his teenage years in studios that was really in demand. This allowed him backstage access to the world of the musicians he'd love and admired. He is able to relate stories from this period freely, despite the haze that doubtlessly accompanied it, and has a rare knack for putting a date to almost any event. It's well documented that Billy Cowsill was the prime candidate to take over from Brian Wilson as lead Beach Boy during the Brian in bed years. He even had the chance to hang out with the big Beach Boy face to face at his mansion. During a stroll in the garden, Wilson suddenly turned to the young man who unbeknownst to him, worshipped him, and said, "Can I ask you something, Bill?" Frightened and flattered Bill nervously encouraged the bloated Barbara-Anne-er to speak freely. As Wilson looked Billy Cowsill in the eye he asked with dead seriousness, "Do you think there is enough bass in "I Get Around"?"
Transcription of a CMT - Canada, "Undiscovered Country" interview with Billy Cowsill from May 2004:
I went back to Los Angeles, I mean I just came off the "Hair" record, I mean I'm a good producer, obviously. I just sold 6 million records and it was no problem getting a job. I'd walk into any record company and they'd say, "Well what have you done lately?" I'd just open Cashbox and I went, "That" So I was a hired gun right away. And so I worked a couple years in Los Angeles. Then I ran into this band of outlaws from Tulsa, Oklahoma. They were Leon Russell's back up band. Jimmy Karstein, Carl Radle - people like that. And Gary Lewis of all people was their friend too. So, Gary Lewis and I, with these Okies, got a band together. I loved to Tulsa with two bird dogs and a wife - pregnant wife and two bird dogs and started really learning about the roots of the music I'd been playing all my life, rhythm and blues, the blues. I used to be a - the band would play in these little strip malls down there in Tulsa. This would be about 1971 - 72. And on my breaks, I go across the parking lot and sit in with J.J. Cale. So I get to learn about the blues that way. I was - everything I learned musically that I didn't just absorb from growing up - was after the fact - as far as roots and source - things like that....

I was in the recording studio. I got to do these demos and I rented this guitar and the machine heads were stripped. So I was about to fling it across the studio. Jack comes on the intercom and says, "Wait a minute Billy." He went in the back and brought out this leather soft case. I said, "Thanks Jack" So I peeled it down and this odor of beautiful wood came out and it said Everly Gibson on it. And I said, "Everly Gibson? Well I kind of know there are only three real ones. Don's got one, McCartney's got one," and I said - to tell you how out of it I was - I said, "Jack who's is this?" He goes, "That's John's." Well, I lost it. John Lennon. He had just finished the Imagine album. Here I was - hopeless, helpless, out of my mind, still rocking - and someone hands me MY HERO's ax. That was a turning point for me of coming back to sanity, back to reality and back to this journey that I've been on ever since.
An interview witth Billy Cowsill, from Vancouver Magazine, April 1995:
A Cowsill by name but no longer by profession, Billy embarked on a hobo's tour of America, covering Cat Stevens tunes for the swells in swanky Manhattan restaurants, learning the blues from J. J. Cale in a tavern in a Tulsa shopping mall. In one of life's gee-whiz coincidences, Billy spotted another look-alike family of harmonizing boys, this one wearing striped jackets and singing barbershop quartet at Disneyland. "They were getting tired of 'Down by the Old Mill Stream' and the straw hats. They wanted to be cool, too." At the time, Billy was recording what would be a dud solo album for Mike Curb at MGM Records. "When my contract was up, I said: 'Mike, whatever you do, sign these guys.' And the rest is history." The guys were a Mormon family by the name of Osmond.

Here's Billy heading up The Cowsills in their first big hit: "The Rain, the Park, and Other Things"

RELATED: A review of a new box set of Eric Clapton's music from 1974 and 1975 spotlights Tulsa's Jamie Oldaker, who joined Clapton's band at the urging of another Tulsan, Carl Radle. The review credits Oldaker and his fellow Tulsans (bassist Radle and pianist Dick Sims) as the fount from which the newly resurgent Clapton's laid-back sound flowed.