Dewey Bartlett Jr: "As Mayor, I rely on The Weather Channel..."
Tulsa Mayor Dewey Bartlett Jr. was quoted in a web advertisement for The Weather Channel, part of the cable network's pushback in its battle against DirecTV's decision to replace the channel with WeatherNation on its satellite lineup. KJRH meteorologist George Flickinger posted a screenshot the ad on his Facebook page. Bartlett Jr was quoted as saying:
"As Mayor, I rely on The Weather Channel for alerts and up-to-the-minute information so that I can communicate clearly and quickly with my constituents."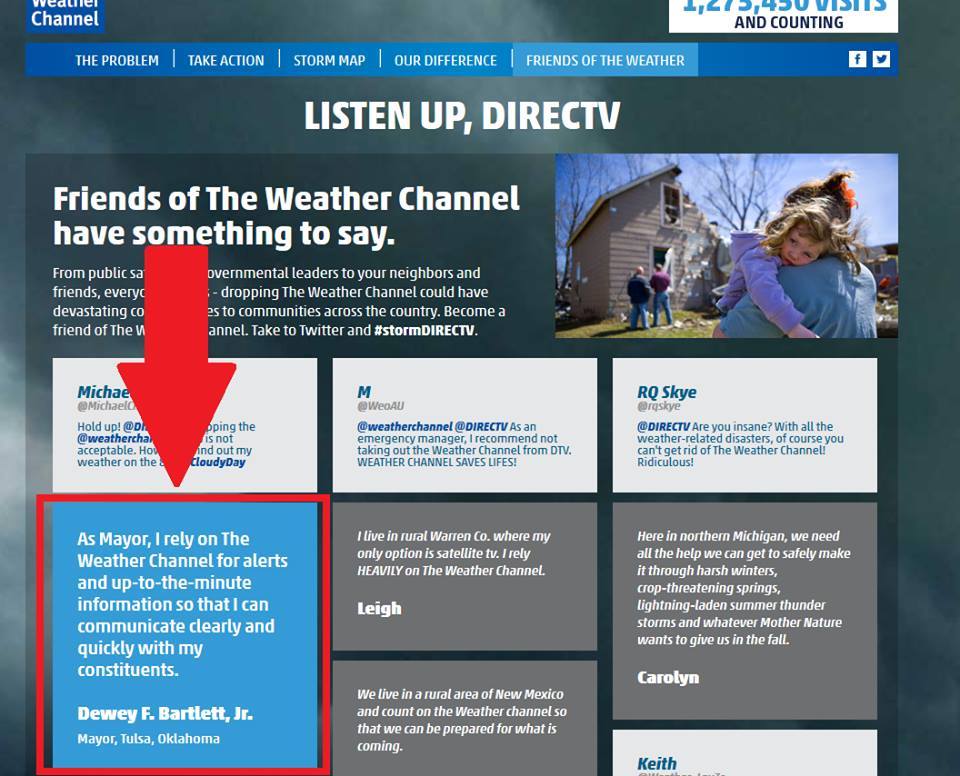 So, Mayor of Tulsa Dewey F. Bartlett Jr seems to be saying that during emergencies, he relies on brief, second-hand information offered sporadically ("Local on the 8s") during weather-related reality TV shows, rather than meteorologists at our NWS office and at local TV stations (and heard on local radio), who know NE Oklahoma's weather patterns, are focused on local weather developments, and can pronounce Oologah and Nowata correctly.
The only reason Tulsa re-elected this... gentleman... was because the alternative was so awful. The fact that he was elected in the first place and a finalist for re-election doesn't speak well for the discernment of Tulsa voters.

Bartlett Jr's spokesman issued a fence-mending statement (as reported by KJRH):
"The mayor listens to various weather reporting sources when weather is an issue and he needs to be informed. Obviously the official point of information is the National Weather Service as it is the key source for our emergency management operation. In those situations, the mayor is also in constant contact with our local emergency managers who stay well informed on weather predictions.

"Local weather reporting by radio and television offers excellent information from which he and his staff glean information to confirm important data he relies on to make decisions.

"He never relies on a single source for weather information.

"His remarks made nearly a year ago when the Weather Channel was in town reporting on Safe rooms, did not include the above mentioned context."

So today's statement doesn't deny that he made the remark about The Weather Channel. The last paragraph, at first reading, is awkwardly worded and seems at first glance to blame TWC for not including the "above mentioned context" in promoting Bartlett Jr's words. Read more closely, however, it seems to be saying that Bartlett Jr omitted to praise local meteorologists, so there wasn't any context to include.
I can't believe anyone relies on The Weather Channel anymore. The broadcast version was once a regular rotation of national and local conditions, forecast, and radar. The station didn't have a schedule as such. You could tune in any time day or night, and within 10 to 20 minutes you had a handle on the current weather situation.
Now The Weather Channel is just another cable channel with a mix of reality TV and documentaries and only an occasional nod to its original purpose. With the ubiquity of smartphones and tablets, there's no reason to sit down and wait for a brief blurb about local conditions.
The Weather Channel's website is increasingly complex and hard to use. During our recent travels, in which we were covering 500 to 600 miles a day and needed to know what we'd be driving through and if a change in route would be sensible, so I looked on weather.com for regional maps of expected travel weather -- once an hourly feature on the cable network -- but was unable to find them. I wound up on Weather Underground, using their Trip Planner, and was able to get local conditions along the route based on our expected arrival at each city along the way. Weather Underground began as an Internet-based service before the advent of the World Wide Web, using minimal, text-based protocols like Telnet and Gopher, so their roots are in the economical presentation of essential information.
But in 2012, Weather Underground was bought by The Weather Channel and is beta-testing a new interface, so who knows if that simplicity will last. One of Weather Underground's founders, Jeff Masters, is worried that DirecTV's replacement for The Weather Channel, won't broadcast enough globaloney about anthropogenic global warming:
I've never seen the coverage from WeatherNation, the replacement for The Weather Channel on DIRECTV, and do not know if they have plans to do any climate change coverage as part of their programming. If not, this will mean there are now 20 million people seeing less climate change coverage, at a time when The Weather Channel is actively expanding their climate change coverage, and at a time when society greatly needs as much awareness of how our climate is changing as possible.
Global-warming evangelism gets enough airtime on PBS, the major broadcast networks, and other cable channels. What people want from a cable weather channel is to know what the weather is right now and what it's going to be for the next few days, and if WeatherNation fits the bill, I expect many other satellite and cable providers will make the same decision as DirecTV.
As for me, when I need to know what kind of threatening weather is headed my way, I tune in one of the local AM news-talk stations on the radio, flip back and forth between local TV stations, and check the excellent Hazardous Weather Decision Support page on the National Weather Service Tulsa office website.
As a dad responsible for my family's safety, I rely on local meteorologists and weather observers who know local patterns and have more than just a professional interest when deadly weather hits Green Country. I'd hope the same would be true of my city's mayor.