Ken Yazel for Tulsa County Assessor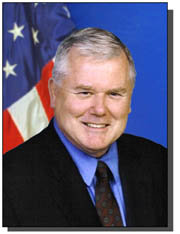 Several important elections will be settled in the June 24, 2014, Republican primary. Between now and then, I will be posting endorsements, starting with an enthusiastic recommendation that I can make without hesitation.
Tulsa County Assessor Ken Yazel is one of those rare elected officials who has remained true to the principles on which he was elected and to the voters who elected him, despite heavy pressure from special interests and their media mouthpieces. At the same time, Yazel has fulfilled his assigned duties diligently, leading the top-rated assessor's office in Oklahoma. Tulsa County taxpayers are blessed to have Ken Yazel in office. Republicans need to vote on June 24 to keep Ken Yazel as our assessor for another four years.
Detractors call Yazel a contrarian, but to Tulsa County taxpayers, Yazel is a trusted ally, friendly, accessible and ready to help. We need more elected officials like him.
When there's a bandwagon pushing toward higher taxes and more difficult access to public information, when the other elected officials take an "us vs. them" attitude, in which their fellow officials are "us" and the taxpayers are "them," we need at least one contrarian at the county courthouse who is pushing in the opposite direction, toward fiscal sense and government transparency. Ken Yazel has been there for Tulsa County taxpayers, standing firm and taking flak on our behalf.
Yazel has done an outstanding job with public access to information and keeping properties fairly and consistently valued, and he's often been the lone voice at the Tulsa County Courthouse speaking on behalf of the taxpayers.
In Oklahoma, a county assessor's primary job is to ensure that properties are fairly valued and that every property is reviewed at least once every four years. The State Auditor's office has given Ken Yazel's office the highest rating of any county assessor's office in Oklahoma -- 265 points out of a maximum score of 275. That means that under Yazel's leadership, the office carefully and consistently follows the rules to ensure a fair valuation for every property -- even if means stepping on the toes of some powerful people.
As one of the eight members of the County Budget Board, Yazel has been pushing to have Tulsa County follow Oklahoma County's good example and account for every penny under county control in the annual budget. Tulsa County's practice has been to budget only new funds that have to be appropriated, but to exclude earmarked money or carryover funds. Sadly, the other county elected officials have opposed him on this point and have even lobbied against legislation that would require full county budget transparency.
Notwithstanding a dubious "transparency" award, most Tulsa County departments make it hard to find the info you want online. I spent some time looking for the 2014-2015 budget that was approved this week. I don't give up easily, and I tried several different approaches, but ultimately did not find what I was looking for. I found plenty of notices, agendas, and minutes, but not even a draft of the new budget book.
Another example of Tulsa County's typical approach to web access: If you want to look at filed deeds, plats, and other land-related records, you have to go to the County Clerk's office during their office hours and go through a metal detector. Just to look at metadata for those records requires you to go to a library during the library's regular hours.
Under Ken Yazel's leadership, Tulsa County assessor records are easily accessible from home any time day or night. You can search by name, by legal description, or by clicking on Google Maps. From your own property's record, a click of a button lets you see recent sales in your subdivision and comparable properties that influence the assessed value of your home. Beyond property information, Yazel's county assessor website has a wealth of detail on ad valorem taxes and how they are calculated and all the information you need to file for exemptions and valuation freezes to which you may be entitled.
Yazel's outreach to the public isn't limited to the web. He speaks to neighborhood associations, civic groups, and other gatherings all over the county to help people understand ad valorem taxes, and he brings his team along to help property owners get their specific questions answered. During the period for filing homestead exemptions and valuation freezes, Yazel sets up "sub-offices," taking the process to where people live all across the county, rather than make taxpayers come down to the courthouse and go through the metal detector. Yazel sets up the assessor's office booth at the Tulsa State Fair, home shows, and local festivals where taxpayers can ask questions and get information on exemptions.
Yazel is a voice, too often the only voice, for the taxpayers at the Tulsa County Courthouse. When other county officials pushed the poorly conceived river tax and Vision2 tax plans, Yazel was the only county official with the courage to speak out in opposition. By doing so, he gave a big boost to the underfunded but ultimately successful campaigns to defeat those corporate welfare and pork barrel boondoggles. Those who benefit from county tax programs and revenue bonds no doubt would like to see Yazel gone, because they want all county elected officials singing the praises of the Vision 2025 replacement tax when it comes to the voters in 2016.
When other county officials proposed increasing taxes to fund criminal justice facilities, Yazel proposed alternatives to pay for the facilities without raising taxes.
You may have noticed, as I have, that certain property taxing entities which receive a fixed millage always have an abundance of funds, some to the point of being able to build a new building without blinking an eye. While it would not be a simple matter, if the political will existed at the county courthouse, a vote could be scheduled to reduce millages for overfunded entities to make room, say, for a bond issue for more critical capital improvements, at no net increase in property taxes or sales taxes. That is the sort of process that Yazel has been advocating and that his detractors have mischaracterized. No one is saying that you could simply take funds from one entity and give it to another.
Other county offices derive a considerable amount of revenue from statutory fees, but these fees are not included in the county budget, although Yazel believes that they should be. Even the carryover funds from the previous year are not included in the county budget, even though they are available for the elected official to spend. In his plan to fund criminal justice needs without raising taxes, Yazel suggested that, because of their considerable cash reserves, the County Clerk and Treasurer's offices could receive less money from the general fund and that the money saved could be used to fund competitive salaries and technology upgrades for the Sheriff's office.
Likewise, if county commissioners were willing to pledge Vision2 funds four years before they would be collected, it was surely possible to allocate funds from the remaining Vision 2025 collections to have paid for the juvenile justice facility and jail expansion. It would not have been a simple matter, and it would have required some combination of public votes to authorize the change in use, but it could have been done if the political will had existed.
Given the choice between (1) a rearrangement of public funding that required some effort and coordination but kept tax levels the same and (2) proposing a tax increase, county commissioners opted for the tax increase, while turning Yazel's plan for public improvements without a tax increase into a straw man and mischaracterizing it as impossible. Even if there had been minor flaws in his proposal, his fellow elected officials could have proposed adjustments and alternatives in keeping with the spirit of the idea. Instead, the other Tulsa County officials refused to cooperate with Yazel's taxpayer-friendly proposal.
Yazel is committed to ensuring that no one pays more property tax than is legally required, but he is also committed to ensuring that everyone is assessed in accordance with state law. State law makes the assessor the gatekeeper for property owners claiming that their property is tax exempt. That includes the responsibility to ensure that a previously granted exemption is still valid under the law. Like many assessors across the US (here's one example), Ken Yazel is finding some properties with exemptions don't meet the strict requirements of the Oklahoma Constitution and statutes. On occasion, a property owner disagrees with the assessor's interpretation of the law, and the matter goes to court.
When a property is undervalued or receives an exemption to which it is not entitled, every other taxpayer has to pay higher property taxes to make up the difference. Much of your property tax burden is used to repay general obligation bonds or court settlements. Each year, the excise board determines how much money each taxing authority (cities, schools, the library system, etc.) needs to cover its obligations. That amount is divided by the assessed value of all properties in the jurisdiction, and the result is the millage rate applied to every property. Your property tax rate is a fraction, and when a large, expensive property is undervalued or unjustly exempted, the denominator shrinks significantly and the millage goes up, raising everyone else's taxes.
It would be easy to give in to the erroneous tax exemption claims of the rich and powerful, just because they have the money to make trouble for you in the next election, but to do so means raising taxes on everyone who can't raise as big a stink. Ken Yazel is doing his duty on behalf of the taxpayers by strictly applying the law and, when necessary, pursuing questions of interpretation through the state court system. (UPDATE: More about a specific case here.)
As they have in previous elections, interests that don't appreciate Ken Yazel's advocacy for the taxpayer are backing an opponent. The race will be decided in the Republican primary.
The daily paper's editorial board endorsed Yazel's opponent, as it has done over the last several elections. The Whirled editorial writers' biggest beef with Yazel seems to be that he wanted to fund new facilities without raising taxes. A commenter on the Whirled editorial noted: "Also notice that the TW makes no mention whatsoever of actual professional qualifications, certifications, etc. [of Yazel's opponent]. The main selling point of [Yazel's opponent] seems to be that he will shut up and do what he is told. Not good qualifications for my vote."
I appreciate Ken Yazel, because he will speak out when taxpayers need a friend at the County Courthouse. I appreciate the high professional standards to which Yazel holds himself and his staff at the assessor's office. I appreciate an elected official who sets the standard for transparency and public access to public records.
I urge you to join me in voting to re-elect Ken Yazel as Tulsa County Assessor on June 24, 2014.
MORE: Former State Rep. John Wright gives ten reasons why Ken Yazel should be re-elected. Prominent in his reasons is that Yazel has built a well-educated professional staff, with very little turnover. Every member of Yazel's staff, even those not engaged in assessment, have gone through certain professional classes on assessment to ensure that anyone speaking to the public has a proper understanding of the property tax system and the role of the assessor's office.
UPDATE: Detailed analysis of some of the criticisms leveled against Ken Yazel
0 TrackBacks
Listed below are links to blogs that reference this entry: Ken Yazel for Tulsa County Assessor.
TrackBack URL for this entry: http://www.batesline.com/cgi-bin/mt/mt-tb.cgi/7225