Steve Kunzweiler for Tulsa County District Attorney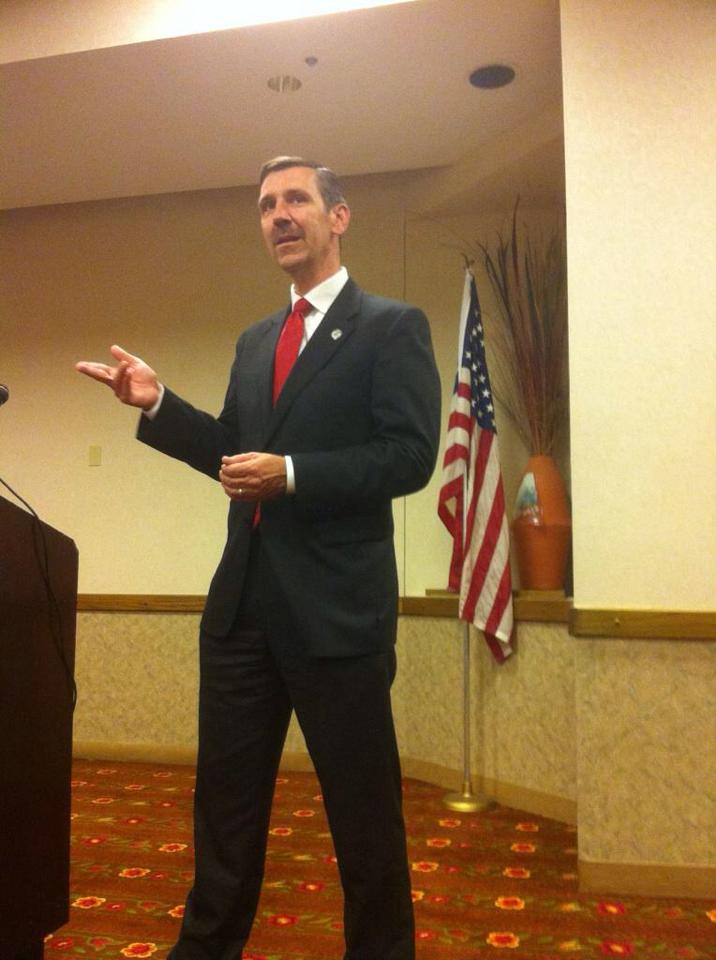 After 16 years in office, Tulsa County District Attorney Tim Harris is stepping down. Three Republican candidates filed to replace him, but one candidate quit the race because of a constitutional impediment to his election, and a second candidate should stand down for the same reason, but he refuses to do so, risking a protracted legal battle should he win. Our next district attorney will be chosen by voters in the June 24, 2014, Republican primary.
Happily for Tulsa County citizens, the one candidate in the race who is unquestionably eligible to serve is Assistant District Attorney Steve Kunzweiler, who is the most qualified, by experience and temperament, to serve as District Attorney.
There are three aspects to the District Attorney's job: Prosecuting criminals, mentoring and managing a team of prosecutors, and partnering with public officials and community leaders to advance the cause of justice. Steve Kunzweiler is the only candidate with extensive and current experience in every aspect of the DA's job.
With 24 years of experience as a prosecutor, Steve Kunzweiler is the Chief of the Criminal Division in the DA's office, mentoring 35 assistant DAs and overseeing the prosecution of thousands of criminal cases every year, over 12,000 in 2013 alone. Beyond the courtroom, Kunzweiler works with legislators, police departments, victims, and community leaders to provide training and improve the process so that bad guys receive their just punishment and Tulsa County residents are safer.
One example of Kunzweiler's innovative approach to his job is his advocacy for the use of therapy dogs to accompany child abuse victims when they testify in court. A courtroom can be a frightening place to a child, particularly when arguments get heated and voices are raised. In the past, an adult counselor has sometimes been allowed to sit with a child witness, but that raises concerns that the adult might prompt the child's testimony. That could open the door to exclusion of the child's testimony and the acquittal of an abuser or to the conviction of a wrongly accused defendant.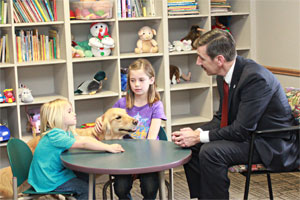 Steve Kunzweiler's solution is to have a therapy dog accompany the child in the witness box. The dog can't offer any prompts. These dogs are selected for a calm temperament and trained to remain calm in the midst of commotion. They reassure the child that all is well, even in this strange environment. Kunzweiler writes on his website:
When a child witness is accompanied to court by a dog that he or she has bonded with in pretrial preparations, the effects are immediate and profound. The trust, acceptance, and tactile comfort of a friendly dog changes the physiology of the nervous child. Human heart rate decreases and blood pressure falls in the presence of therapy dogs. The child may simply feel safer to recall past events, even with an audience of strange adults in the courtroom.
During the just-ended legislative session, Steve Kunzweiler worked with State Rep. Pam Peterson to pass a law authorizing the use of therapy dogs statewide. Kunzweiler has also successfully worked with legislators to add many other reforms to criminal law: expanding the statute of limitations for the reporting of child abuse, increasing the range of punishment for drunk driving offenders who seriously injure their victims, allowing the introduction of hearsay evidence for developmentally delayed children, allowing repeat child abusers to be impeached with their prior crimes.
While Kunzweiler works effectively with the legislative process, he is new to electoral politics. He is a Republican and a conservative, but his focus has been his calling as a prosecutor and a leader of prosecutors, rather than partisan politics. Some politicians have sought the DA's office as a platform for running for governor or congress, but Kunzweiler has no ambitions beyond being able to continue to pursue his vocation as a prosecutor. Steve Kunzweiler sees himself as the next DA in a long line of non-politician DAs, like Buddy Fallis, David L. Moss, and Tim Harris.
Steve Kunzweiler's family life underscores his conservative temperament. He has been married for 25 years to Dr. Christine Kunzweiler, a veterinarian. Steve, Christine, and their three daughters are active members of Christ the King Catholic Parish. Steve earned his undergraduate degree at the University of Missouri then came to Tulsa to earn his law degree at the University of Tulsa Law School in 1988. He's been here ever since.
A recent article about Kunzweiler gives you a sense of his heart for his vocation:
He has an old, ragged file in a desk drawer, labeled "This is Why I Do It!" The folder is bursting with pictures of people he's fought for in court - a 10-year-old girl in her cheerleader uniform. An 18-year-old in a baseball uniform with a bat on his shoulder. A proud tuxedo-clad papa walking his daughter down the aisle in a wedding gown.

The photos depict happy, smiling people enjoying life, often on some of the most important days of their lives - graduation, weddings, family celebrations. The photos
are reminders to Kunzweiler that the victims had dreams and goals and active lives that were stolen from them and from their families.

"Too many times, the criminal justice system is all about the defendant. We don't hear much about the victim. I am the victim's voice in court, and I want to know as much as I can about who they were and what was happening in their life," Kunzweiler said.
Steve Kunzweiler has been endorsed by outgoing DA Tim Harris, the Tulsa Area Republican Assembly, and FOP chapters in Owasso and Glenpool.
It's necessary to say a few words about Kunzweiler's opponent. The same constitutional prohibition that caused State Sen. Brian Crain to withdraw applies equally to State Rep. Fred Jordan, but Jordan has invented a rationale to dodge the clear language of the Oklahoma Constitution. It is worrisome that the man who wants to be our county's chief legal officer isn't willing to abide by the plain meaning and spirit of a constitutional provision that has been in place since statehood. Setting that issue aside, there is still the matter of Jordan's lack of preparation for the job he seeks. Jordan's brief experience as a prosecutor is over a decade old, in a very different legal context than Tulsa County.
But I'd rather focus on Steve Kunzweiler, the highly-qualified man of character who has served the people of Oklahoma as a prosecutor for nearly a quarter-century and has the servant's heart and preparation to step up one level from his current job to serve as our District Attorney. I urge you to elect Steve Kunzweiler for Tulsa County District Attorney on June 24 and to encourage your friends to do the same.