National Popular Vote's Ray Haynes lobbying Oklahoma grassroots conservatives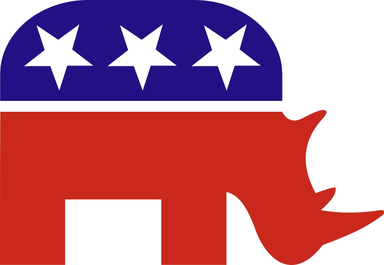 Despite the outcry over the passage of SB 906 in the Oklahoma State Senate, a bill that would have subscribed the Reddest State in the Nation to a plan to undermine the constitutional method of electing presidents, advocates of the National Popular Vote Interstate Compact haven't given up on putting Oklahoma's scalp on their trophy wall.
Earlier this year, an outcry from grassroots activists and Republican party leaders stopped SB 906 from advancing any further, notwithstanding the money NPV spent flying legislators to tropical junkets. A number of senators who voted in favor recanted their support.
The bill died in a State House committee, but it wasn't killed. Ignoring pleas from activists, Gov. Mary Fallin refused to take a stand on the issue.
The out-of-state liberals pushing for NPV now appear to have adopted a new strategy: Meet with conservative activists and, if they can't persuade the activists to change their minds, at least confuse them enough to mute their criticism the next time the bill comes before the legislature.
Earlier this week I received word from some local conservative volunteers that former California Assemblyman and State Senator Ray Haynes is meeting with activists and asking for introductions to others. The twice-divorced Haynes, now a paid consultant for National Popular Vote, met with them at a local chain restaurant. They said he seemed quite sincere and even prayed with them at the beginning of their meeting. Haynes had a conservative voting record in California, which gives him some credibility with conservatives that someone like Saul Anuzis didn't have. NPV backers were smart to hire someone like him, even though internet and newspaper database searches turn up questions about the circumstances under which his marriages ended and the timeliness of child support payments.
Haynes was a candidate for Congress this year in California's 36th District. He finished third in the all-party primary, behind a Democrat and another Republican. He loaned his campaign $14,761 and only raised $3,150 from contributors. The contributions allowed his campaign to repay Haynes $1065.50.
Haynes's top contributor, maxing out at $2,600, was John Koza, the Chairman of National Popular Vote. Koza, a generous political donor and an elector for Al Gore in 2000, normally gives his money to the likes of Barack Obama, Nancy Pelosi, Harry Reid, Barbara Boxer, Al Franken, and Bernie Sanders, the Democratic National Committee, the Democratic Congressional Campaign Committee ($32,400 this cycle), the Democratic Senatorial Campaign Committee ($30,800 this cycle), and "super PACs" supporting Democrats (e.g., $50,000 to the Senate Majority PAC). About a month before his contribution to Haynes, Koza gave $5000 to EMILY's List, the pro-abortion PAC.
In fact, an OpenSecrets.org search seems to show that Haynes is the only Republican federal candidate in over 20 years that Koza has supported with a donation.
Anyone cooperating with NPV or its lobbyists is no friend of the Constitution. The NPV compact takes a backdoor approach to changing the Constitutional method of electing our president.
For the full rundown on what's wrong with National Popular Vote, see my article from February, and follow the links to read critiques of NPV from the OCPA, the Heritage Foundation, the Cato Institute, and others, and learn more about the left-wingers who head up the national effort to ram this idea through. I won't repeat all those points, but I will repeat one argument and expand upon it:
Under the electoral college system, state boundaries serve as firewalls limiting the effect of voter fraud. Right now, it doesn't matter how many cemetery residents vote in Chicago, at worst it means the Democrats win Illinois by a wider margin. NPV would demolish the firewalls between the states, allowing fraudulent votes in liberal states with weak election integrity measures (no voter ID, all-electronic voting) to cancel legitimate votes in conservative states like Oklahoma with strong election integrity measures like voter ID and paper ballots.
Many years ago, Haynes favored an idea that would have created more firewalls against voter fraud: Awarding one of California's electoral votes to the winner of each congressional district, and two to the statewide winner, following the practice of Maine and Nebraska, rather than winner-take-all. That plan would give more of a voice to conservative sections of states dominated by a few big, left-wing cities. (This plan has its own flaws, given the tendency of politicians to gerrymander congressional district boundaries.)
But the NPV plan Haynes now backs would allow a candidate to run up the score in a handful of high-population left-leaning metro areas with the assistance of clueless or possibly corrupt local election officials. Why Haynes would do a 180 on this issue is an interesting question.
Fair warning: Anyone who assists NPV or its lobbyists in making connections so they can sell this diabolical plan to conservative activists is going on a BatesLine-maintained list, and it's not a good one. Naivete is no longer an excuse.