David McLain for State Senate District 34
UPDATE 2015/11/10: Congratulations to David McLain, who has won the SD 34 GOP primary, with 42% of the vote to John Feary's 39%, a margin of 70 votes out of 2,137 cast. Because there is no runoff, McLain advances to face the Democrat nominee, J. J. Dossett, in the January 12, 2016, special general election. McLain won by holding Feary under 50% on his home field, dominating in his own home base in Skiatook, and sweeping Tulsa precincts, which Feary seems to have ignored. Feary only managed 46% and a 132-vote margin in Owasso. Feary also edged McLain in Collinsville precincts, 40%-36%, 11-vote margin. McLain won Skiatook 82% to 13%, 85-vote margin, and won 60% of the vote in the Tulsa precincts over Feary's 25%, by a 120-vote margin. A bare majority of the 30 Rogers County voters went for Mark Williams. McLain won absentees and early voters by 5 and won Sperry precincts by a single vote.
Congratulations also go to taxpayers in the Northeast Tech Center district, who voted by a 3 to 1 margin against an increase in the property tax rate for funding buildings and against making the levy permanent. What we used to call vo-tech schools have been on a building spree of late. While these schools perform a valuable function, they typically have a permanent levy which produces far more revenue than they need to accomplish their mission, and so they put the money into big, shiny new buildings. If anything, vo-tech schools ought to cut millage so voters can choose to allocated it to other taxing entities more in need of revenue. Or better yet, let's have a College Re-Alignment and Closure commission (CRAC) to reduce duplication among Oklahoma's taxpayer-funded post-secondary institutions.

Tomorrow (November 10, 2015) is a special primary election to fill the Oklahoma State Senate District 34 seat in the wake of Rick Brinkley's resignation. Senate District 34 (click for PDF map) includes all of Tulsa County north of 66th Street North (including the Tulsa County portions of Skiatook, Sperry, Owasso, Collinsville), the City of Tulsa northeast of Pine and Yale, northeast of the Admiral Twin, and northeast of 89th East Ave and 21st Street, and a small, mostly uninhabited section of Rogers County north of the Port Road.
There is a Democrat in the race, but because District 34 is heavily Republican (a Republican has held the seat since the 1994 election), and because in this special election there is no runoff, the winner of tomorrow's GOP primary will almost certainly become a state senator. Although I don't live in District 34, I grew up there, and I join conservative activists and elected officials like State Rep. Chuck Strohm, State Sen. Nathan Dahm, and County Assessor Ken Yazel in urging District 34 Republicans to vote for David McLain.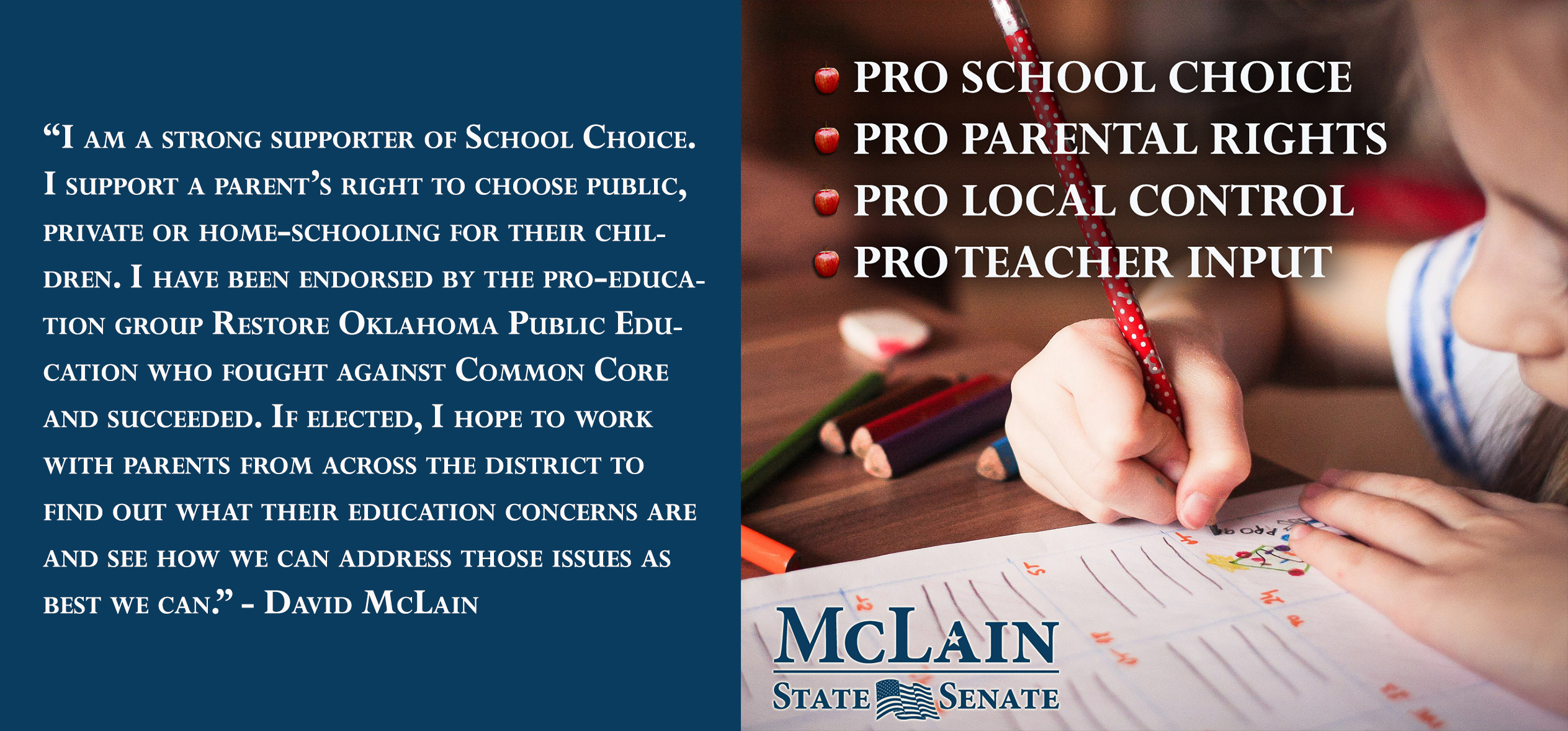 David McLain is a Skiatook resident, a veteran of the U. S. Navy, and owns a small business in the construction industry. David and Aleen, his wife of 26 years, have three grown children and two grandchildren. McLain has been endorsed by the Oklahoma Conservative PAC, the Oklahoma Second Amendment Association, and the leaders of ROPE, the grassroots group that defeated Common Core. McLain supports the right to life, the sanctity of marriage, parental choice in education, lower taxes, and less-intrusive government.
Here's what public officials have written in endorsing McLain (legislative ratings are from the Oklahoma Constitution newspaper):
State Sen. Nathan Dahm (R-Tulsa, conservative rating 100): "David McLain is a man of good character and faith. He has shown throughout his life to be a servant of the people and I know we can count on that same heart of servitude from David if elected. David's understanding of the principles of liberty is a trait that I believe will serve the people of SD34 well. Currently, I call David my friend, but I hope to also call him my colleague."
Rep. Chuck Strohm (R-Jenks, conservative rating 100): "It is an honor to endorse David McLain for the Oklahoma Senate. David has integrity, and he understands the fact that the principles which gave us the US Constitution are based in the Judeo-Christian belief system. He will join me in standing against Federal and Judicial overreach as we fight to preserve the values that we are seeing deteriorate before our eyes. Please vote for David McLain on November 10th and help elect a true Conservative as your next state Senator."
Tulsa County Assessor Ken Yazel (R): "I believe David McLain is the right man to represent the people of SD 34. As a fellow veteran, I know David has a deep understanding of the Constitution and will take his oath of office seriously. As a fellow conservative, I know that we will be able to trust that David will represent our Republican values well. David McLain is the right man for the job!"
We are at an interesting point in Oklahoma politics. The state is so overwhelmingly Republican that the special interests who had traditionally given to Democrats have discovered that the only avenue to influence legislation is to invest in Republican primary candidates. These special interests want to defeat fair-deal, grassroots Republicans, who want to make government smaller, but they find that they can work with wheeler-dealer Republicans, who are happy to have bigger government and higher taxes, as long as their allies can be the beneficiaries of those higher taxes.
With Republicans in solid control of every executive office, the State House, and the State Senate -- 40 seats out of 48 -- the real battle in Oklahoma politics is over what kind of Republicans will run state government.
I should stipulate at this point that both wheeler-dealer and fair-dealer Republicans are generally united in support of pro-life issues and Second Amendment rights. But wheeler-dealers have put the brakes on reform of taxation, schools, and the judiciary. They tend to like special tax credits for targeted beneficiaries. When the State Chamber says jump, the wheeler-dealers ask "How high?"
A look at endorsements and funding indicates that McLain's chief opponent in the race, John Feary, is aligned with the wheeler-dealers. Feary has the financial backing of leading Obama fundraiser George Kaiser and some of Kaiser's close associates, as well as many statewide political action committees and lobbyists.
Feary has been endorsed by the State Chamber of Commerce. Conservatives have learned that "chambers of commerce" at every level -- federal, state, and metro -- often support cronyism and oppose reforms that empower individuals, families, and entrepreneurs. The State Chamber has targeted solid conservative legislators for defeat, supporting primary opponents and sometimes even Democrats, as they try to reassert control over the legislature. Chambers often block conservatives on social and cultural issues, preferring profits to principle.
Last year, Feary ran a very negative campaign against Tulsa County Assessor Ken Yazel. Yazel has been the taxpayers' best friend at the County Courthouse, and because Yazel has opposed foolish sales tax increases and has called the public's attention to the wasteful allocation of our taxes, he was targeted for defeat by the local wheeler-dealers, who backed Feary. Feary lost in a landslide.
Feary, a City of Owasso employee, was also a vocal defender of City Manager Rodney Ray, who left Owasso under an ethical cloud. Rodney Ray was charged with and ultimately pled "no contest" to passing a bad check and making a false police report (he claimed the bad check had been stolen). Other OSCN entries for Rodney Ray suggest a pattern of financial irresponsibility over several years.
At that time, Feary wrote me defending Ray's performance as City Manager: "I would ask that you keep JB [sic] mind that Mr. Ray is not an elected official and his personal finances and family situations are not the business nor should they be if concern to J.B. Alexander and his group of cronies. The Owasso City Council makes the decisions and sets policy so Mr. Ray's private matters are not indicative or reflective of his job performance."
This election is to replace a state senator who pled guilty to crimes connected with embezzlement from his employer. Does it make sense to replace him with someone who regards the financial misdeeds of the CEO of Oklahoma's fastest growing city as merely private matters, and who regards concerned citizens as a "group of cronies"?
David McLain's financial support has come mainly from small donations; I recognize many of his donors as solid conservative activists. The only PAC to give money to McLain is the Oklahoma Conservative PAC.
There are two other candidates on the Republican primary ballot, Mark Williams and Chuck Daugherty, who do not appear to be running an active campaign. Because there is no runoff election, conservatives need to unite behind one candidate. If the conservative majority splits its votes, the candidate backed by Obama fundraiser George Kaiser will win.
We don't need another state senator who will owe his election to special interest groups, lobbyists, and big Democrat donors. We need a solid conservative who will carry out the conservative reform agenda in Oklahoma City. I urge District 34 Republicans to get to the polls tomorrow and support David McLain for State Senate.