Vision Tulsa squeezes out "Third Penny" for streets; Dollars for dams instead
If you take time to read the Vision Tulsa ballot resolutions and ordinances that define the new city sales tax rate and control how the new city sales taxes will be spent, the barrage of changing tax rates and effective dates may make your head swim. That's why I put together an infographic to help me visualize those changes. This infographic revealed a trap, a hidden tax hike that Dewey Bartlett Jr., G. T. Bynum IV, and the rest of the City Council hope you overlook.
Proponents claim that Vision Tulsa won't increase the overall sales tax rate, but there's a hidden trap in Proposition 3 that will force voters in 2021 to accept a hike in the overall tax rate in order to continue the longstanding "Third Penny" for streets and other basic infrastructure.
This chart shows the current allocation of City of Tulsa and Tulsa County sales taxes, with the proposed changes on the April 5, 2016, ballot highlighted with a heavy black boundary. Blue regions are permanent taxes for operations, orange regions are temporary taxes primarily for basic infrastructure capital improvements like streets and sewers, purple regions are "vision" taxes primarily for amenities and "economic development." City taxes are shown with darker shades, county taxes with lighter shades.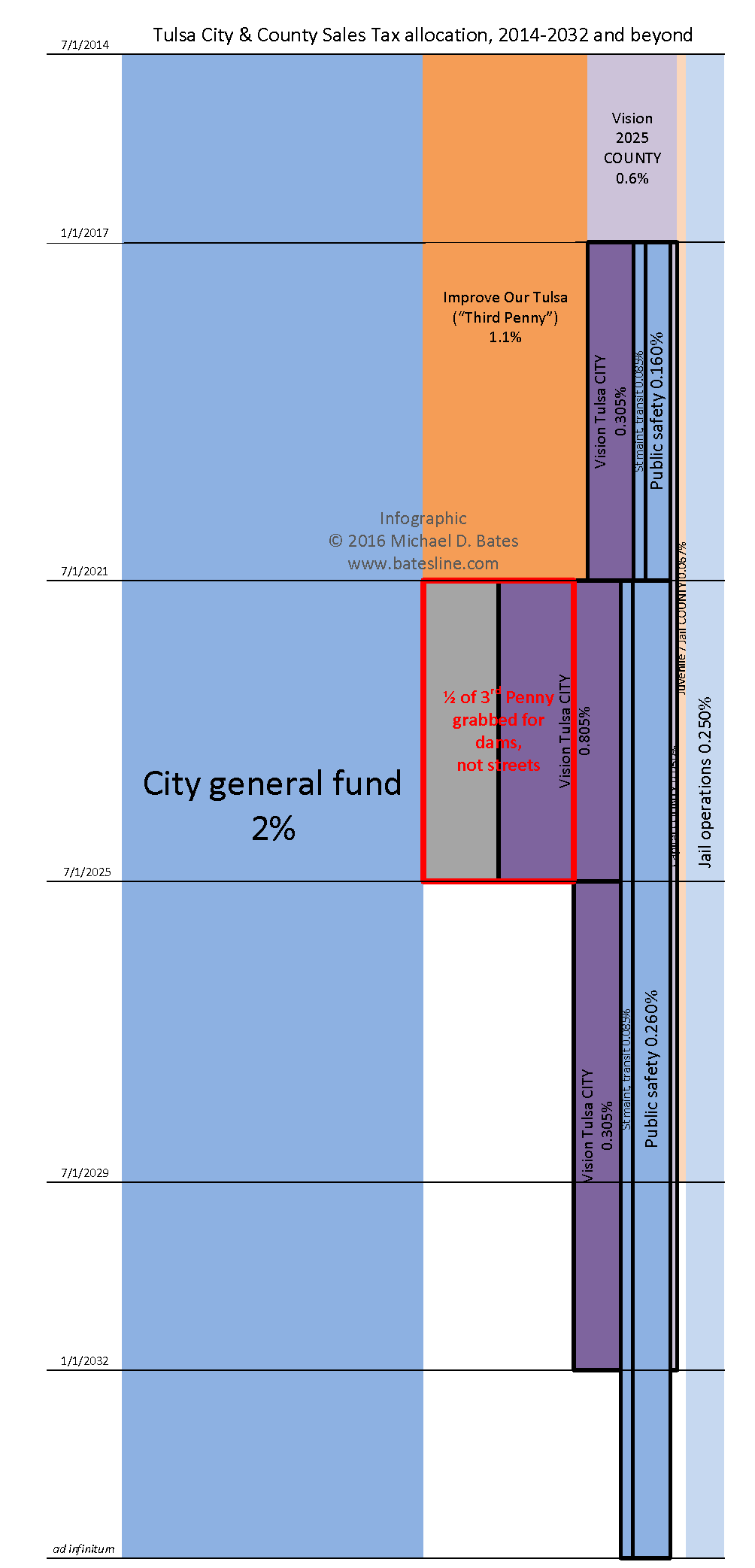 Tulsa County's "Vision 2025" 0.6% sales tax expires at the end of 2016. The City of Tulsa is proposing a combination of temporary and permanent taxes that begins at 0.55% for 4½ years, climbs to 1.15% for 4 years, shrinks back to 0.65% for 6½ years, and then leaves a permanent increase of 0.345%. Tulsa County is proposing a 0.05% increase for 15 years.
Starting in 1980, Tulsa citizens have approved a series of temporary sales taxes, earmarked for streets, reservoirs, sewers, stormwater system, and other fundamental city infrastructure. Because the original tax was an additional 1% levied on top of the 2% sales tax for the city's general fund, it became known as the "Third Penny."
The current "Third Penny" is 1.1% and it expires on June 30, 2021. If Vision Tulsa passes, it will grab a half-penny from that expiring "Third Penny" and put it toward Proposition 3, which includes building two new low-water dams in the Arkansas River. Another 0.1% from the expiring tax will go to increasing the permanent tax for public safety operational costs. That leaves only a ½ penny for a new streets package.
That four-year bulge in the Vision Tulsa tax amounts to $160 million that won't be going to rebuild our crumbling streets. Instead, that's just about what it will cost to build two new dams in the river.
If we VOTE NO on APRIL 5, the Council can eliminate the dams and a couple of other wasteful projects, and thus eliminate that four-year, ½-penny bulge in the Vision Tulsa tax, before sending it back to us for another vote. That would leave room for our traditional "Third Penny" for streets and basic infrastructure to be extended as usual in 2021 without an overall tax increase. To make that happen, we have to VOTE NO ON APRIL 5.
MORE:
Here is a PRINTABLE VERSION of the Tulsa sales tax timeline that you can download and hand out to your friends.
Infographic and text Copyright 2016 by Michael D. Bates. Limited license granted to opponents of Vision Tulsa to copy and distribute without alteration prior to April 6, 2016.
2 TrackBacks
The Tulsa County Republican Men's Club is hosting a forum tonight, Tuesday, March 8, 2016, at 7 p.m., about the upcoming April 5 vote on the "Vision Tulsa" tax propositions. George McFarlin and I will be there to explain why you should vote against the... Read More
Here are my recommended votes in the Tulsa County special election on April 5, 2016, for the unexpired term for Tulsa County Sheriff and county and municipal sales tax propositions. Links lead to more detailed information or earlier blog entries. (Thi... Read More