Vague Vision Tulsa: Payola Project for common schools
Among the many flaws in the Vision Tulsa dam tax proposal (on the April 5, 2016, ballot) are what I've decided to call the Payola Projects -- projects that involve giving a chunk of money to various institutions in hopes of winning their constituents' votes for the dam tax.
A Payola Project typically involves a suspiciously round sum of money which the city will transfer to another governmental entity (which often has its own source of funding). The amount of money may or may not be enough to pay for a specific construction project. They may not even have even a specific project in mind, or the project might be contingent on a string of approvals yet to be obtained. The important thing is for the target constituency of the Payola Project to think that the small amount of money they're getting is worth wasting $128 million on dams in the Arkansas River.
A Payola Project is all about symbolism over substance: "We haven't allocated enough money to do anything meaningful about this issue that matters to you, dear voter, but we want you to think that we care, so you'll vote for our Dam Tax."
On four separate occasions, voters have rejected taxpayer-funded low-water dams in the Arkansas River, but city mis-leaders like G. T. Bynum and Dewey Bartlett Jr. insist that they'll be a game-changer, so they're back on the ballot for a fifth time, surrounded by a collection of Payola Projects. Think of a Payola Project as an electoral flotation device for the big, expensive dam project, which would otherwise sink at the ballot box as fast as Luca Brasi in concrete overshoes sank in the East River.
The Payola Project for voters concerned about public education is listed this way in Title 43-K, the ordinance that (vaguely) regulates how money in Vision Tulsa Proposition No. 3 for "Economic Development" must be spent:
Public Schools - Partnership with Union, Jenks & Tulsa Public Schools in Teacher Retention, Recruitment, and Training Efforts: $10,000,000

(I wonder why they didn't include the rest of the public school districts that serve the City of Tulsa: the Broken Arrow School District, which serves growing new Tulsa subdivisions southeast of 31st and 145th East Ave, or Catoosa School District, which serves recently annexed areas in Wagoner County.)
Here's how Tulsa City Councilor and former Tulsa school board member Anna America answered a question about the project on March 24 -- a mere 12 days before the election, showing the vague and unsettled state of the proposal
Jeff, we are still working on the final details. The original proposal was for $50 million for two pieces -- housing incentives that could be used for homebuyers or renters, and stipends for continuous learning in the summer. It was scaled back to $10 million, so we are discussing exactly how that would look -- my hope that we do it in the way that has the most impact with the most teacher. There has been some discussion of using the housing part in conjunction with some property the city owns to create a "teacher town" but there are a lot of moving pieces on that., so it may not work out. This was the document submitted as part of the orignal proposal (although it looks to me like they issed a page in the scanning) and we will bascially be doing a scaled back version, although we purposefully took out language specific to housing and made it "attraction and rettention" so we have more flexibility on allowing the district use the money for other kinds of incentives for teachers.. https://www.cityoftulsa.org/media/432235/Teach-Live-T-Town-Presentation.pdf
According to State Department of Education reports the Tulsa district had, in school year 2014-2015, 3,118 teachers, Jenks had 819, and Union had 1,109. That's a total of 5,046 teachers. If you divided that "attraction and rettention[sic]" bonus among those teachers for the 15 years of the tax, it would amount to $132.11 per teacher per year, or about 73¢ per instructional day. It's better than a poke in the eye with a sharp stick, as my grandma used to say, but it wouldn't buy a decent cup of coffee, and it's hard to see how that will succeed in attracting or retaining anyone who isn't otherwise determined to be here.
Voters who care about funding for public education ought to lobby the legislature or petition to raise the cap on the local property tax levies for schools or to find some other local basis for increasing funding if local voters want to do so. Voters who care about attracting and retaining teachers should lobby their school boards to reduce the administrative burden so that funds already available to the school will go to the classroom instead.
Keep in mind that you have the option of voting yes or no on four different propositions on April 5. Keep in mind that the current Vision tax doesn't expire until December 31, 2016. There's plenty of time for the City Council to develop a sound plan, and three more opportunities this year to put it before the voters.
If you care about funding for public education, you should vote down Proposition 3, which includes this insulting attempt at a bribe, and tell the City Council to put together a better plan.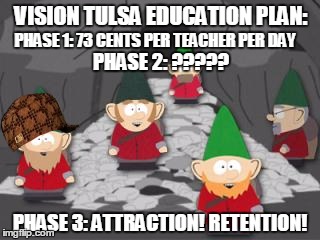 1 TrackBacks
Here are my recommended votes in the Tulsa County special election on April 5, 2016, for the unexpired term for Tulsa County Sheriff and county and municipal sales tax propositions. Links lead to more detailed information or earlier blog entries. (Thi... Read More