Merle Haggard, RIP: His role in the western swing revival
Legendary country singer and songwriter Merle Haggard died Wednesday on his 79th birthday.
It might be going too far to say he saved western swing from oblivion, but Merle Haggard's efforts to honor Bob Wills went a long way toward introducing a new generation to the sound.
In 1946 or 1947, when Merle Haggard was nine or 10, he would ride his bike down to Beardsley's Ballroom in Bakersfield and listen at an open window to Bob Wills and His Texas Playboys.
Western swing and Bob Wills were both in rough shape at the end of the 1960s. After two heart attacks, Wills gave up the stress of leading a band in 1964. Leon Rausch took over the Texas Playboys, while Bob played solo dates, sometimes traveling with a vocalist, backed by local bands, and continuing to record for Kapp Records with studio musicians. In 1969, Wills was honored by the Country Music Hall of Fame and by the Governor of Texas, but on May 31 he suffered a major stroke, followed by numerous complications and the paralysis of his right side. His bow hand was useless and his fiddling days were at an end.
Around the same time, Haggard took advantage of the creative freedom his early superstardom had earned him to record tribute albums to musicians who had influenced him. He began in 1969 with a tribute to Jimmie Rodgers, the Singing Brakeman, with a double-album called Same Train, A Different Time. Haggard brought the liner notes into the vinyl, interspersing Rodgers' blue yodels with short narrations about Rodgers and the life along the rails that inspired his songs.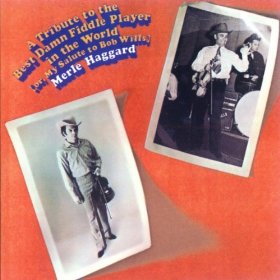 The following year, Haggard taught himself fiddle in preparation for recording a tribute to Bob Wills. This time, instead of relying solely on his own band, The Strangers, he went to Wills and asked his advice on which of his sidemen he should bring gathered six veteran Bob Wills sidemen -- Johnnie Lee Wills on tenor banjo (the instrument he played with the Texas Playboys before launching his own band), Johnny Gimble and Joe Holley on fiddles, Tiny Moore on mandolin, Eldon Shamblin on guitar, and Alex Brashear on trumpet -- to join with his band at the Capitol studios in Hollywood in April 1970 to record A Tribute to the Best Damn Fiddle Player in the World, or My Salute to Bob Wills. Except for Johnnie Lee Wills, the musicians to participate were part of the Texas Playboys band of Haggard would have heard growing up near Bakersfield in the late '40s. Except for Johnnie Lee Wills and Johnny Gimble (who joined the Texas Playboys in 1949), these were musicians who recorded the Tiffany Transcriptions, the recorded-for-radio discs that captured this versatile ensemble as they sounded on the bandstand night-after-night, unconstrained by the limits of 78 RPM discs.
By the fall of 1971, Wills's health had recovered sufficiently to allow him to travel, and Haggard arranged for a larger group of Texas Playboys -- Alex Brashear, trumpet; William E. "Smokey" Dacus, drums; Glynn Duncan, vocal; Johnny Gimble, fiddle; Joe Holley, fiddle; Leon McAuliffe, steel guitar; Tiny Moore, electric mandolin; Eldon Shamblin, electric guitar; Al Stricklin, piano; Johnnie Lee Wills, banjo; Luke Wills, bass -- to fly out to Bakersfield for his housewarming party on September 27, 1971. It was a reunion for Bob and several members of his 1930s Tulsa band (with Glynn Duncan subbing for his late brother Tommy). Their session was recorded for Capitol, but for some reason it was never released. The songs only became available as part of Bear Records' massive and comprehensive box set.
Although it didn't directly result in an album, the reunion in Bakersfield opened the door for an even bigger reunion in March 1972 in Fort Worth, and ultimately a recording session with a new label, United Artists. When the Bob Wills planned a session for December 1973, Merle Haggard was determined to be there and begged Wills for the chance to play with the band. After a gig in Chicago, Haggard's bus drove through the night to get him there for the second day of the session. In the meantime, Wills had been at the first day of recording, but that night Wills had had the stroke that would put him in a coma for the rest of his life. The Playboys carried on despite their sadness. Haggard sang three tunes as a Texas Playboy: "The Texas Playboy Theme," "Yearning," and "I Wonder If You Feel the Way I Do."
After Wills's death, Haggard continued to use his platform to bring old Texas Playboys together and to bring their music to a wider audience. Here's a segment of a nationally broadcast show, introduced by Dolly Parton, featuring Merle Haggard with Eldon Shamblin on electric guitar, Joe Holley on fiddle, Tiny Moore and Johnny Gimble on fiddle and mandolin, Skeeter Elkin on piano, Herb Remington on steel guitar, Alex Brashear on trumpet, Wayne Johnson on saxophone, playing the "Texas Playboys Theme," "Ida Red," an instrumental verse of "Faded Love," "Roly Poly," and "San Antonio Rose." (Not sure who the bass player and drummer are.)
Haggard invited two of the Texas Playboys, Tiny Moore and Eldon Shamblin, to join and tour with his band, which they did from 1973 to 1976, rejoining the band in 1981. They played with the Strangers throughout the period when they appeared in Reno and around Lake Tahoe, close to Moore's home base of Sacramento.
In 1977, Haggard was the guest of a very hirsute Ralph Emery on "Pop Goes the Country," and he played a medley of fiddle tunes with Tiny Moore, Johnny Gimble, and fiddle prodigy Tigar Bell.
From the same show, here's "Haggard with The Strangers, Eldon Shamblin, Tiny Moore, and Johnny Gimble performing Cherokee Maiden," which reached number 1 in the country charts in November 1976.
In 1978, Haggard, Moore, Shamblin, and the Strangers performed Columbus Stockade Blues and a fiddle medley on TV (but, alas, those videos have been deleted).
Haggard continued to record and perform Bob Wills tune throughout his career. He graced Asleep at the Wheel's Bob Wills tribute albums, singing "I Wonder If You Feel the Way I Do" on A Tribute to the Music of Bob Wills and His Texas Playboys (1993), "St. Louis Blues" on Ride with Bob (1999), and "Keeper of My Heart" on Still the King: Celebrating the Music of Bob Wills and His Texas Playboys (2015).
SOURCES: San Antonio Rose, the Life and Music of Bob Wills by Charles Townsend and Tom Diamant's 1981 interview with Tiny and Dean Moore and Eldon Shamblin.
MORE:
At The Federalist, Peter Johnson writes about Merle "Haggard's everyday man's brand of conservatism." He writes:
I credit classic country, and Haggard especially, for helping me to avoid the progressivism nonsense that permeates our culture nowadays. I'm a Jewish guy with an English degree from New York University who served in the Peace Corps, so it might seem natural to predict that I might have turned out a flaming progressive. I think my deep appreciation for classic country music is one of the reasons I never really bought into leftist ideologies.
In the April 10, 2016, edition of Panhandle Country on KPFA, Tom Diamant paid tribute to Merle Haggard; the main part of the tribute begins at 48:42. At 1:37:00, Diamant discusses Haggard's Bob Wills tribute. It will only be online until April 24, so listen while you can.
Bobby Ross Jr. writes at Get Religion about Merle Haggard's Christian faith. In the comments, he mentions that Haggard was a member of Gene Scott's church and a friend of the idiosyncratic preacher, linking to the LA Times obit of Gene Scott:
Country singer Merle Haggard, a church member and close friend, on Tuesday called Scott an exceptional scholar.

"He was the mind that all other brilliant minds looked to for guidance on problems that were insoluble," Haggard said.
Raisin' Cain recalls Haggard's live recreation of a Texas Playboys noon broadcast from Cain's Ballroom on KVOO in 1984.
The Bakersfield Californian reports on the roots of Merle Haggard's musical raising.
The Texas-born "King of Western Swing" began recording with his band in the mid-1930s. He found major success with hits such as "New San Antonio Rose" in 1940 and, following a short stint in the Army, relocated to the Los Angeles area in 1943 where he began reorganizing the Texas Playboys. Laborers from all over the country were migrating to industrial jobs on the West Coast during the war years, and many Southern and Southwestern transplants flocked to the dance halls to hear Wills and his band. They became at least as popular -- if not more so -- than big bands fronted by Tommy Dorsey and Benny Goodman.

Wills and his band moved to Fresno in 1945, and toured relentlessly up and down the coast. For more than a year, they played a weekly gig at Bakersfield's Beardsley Ballroom. At least once per month the show was broadcast live on the radio. One of the most dedicated young listeners was Merle Haggard. "Bob Wills' band," Merle claimed in his second autobiography My House of Memories, "was the best in the history of live radio."

But it was more than the stellar musicianship that Merle came to appreciate. "Our people were often looked down on by the natives as being dumb and ignorant Okies," Haggard noted. "We needed a hero, and Bob was certainly that and more."

In 1968 Wills was inducted into the Country Music Hall of Fame. A stroke the following year left him partially paralyzed. Reflecting on his hero's contributions to the music he loved, Haggard mastered the fiddle in a few short months and started work on recording the awkwardly titled "A Tribute to the Best Damn Fiddle Player in the World (Or, My Salute to Bob Wills)." Released in 1970, the songs were near note-perfect imitations of Wills' records. In addition to his regular band, the Strangers, Merle recruited several of Wills' Texas Playboys for the session, including Eldon Shamblin, Tiny Moore, Johnny Gimble, Johnnie Lee Wills, Joe Holley, and Alex Brashear.

"You know what I learned from Bob Wills?" Haggard asked during a 2010 interview. "Everything!"

While Bob Wills taught Haggard about being an effective band leader, it was the Texas Playboys vocalist, Tommy Duncan, who was one of Merle's greatest influences as a frontman. "I think the first to impress me with his good singing voice was Tommy Duncan," Haggard revealed in his 1981 autobiography, "Sing Me Back Home."

Duncan and Wills began working together in 1932 after Tommy auditioned with dozens of other singers for a spot in Wills' Light Crust Doughboys. The pair formed the Texas Playboys the following year. Tommy sang lead on most of the Playboys' hits until his boss's drinking created tension between the bandleader and singer. Duncan was fired in 1948, though he and Wills would work together again in the future.

In his early days as a Bakersfield picker, Haggard was called to play guitar in a one-off band that was assembled to back Duncan at a show in Hanford. "There wasn't nobody in the band that I recognized and it was an awful band," Merle recalled in 2009. "Tommy got onstage and did 'Deep Water,' and when he got through with it he walked over to me. . . . He said, 'Would you mind helping me keep these songs going?' And I just turned red all over, you know. But it took him one song to identify that out of the thirteen people, there was one guy onstage that might be able to play. Boy, that was the thrill of my life to get to play with Tommy."

Haggard's childhood home in Oildale, converted from a boxcar by his father, has been moved to the Kern County Museum in Bakersfield.