Vision Tulsa: Fisheries biologist damns dams' impact on fish and fishing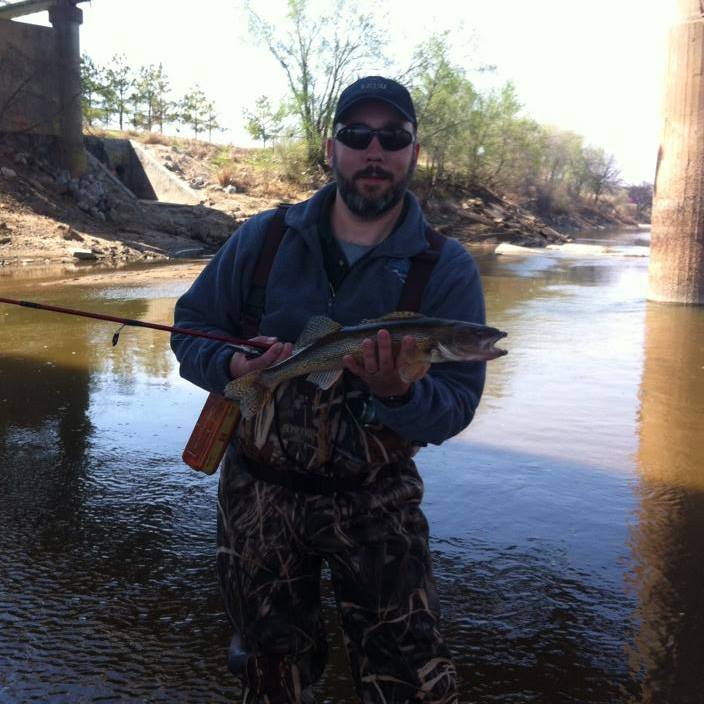 Fisheries biologist Chris Whisenhunt with a sauger he caught in the Arkansas River beneath the 96th Street (Jenks) bridge, an area that would be affected by the proposed south Tulsa / Jenks dam.
Tulsa fisheries biologist Chris Whisenhunt has some concerns about the dam's effect on fish and fishing. With his permission, here are some comments he has posted on Facebook about the dams .
Voting Yes on Proposition 3 will almost assuredly destroy the delicate ecosystem within the Arkansas River by displacing or eliminating many sensitive, native aquatic species for the sake of "economic development". As a fisheries biologist, it is my opinion that dams in the river are a BAD IDEA! (And no, the new lakes that would be created will not be good for fishing but would actually eliminate the existing fisheries). Tulsa should explore other ways to create economic development that doesn't risk damage to the environment for what is simply aesthetic reasons.
Many indigenous species (sauger, white bass, paddlefish, shovelnose sturgeon, and many others) currently thrive in the area of the river to be impacted by the proposed dams. Voting yes will most likely displace those fish, eliminating the existing fishery for the sake of aesthetic value in hopes of promoting economic development. The new lakes will not be able to support a viable fishery. Any loss of, or damage to, the existing fishery may result in mitigation by the city at the cost of its tax payers.
And in response to diagrams of the dam operation, Whisenhunt notes the dilemma -- officials will have to open the dams and let the lakes drain out for five months to allow for fish spawning or keep the dams shut and degrade the stock of fish over time.
I've seen the cartoon videos & diagrams of how the dams are supposed to work and am not overly impressed. First, many sensitive species in the Arkansas River are benthic (bottom oriented) & most likely will not make it over the contour of the dam. Second, spawning season for the variety of fishes in the river is from February to June and we have no guarantee the city is prepared to leave the dams down that entire length of time. Third, I've asked for & have yet to receive any SCIENTIFIC, peer reviewed research proving the dams allow fish passage (a little something more than a cartoon). Finally, the continuous filling & draining of the lake will prevent any viable fishery from being established in the lake itself, one of the selling points the city of Tulsa has tried to give the public. The city is risking ecological disaster for aesthetic value...a very bad idea!
MORE: News on 6 spoke to another local fisheries expert:
Sand islands and braided channels are what make the prairie stream that is Arkansas River.

"It's not dry, it's just not the Mississippi, but it's not supposed to be the Mississippi," Oklahoma Department of Wildlife Fisheries Biologist Josh Johnston said....

"We're on that knife's edge already of being too fragmented. It's taken the perfect year to get these fish where they are. They're persisting, but just barely," Johnston said.

Johnston has studied the river and the species that call it home for years. He said adding another dam could severely hurt or even wipe out several native fish, like the shovelnose sturgeon, American eel, white bass, sauger and paddlefish....

But Johnston said the river is always flowing, even though it may not look like it. He said most of the fish in the Arkansas River are genetically made up to survive and thrive in that sort of harsh environment.

"We're not looking at what we have and being thankful that this is native, this is Oklahoma right here," Johnston said.

He said for fish to migrate properly, most of the gates would need to stay down throughout spawning season. It wouldn't work opening and closing them throughout the four-month period, Johnston said.

"I just don't think the city is going to be willing to leave that down long enough," he said.

Johnston said he's gone to the city's public meetings, but said the city hasn't consulted with his division of the wildlife department since about 2009.

"This one's been the biggest push I've ever seen Tulsa make for these dams and we were not invited to the talks, we were not asked, we were not questioned," Johnston said. "They say they've had a lot of biological input by some of the greatest biologists, but it's not with my agency, and we are the biologists that work on this system."

Two years ago, when the river was unusually clear, the same biologist made an interesting discovery:
The Arkansas River usually only has strands of what appears to be muddy water. Biologists know there's a rich diversity of fish, but only through a remarkable bit of luck, were they able to show the rest of us.

"And we found just wads of fish that you wouldn't think would be here in our backyard," said Josh Johnson with the Department of Wildlife Conservation.

It started with an idea to see if any sturgeon were still in the river. Hardly anyone in the Wildlife Department had ever seen one.

"We never even took into consideration that this might have been a better place to look for them, and all of a sudden this guy calls in and he's caught one," Johnson said.

That led to an underwater survey on what turned out to be three days of clear water in unbearable cold, the water was just above freezing but there was 20 feet of visibility. They saw stripers and buffalo fish and photographed five shovelnose sturgeon.
1 TrackBacks
Here are my recommended votes in the Tulsa County special election on April 5, 2016, for the unexpired term for Tulsa County Sheriff and county and municipal sales tax propositions. Links lead to more detailed information or earlier blog entries. (Thi... Read More