Vision Tulsa and Tulsa County, April 5, 2016, election in a nutshell
Tomorrow, April 5, 2016, voters across Tulsa County have a special election for sheriff and will also vote on the county's sales tax proposal (1/20th of a cent for 15 years) for capital projects. Here's what the white countywide ballot will look like.
Voters in several Tulsa County municipalities will also be given a colored, city-specific ballot to approve increases in municipal sales tax which will go into effect on January 1, 2017, right after Tulsa County's Vision 2025 sales tax expires on December 31. Here's a synopsis with links to sample ballots on the Tulsa County Election Board website:
| | | |
| --- | --- | --- |
| City | Proposition | Terms |
| Collinsville | | 0.55%, permanent, for capital expenditures |
| Glenpool | Prop 1 | 0.29%, 20 years, for capital improvements |
| Glenpool | Prop 2 | 0.26%, 20 years, for police and fire vehicles, facilities, communications equipment, and other equipment |
| Glenpool | Prop 3 | 0.55%, permanent, for staffing additional police and firefighting personnel |
| Jenks | | 0.55%, 15 years, including $16,670,000 for low-water dam and additional funds for other capital projects. Dam money subject to mutual agreement between Tulsa and Jenks approved by December 31, 2020. |
| Owasso | | 0.55%, 17 years, for street improvements and adjoining infrastructure and right-of-way expenditures on 96th St. N. and 116th St. N. |
| Sapulpa | | 0.50%, 15 years, only in Tulsa County, for economic development and land acquisition |
| Tulsa | Prop 1: Public Safety | 0.16%, 4.5 years, then 0.26%, permanent, for police, fire, and 911 |
| Tulsa | Prop 2: Street Maintenance and Public Transportation | 0.085%, permanent, for maintaining and supporting public streets and public transportation systems |
| Tulsa | Prop 3: "Economic Development" | 0.305%, 4.5 years, 0.805%, 4 years, 0.305%, 6.5 years, for low-water dams and other projects |
Bixbyvoters also have a municipal ballot, but it's for a 25-year extension of the Oklahoma Gas & Electric franchise, which allows OG+E access to city utility easements to deliver electricity to its customers.
It's interesting to see that the City of Sapulpa is proposing a tax increase only in the part of that city in Tulsa County (along I-44 between 51st and 61st), where an existing sales tax will be expiring. The reference to land acquisition suggests that they plan to purchase and clear some of the old Route 66 motels along that stretch (some of which date back to the completion of the Turner Turnpike in 1953) and then try to redevelop with more lucrative national chains.
Shoppers in the Osage County section of the City of Tulsa won't be as lucky -- the overall sales tax rate will rise there, since there isn't a corresponding tax expiring. (Here is the current list of city and county sales and use tax rates from the Oklahoma Tax Commission.) That'll affect the Walgreens, Family Dollar, and other shops on the northeast corner of Edison Street and Gilcrease Museum Road, and the gift shop and restaurant at Gilcrease Museum itself.
Tulsa County has a tentative list of projects for its 0.05%, 15-year package on its website, but with a caveat: "The list of projects outlined on this site have been discussed or requested by Tulsa County residents, County staff and/or the Tulsa County Commissioners. Only after further input from the public will a final decision be made as to what projects to include in a final package submitted to Tulsa County voters." The assortment of projects is reminiscent of the first Four to Fix the County vote in 2000 (in effect October 2001 - October 2006). At that time, the County Commissioners put four separate items on the ballot to avoid violating the Oklahoma Constitution's "single-subject" anti-logrolling rule. Given the refusal of judges to enforce the rule strictly, they seem to feel safe in lumping all of the projects together under one vague category.
The verbiage in the Jenks proposition about the dam is very interesting. The drop-dead date for an agreement with Tulsa is written into the proposition and set for the end of 2020, while the corresponding date for Tulsa to reach an agreement with Jenks and the Muscogee (Creek) Nation (MCN) is the end of 2016, and it's written into the Brown Ordinance for Prop. 3, rather than the ballot language. In both cases, failure to make the date releases the funds for other purposes, but the mismatch in dates means that the dam could be dead for four years before Jenks could legally repurpose that $16.67 million. Interesting, too, that the funds for the dam are described on the ballot in a way that focuses on operation and maintenance and other expenses that would be incurred long after the dam is built -- interesting because City of Tulsa officials have said they expect the MCN to cover maintenance costs for the dams. The Jenks ballot language makes no reference to MCN involvement.
Here's the language on the Jenks ballot:
Shall Ordinance No. 1392 of the City of Jenks, Oklahoma, adopted on February 1,2016. which levies and assesses a sales tax of five and one-half tenths of one percent (0.55%) upon the expiration of the current Vision 2025 sales tax be approved as a City of Jenks sales tax upon the gross receipts or proceeds on certain sales as therein defined, effective January 1, 2017, for 15 years for purposes including, Sixteen Million Six Hundred Seventy Thousand Dollars ($16,670,000) for funding of the proposed Jenks-Tulsa Arkansas River low water dam project, for the purposes of constructing, reconstructing, improving, remodeling, repairing, operating and maintaining the proposed low water dam and related facilities; with additional funds to be used for capital projects including constructing roads and road maintenance; park improvements and construction; construction of sidewalks and trails; and upgrades to storm water and sewer infrastructure; engineering; acquiring necessary lands and right of way; and/or to be applied or pledged toward the payment of principal and interest on any indebtedness, including refunding indebtedness, incurred by or on behalf of the City of Jenks for such purposes. including payment of the costs of issuance of such loans or bonds; defines terms; prescribes procedures, remedies, liens and fixes penalties; subject to a mutual agreement between the cities of Jenks and Tulsa for construction of the low water dam approved by December 31, 2020, otherwise funds identified for construction of the Jenks-Tulsa Arkansas River low water dam may be used for additional capital project categories as identified in this proposition, be approved?
Here's the language in the Tulsa ordinance:
The project entitled 'South Tulsa/Jenks Lake and Related Amenities' is contingent on additional funding for other aspects of the entire project, to be provided by the City of Jenks and the Muscogee (Creek) Nation, including a long-term operating and maintenance endowment. If a Memorandum of Understanding is not executed by all three funding partners on or before December 31, 2016, funding allocated by the City of Tulsa for this project ($64,214,000) will be reallocated according to the provisions of this ordinance, provided that Eighteen Million Dollars ($18,000,000) will first be reallocated to a long-term operating and maintenance endowment for Zink Lake and Related Amenities.
MORE: Visit the Re-Vision and the Arkansas River categories for complete BatesLine coverage of Vision Tulsa and the proposed low-water dams.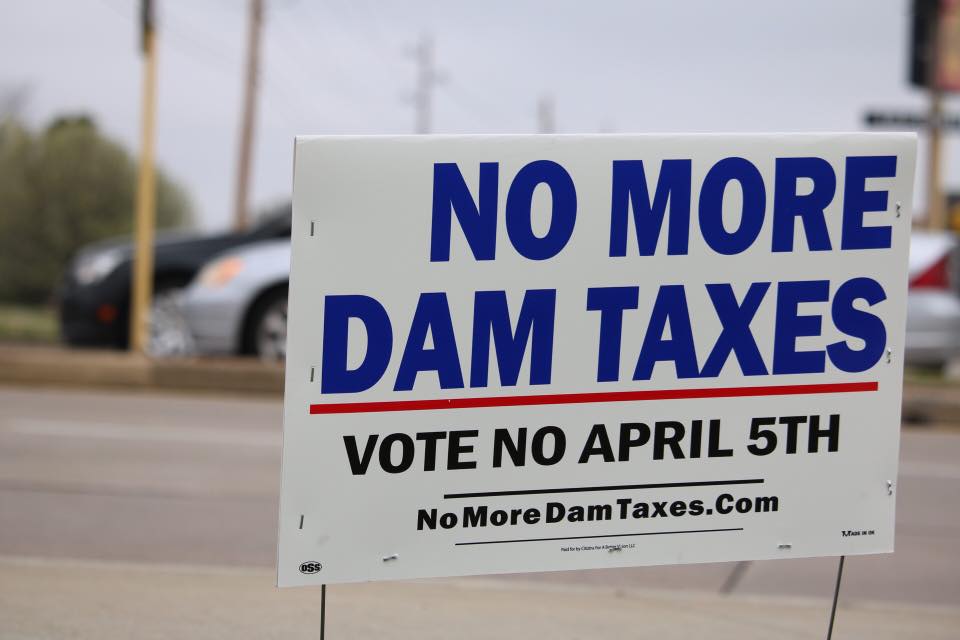 UPDATE: For the record, here are some links to coverage of Citizens for a Better Vision:
Fox23: Vision Tulsa responds to opposition group, Mar 15, 2016 - 9:01 PM
News on 6: 'No More Dam Taxes,' Tulsa Vision Opposition Group Urges, March 15, 2016
KWGS: Citizens for a Better Vision Ask Voters to Reject Tulsa Sales Tax Measures