Oklahoma SQ 776: Death penalty
Thanks to the support of generous donors (see the Spotlight sidebar on the home page for a list), here is the first in the BatesLine series on the state questions on the Oklahoma 2016 ballot. We will seek to get behind the ballot titles to the legal substance of the question and try to uncover the history, rationale, and people behind each proposal.
State Question 776 is a legislative referendum that would add a new Section 9A to the Constitution of Oklahoma. This new section would say:
All statutes of this state requiring, authorizing, imposing or relating to the death penalty are in full force and effect, subject to legislative amendment or repeal by statute, initiative or referendum. Any method of execution shall be allowed, unless prohibited by the United States Constitution. Methods of execution may be designated by the Legislature. A sentence of death shall not be reduced on the basis that a method of execution is invalid. In any case in which an execution method is declared invalid, the death sentence shall remain in force until the sentence can be lawfully executed by any valid method. The death penalty provided for under such statutes shall not be deemed to be, or to constitute, the infliction of cruel or unusual punishments, nor shall such punishment be deemed to contravene any other provision of this Constitution.
As Section 9A, it would fall immediately after Section 9, which is identical to the 8th Amendment to the Federal Constitution.
SQ 776 began as Senate Joint Resolution 31, which was was unanimously recommended by Senate and House committees, passed unanimously by the State Senate, and passed by an 80-10 vote in the State House. I have heard people ignorantly claim that the legislature is punting the issue to the voters, but under Article 24, amendments to the Oklahoma Constitution must be ratified by a vote of the people, whether they originate as an initiative petition or as legislation.
Audio of the Senate SJR31 floor presentation and debate is available online. On that page, click the SJR31 link in the left sidebar. This will advance the audio to that point in the session and also bring up the bill summary and history for further exploration. You can also watch video of the House SJR31 floor debate; click the "Agenda" tab and then the SJR31 link. The House Rules Committee discussion is here, which you'll find a more detailed discussion of the rationale behind this proposal.
If you put this amendment in a spray can, the label would read "Judicial Activism Repellent." This is an attempt to defend Oklahoma's use of capital punishment against a number of back-door strategies being employed by death-penalty opponents who know they can't win a direct attempt to delete the death penalty from Oklahoma law.
Activists have been pressuring drug companies to stop making the drugs used for lethal injections. As supplies of drugs needed for reliable and tested combinations have dried up, states have been forced to find new sources and new combinations of drugs in order to carry out the law. Application of these new combinations isn't straightforward, leading to errors as in the case of Clayton Lockett. That in turn leads to public outcry, a positive outcome from the perspective of death-penalty opponents.
During the House Rules committee discussion of the proposal, State Rep. Mike Christian mentioned a concern that the U. S. Supreme Court would ban lethal injection as "cruel and unusual punishment," making it urgent to find an alternative method (nitrogen hypoxia was mentioned as a new possibility in addition to electrocution and firing squad) and clearing a constitutional path to move existing cases to any new method.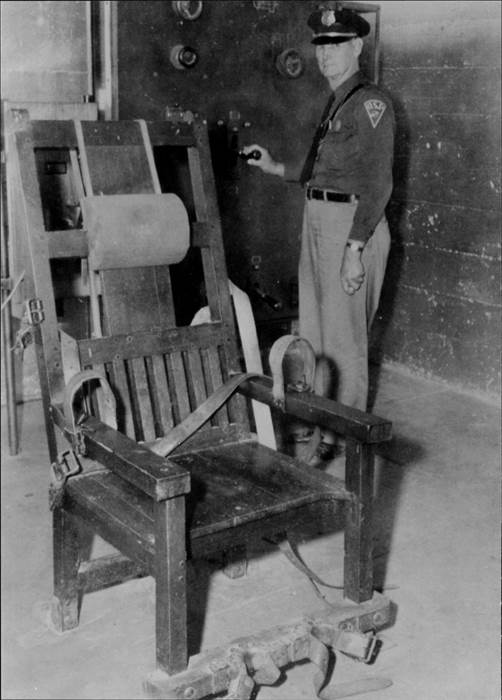 Of course, the only reason we are using lethal injection is because these same death-penalty opponents protested electrocution, hanging, and firing squad as inhumane.
The proposed amendment attempts to address problems raised by this situation. While methods of execution would continue to be limited by the "cruel and unusual" clause of the 8th Amendment of the U. S. Constitution, state judges would be barred from going beyond federal precedent to find additional methods of execution cruel and unusual under the Oklahoma Constitution.
Under the proposed amendment, a person is sentenced to death and not to a specific method of execution, so that a death-row convict will not be spared just because the expected method is unavailable.
"Shall not be deemed" in the final sentence is a restraint on activism by the State Supreme Court: They aren't allowed to comb the State Constitution for some other pretext for halting executions. If SQ 776 passes, the judges can't disingenuously imagine ambiguity or silence on the issue.
It's sad that this sort of amendment is necessary, but our theocratic method of selecting judges and justices means we wind up with a legal priesthood that selects a Sanhedrin of judges whose values are out of sync with the people they rule. Under the principle of self-government, judges should be of the people -- sharing the views and values of the people, but wiser, more consistent, and capable of reconciling conflicting circumstances. (The evolution of modern America makes more sense when seen as a decades-long process of colonization and proselytizing by a worldview alien to that which framed our Constitution, built the nation, and carried us through the Great Depression and World War II.)
I will vote YES, FOR SQ 776.
1 TrackBacks
Listed below are links to blogs that reference this entry: Oklahoma SQ 776: Death penalty.
TrackBack URL for this entry: http://www.batesline.com/cgi-bin/mt/mt-tb.cgi/7888
For your convenience, here is a summary of my recommendations for the seven state questions on the 2016 Oklahoma general election ballot. The descriptions are not meant to make my entire argument in three words; they simply serve as a reminder of the ... Read More