Election 2016: Oklahoma's seven electors
I almost left the top line of my ballot blank.
When I was filling out my absentee ballot, I left the presidential race until the last. Neither Donald Trump nor Hillary Clinton nor Gary Johnson -- our only three choices in Oklahoma -- are fit to serve as president of the United States. Trump says some things that are pleasing to conservative ears, but his livelihood was built on saying one thing to close a deal and then doing another, leaving him sitting pretty and his business partners in the lurch. Clinton is utterly venal and corrupt, selling American foreign policy to the highest bidder, with the money laundered through the family's "foundation," and setting up a private email server, putting American secrets at risk, in order to hide her corruption from the reach of open-records laws. Johnson is a buffoon, a fake libertarian who sees no problem with the State punishing small-business owners who wish to run their businesses in accordance with the understanding of marriage that was near-universal just a decade ago. I'm frightened by how triumphant Trump or victorious Clinton might use their new power to punish their adversaries; both are vengeful and egotistical. I'm disturbed by the willingness of many conservatives to shift their positions and lower their standards in order to justify their support for Trump -- not merely holding their noses and voting for him, which is understandable, but enthusiastically embracing him.
I had pondered voting for Johnson anyway, as a protest vote, but Josh Lewis, writing at SavingElephantsBlog.com, talked me out of it, pointing out that giving the Libertarian Party, particularly in its current state, a permanent foothold in Oklahoma will only cause more problems for electing conservatives:
Suffice it to say for now, I am a conservative and recognize libertarianism as a competing ideology. A vote for Gary Johnson is a vote that will ultimately strengthen the libertarian brand. If you're an ideological libertarian this makes sense. But if you're only casting a "protest vote" it may have dangerous unintended consequences.
So I was going to leave the ballot bank, but as I stared at the space on the ballot, I looked at the three lists of seven names under the names of the presidential and vice presidential nominees:
Republican: David Oldham, Teresa Turner, Mark Thomas, Bobby Cleveland, Lauree Elizabeth Marshall, Charles W. Potts, George W. Wiland, Jr.
Libertarian: Erin Adams, Mikel Dillon, Joel Britt Dixon, Rex L Lawhorn, Ephriam Zachary Knight, Craig A. Dawkins, Mark C. DeShazo.
Democrat: Marq Lewis, Bill John Baker, Mark Hammons, Betty McElderry, W. A. Drew Edmondson, Jeannie McDaniel, Rhonda Walters.
These are the people we're voting for today: One set of seven who will meet in Oklahoma City in December and cast the only votes any Oklahoman will cast for President and Vice President of the United States.
I'm under no illusions: Each of these people were selected by district and state conventions because of their loyalty to their party. Barring some unforeseen catastrophe, they will be voting for the names above theirs on the ballot, which will lead either to a Trump-flavored catastrophe or a Clinton-flavored catastrophe.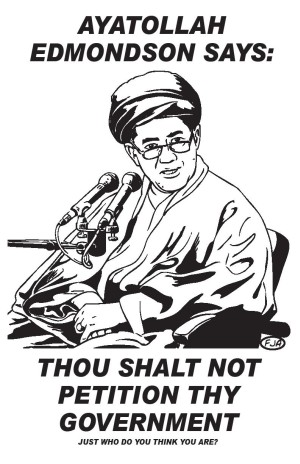 But what if no candidate appears to have won a majority of electoral votes? What if Utah goes for Evan McMillan, enough to hold Clinton and Trump short of 270? What if there finally emerges a scandal serious enough to chase Donald or Hillary into exile in Irian Jaya? What if (heaven forbid) one or both of the aged main-party candidates suffers a debilitating accident or health emergency? Would it still make no difference which set of seven electors are chosen by Oklahoma voters?
Under those unlikely circumstances, it would make a great deal of difference. I know many of the people running for elector, and I would trust David Oldham, Bobby Cleveland, and George Wiland to make a decision in the best interest of the nation. I would not trust Craig Dawkins, or Jeannie McDaniel, or Drew Edmondson, the former Ayatollah General.
It's taken me more time to describe my thought process than it took me to come to that conclusion. I had to decide to leave the race blank or mark it, seal up the ballot, get the affidavit notarized, mail it, and get on with trip preparations. I voted for George, David, Bobby, Mark, Teresa, Lauree, and Charles.
1 TrackBacks
Happy election day! Enjoy your freedom to vote now, before Hillary ships you to a concentration camp or Donald abolishes elections and renames himself Caligula II. Polls in Oklahoma are open until 7:00 p.m. If you need help finding your polling place, ... Read More