Tommy Allsup, RIP
UPDATE: The funeral for Tommy Allsup will be held Wednesday, January 18, 2017, at 11 a.m., at First Baptist Church, Owasso. Flowers may be sent to Mowery Funeral Home 9110 N. Garnett Rd. Owasso, OK 74055.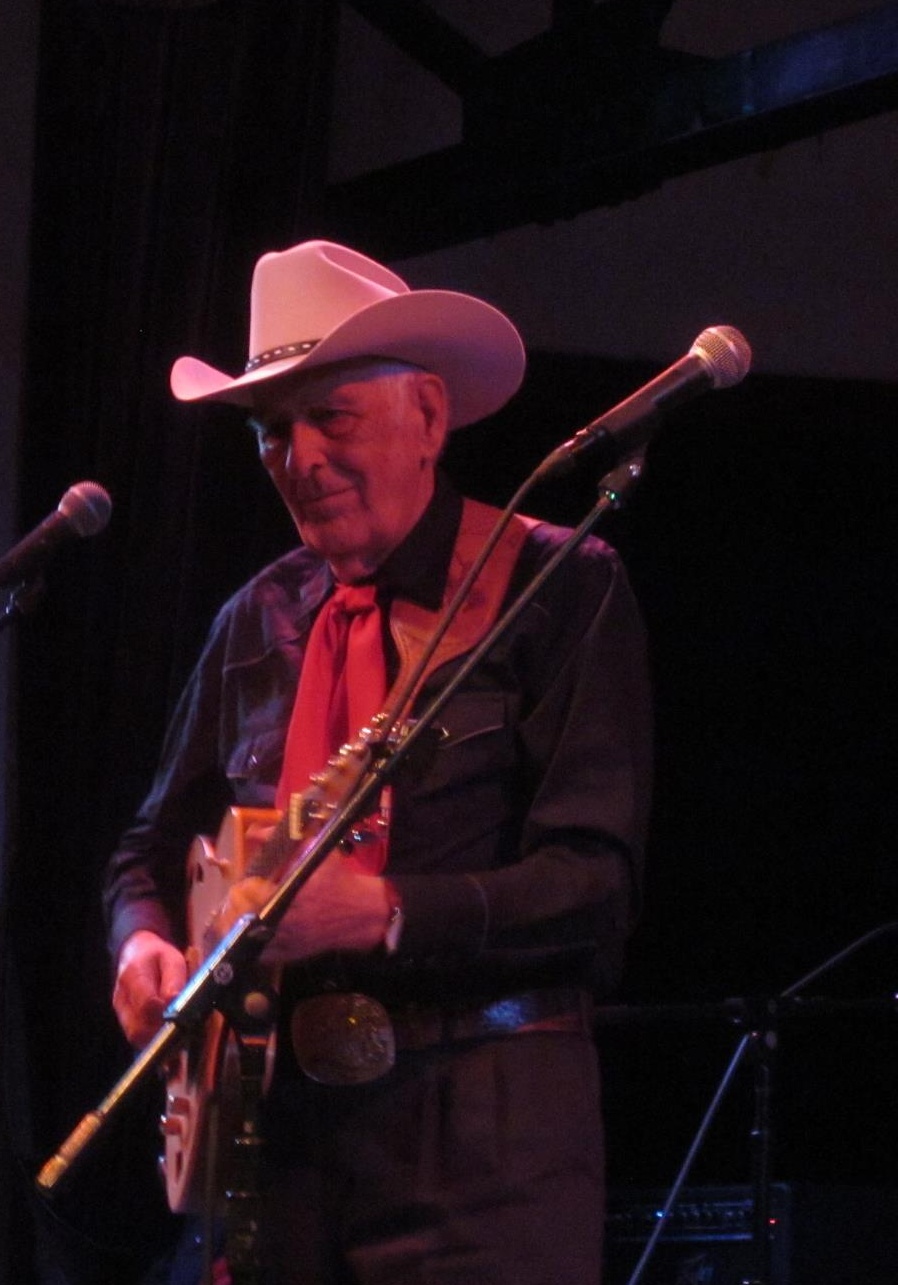 Legendary guitarist Tommy Allsup died yesterday, January 11, 2017, at the age of 85.
Allsup was raised on a farm west of Owasso and graduated from Claremore High School in 1949. Allsup was a member of Johnnie Lee Wills' western swing band in 1952, had his own band in Lawton and Odessa, played guitar in recordings and on tour with Buddy Holly, became an A&R man and producer for Liberty Records in Los Angeles, and became one of Bob Wills' Texas Playboys, working with Wills from 1959 until 1973's For the Last Time, which Allsup produced and on which he played bass.
Allsup is best known as Buddy Holly's lead guitarist for the fateful 1959 Winter Dance Party tour. He and bassist Waylon Jennings had been slated to fly with Holly from Clear Lake, Iowa, to the next stop on the tour, but Jennings gave up his seat to J. P. Richardson ("The Big Bopper"), who was ill, and Allsup lost a coin toss to Richie Valens for the last seat on the plane.
Allsup met Holly at the Norman Petty Studio in Clovis, New Mexico. That's Allsup's licks you hear on "Heartbeat" and "It's So Easy." Here's Allsup, in an interview with Darryl Hicks in 2008, explaining how he came to play for Holly in May of 1958, and how he wound up on the Winter Dance Party Tour:
During a lot of the Fifties I had a band named the Southernaires based out of Lawton, Oklahoma. We were working at a place called the Southern Club. We played there seven nights a week. It was there that I got a call from a friend of mine, a piano player, to come out to Clovis and record with a trio he was working with. I took off a couple of days from the club and went over to Clovis to help out. We recorded the trio one night. Norman Petty, the studio owner, had a bass player, a drummer and a background vocal group on staff there. He didn't have a guitar player right then, so he asked me if I wanted to stay around a few days and play on some more records. I said, "Sure." It was during that time that I first met Buddy Holly....

...Buddy came in from England. He and the Crickets already had a few hits by then. He asked me to play on some of his records. The first night we cut "It's So Easy (to Fall in Love)."...

The summer of `58 both Buddy and Jerry Allison got married. That fall they had a tour coming up called "The Show of Stars" out of New York. There were probably twenty acts on it. Buddy asked me to go on tour with them. That was also the time that he decided that he wanted to move to New York, but the Crickets didn't want to live there. He was also having some trouble with Norm Petty at the time, so in the end he went ahead and moved and the other guys all stayed in Clovis....

I went back to the band from Lawton, and we moved to Odessa. That area was starting
to boom with the oil business and all, so we went there to open up a new dance hall named the Silver Saddle. I played there with a guy named Moon Mullican (the hillbilly boogie piano picker out of Nashville who ended up being so influential over guys like Hank Williams, Elvis, Jerry Lee Lewis and Bill Haley). We were there in Odessa on New Years' Eve. Buddy was in Lubbock for the holidays, and he drove down to see us play. He told me that about this tour called the Winter Dance Party Tour that was coming up, and that Jerry Allison and Joe B. Mauldin weren't going to go. He asked me tour with him and mentioned that he was going to hire a West Texas kid named Waylon Jennings to play bass. He wanted me to find a drummer. I mentioned that there was a good drummer from that area named Charles Bunch. Charles, or Carl, as everyone calls him, was in that first trio I played in the session at Norman Petty's studio in Clovis.

You'll need to click that link to read Allsup's account of the fateful coin flip with Richie Valens and what happened to that coin.
Later that year, Allsup headed to Los Angeles. He became Liberty Records' A&R director for Country & Western music and a record producer and session musician for both country and pop artists. That's his guitar (and Leon Russell's keyboards) on Gary Lewis and the Playboys' hit "This Diamond Ring." Allsup produced all of Bob Wills and His Texas Playboys' recordings on Liberty, including the 1960 and 1961 sessions that reunited Bob Wills and vocalist Tommy Duncan. Tex Williams was another artist whose work was produced by Allsup for Liberty.
Allsup built his own studio in Odessa in the mid-1960s, from which emerged one of the more unusual rock hits of the 1960s, "In the Year 2525," by Zager and Evans.
In 1968, Allsup went on to Nashville to work as a studio musician, backing many of the legends of country music, including George Jones, Marty Robbins, Reba McIntire, Ferlin Husky, Faron Young, Wanda Jackson, Lynn Anderson, Charlie Rich, and Kenny Rogers. (See Praguefrank's Country Discography for details.) In 1973, he produced and played bass on Bob Wills's final album, For the Last Time. After Wills's death, Allsup produced and sometimes performed with the Original Texas Playboys, led by Leon McAuliffe.
For the last 20 years or so, Allsup joined Leon Rausch to front Bob Wills' Texas Playboys, the band officially authorized by the Bob Wills estate to carry on his musical legacy. With the Playboys, Allsup made appearances at Cain's Ballroom every March for the annual Bob Wills Birthday Bash and every April at Bob Wills Day in Turkey, Texas, along with gigs from coast to coast. While the lineup of the Texas Playboys has varied depending on the sidemen available to travel to a gig, Allsup and Rausch have been constants, with Allsup on lead guitar and Rausch on lead vocals. At every performance I witnessed, Allsup would also sing on several Bob Wills tunes, Buddy Holly's "Raining in My Heart," and the blues tune "Big Boss Man."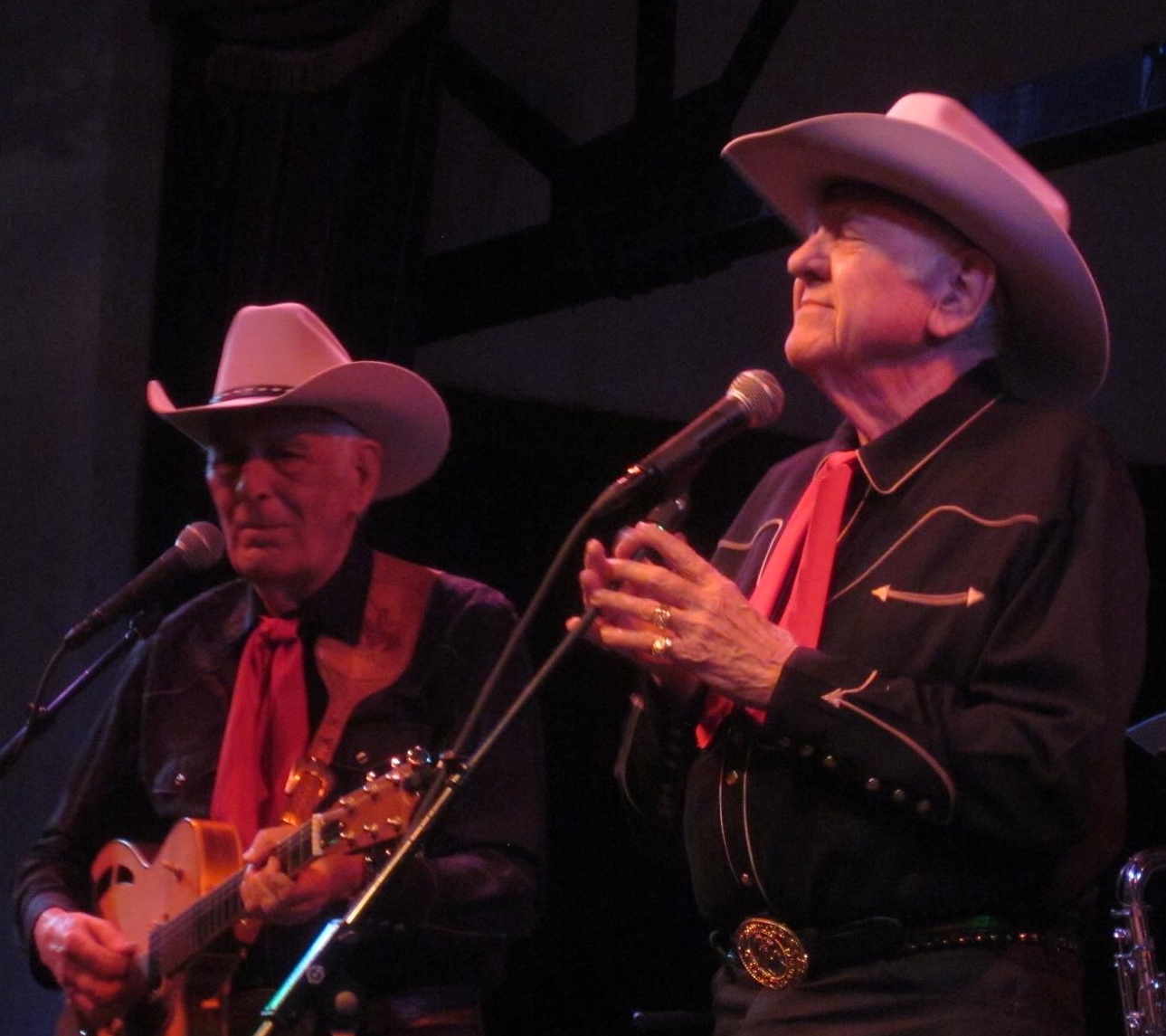 Allsup was one of the last surviving musicians to have toured and recorded with Bob Wills. Leon Rausch, Bobby Koefer, Herb Remington, Ramona Reed, and Jody Nix are among the few who are still with us. Tommy Allsup's absence will be keenly felt at this year's Bob Wills Birthday Bash.
MORE:
In 2011, John Erling interviewed Tommy Allsup for his Voices of Oklahoma series.
Radio station WFMU's "Beware of the Blog" has the entirety of Twistin' the Country Classics (Liberty, 1963) available for your listening pleasure. Tommy Allsup headed a band of studio musicians called the Raiders.
Buddy Holly historian Randy Steele spoke to the Lubbock Avalanche-Journal about Tommy Allsup's visit last fall.
"Tommy's body may have been 85, but his hands were as young as ever, and so was his mind," said Steele, adding he's a longtime friend of the Holly family and an avid fan and researcher of Holly and the Crickets. "He played unbelievable. It was almost effortless, or seamless."
NOTE: Photos are from the 2012 Bob Wills Birthday Bash at Cain's Ballroom in Tulsa. Copyright 2012 by Michael D. Bates. All rights reserved.
0 TrackBacks
Listed below are links to blogs that reference this entry: Tommy Allsup, RIP.
TrackBack URL for this entry: http://www.batesline.com/cgi-bin/mt/mt-tb.cgi/7936