2017 Tulsa City Charter amendment election
Appreciate the hours of effort behind detailed analysis you can't find anywhere else? Hit the tip jar!
It may come as some surprise to you that the City of Tulsa is holding a special election four weeks from today, Tuesday, November 14, 2017. There won't be any names on the ballot, nor any taxes or general obligation bonds. The ballot will consist of seven proposed amendments to the City Charter which were approved by the City Council over the course of the summer.
While the required public notices have been issued, and the proposals received some attention by news outlets, the official city websites seem to be ignoring the election. As of this writing, the election does not appear in the Calendar of Events on the official City Of Tulsa homepage: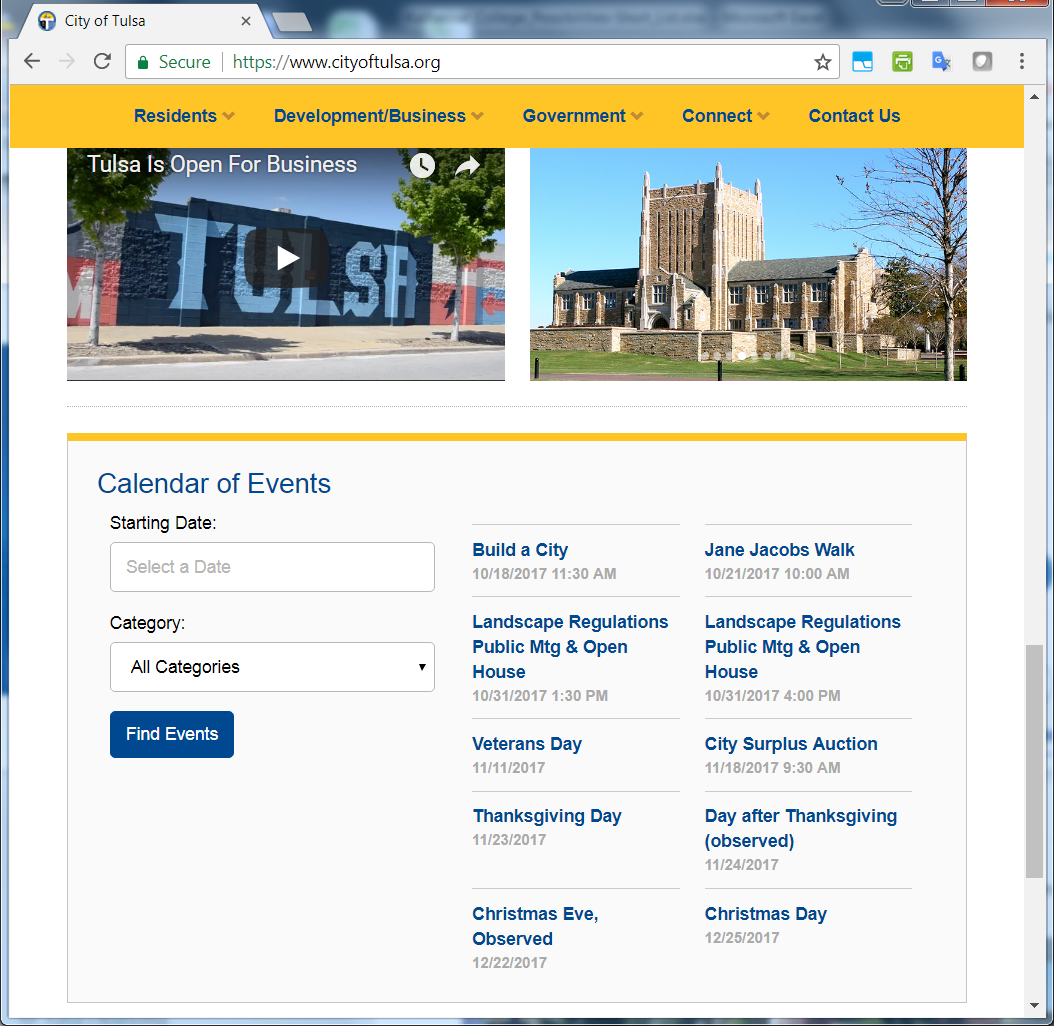 Nor is there any mention of the election on the Tulsa City Council homepage, current news page, or archived news page (click to view screenshots of each), or on the official
Twitter accounts of the City of Tulsa or the Tulsa City Council.
1. Summary nuisance abatement
2. Electronic notice of Special Meeting
3. City resolutions with Emergency Clause
4. City elections to be moved to August
5. Change in membership of Election District Commission
6. Permit political activities by civil service employees and sworn public safety officers
7. Attempt to constrain funds generated by public safety tax
(UPDATE: As a supplement to my commentary on Prop 4, I have written a timeline of the ridiculous number of changes Tulsa has made to its election process. Five changes were made in the six-year period between 2006 and 2012.)
For the fourth or fifth time in the last 10 years (I've lost count), we will be voting on tinkering with election dates. Two other proposals would have an impact on elections -- the composition of the Election District Commission and allowing city employees under civil service protection to participate in political activity.
An election resolution for the first five of the proposed amendments was approved by the City Council on July 12, 2017, and approved by Mayor G. T. Bynum IV on July 17, 2017. Resolutions sending the sixth and seventh proposed amendments to the voters were approved on August 16, 2017.
Here is the sample ballot for the City of Tulsa November 14, 2017, special election.
Because the City Council chose to put these items on the ballot at a time when no state elections are being held, City of Tulsa taxpayers will bear the cost of opening nearly 200 polling places. According to 26 O. S. 13-311, these expenses include, but are not limited to "compensation for members of each precinct election board, per diem and mileage for the chairman and vice chairman of the county election board, the cost of supplies and ballots and the rental of polling places."
Over the next week or so, I will analyze each proposal in detail -- show precisely what charter language is being changed, report, based on City Council minutes and meeting videos, on who proposed it and their rationale, report on objections raised by councilors, city staffers, and others, and give you my analysis and conclusions about each amendment.
UPDATED to add links to later entries discussing the individual propositions. On 2017/11/09, I changed the description of Proposition No. 7 from "Lockbox for funds generated by public safety tax" to "Attempt to constrain funds generated by public safety tax," which is a more accurate description.