Mick Cornett offers vague platitudes
On Friday, January 12, 2018, Oklahoma City mayor and candidate for governor Mick Cornett was interviewed by Pat Campbell on 1170 KFAQ. Cornett offered no real answers to Campbell's questions, but spun out a full bogroll of vague platitudes. The impression is that he just wants to be liked and doesn't want to say anything that might make someone not like him. Of course, having that kind of attitude in the Governor's Mansion is why we are where we are as a state.
Campbell asked Cornett about an independent expenditure campaign that is advertising heavily in support of him in the Tulsa area. Jamison Faught at Muskogee Politico has posted about the pro-Cornett super-PAC, whose major donor was Sue Ann Arnall, oilman Harold Hamm's ex-wife. Arnall was a major donor to Hillary Clinton's presidential campaign and has been a generous contributor to other Democrats. Campbell asked Cornett to explain why a Clinton backer would be such an enthusiastic advocate for him; Cornett gave a rambling non-answer.
Asked about what he specifically did as mayor of Oklahoma City, Cornett described himself as a "chief spokesperson," for Oklahoma City, "traveling the world" to talk about the city. Cornett cited no policies or initiatives for which he was responsible. He sounded like a Convention and Visitors Bureau spokesperson, which is probably the job he should be seeking.
In fact, the Mayor of Oklahoma City is merely one councilor among nine, albeit the only one elected city-wide. The CEO of Oklahoma City is the City Manager, who is hired by the City Council.
Campbell asked Cornett about comments he made on an Oklahoma City radio station regarding school district consolidation. Cornett said that if we're going to talk about consolidation, "we ought to start concentrating on Oklahoma City" which has all or parts of 24 school districts within the city limits. Asked what consolidation in Oklahoma City might look like, Cornett dodged again: "I'm not the one that's bringing up consolidation!"
Campbell asked Cornett whether he supported a proposal to reduce the legislative threshold required to pass a tax increase without a vote of the people from 75% to 60%. Cornett began his answer with, "Well, that would have go to a vote of the people, right? And I'm all for a vote of the people if they want look at changing it." He audibly brightened, as if hopeful that the requirement for a referendum on any change to that constitutional provision would excuse him from forming and voicing his own opinion. Cornett used the phrase "revenue idea" as a euphemism for tax increase. Asked specifically how he would vote if the threshold-lowering proposal were on the ballot, Cornett replied, "You'd have to have a much deeper conversation than we could have here." Later in the interview, Cornett wouldn't offer support or opposition to any of the specific taxes that a group called "Step Up, Oklahoma" are proposing, suggesting only that any proposal could be on the table for negotiation.
"What would you do differently than the current incumbent?" is not a strange question to ask, and most politicians would have a ready answer. Cornett wouldn't be drawn out on what he would do differently than Mary Fallin. When asked what he would do as governor, he talked about health and education being his priorities. He would be a "champion" for those issues, "trying to inspire people to do better."
Campbell persisted in his unsuccessful pursuit of specifics about Cornett's platform: "Is there something tangible... something specific you can cite?" "I'll be a champion for jobs. I meet with business leaders, take them around." Cornett appears to see the job of governor as the same as mayor of Oklahoma City -- cheerleader with no actual authority or responsibility to direct and oversee the operations of government.
Thomas Schwartz offered an insightful comment about the interview: "Mr. Cornett wants to do for the State of Oklahoma what he has done exceptionally well for the City of Oklahoma City -- turn it into an even greater crony capitalist paradise for the well-born, well-connected, and well-heeled. That means unending disappointment for Bible-believing Christians who support free enterprise but believe that the greatest challenges we face in the Sooner State are moral and spiritual."
Certainly there's nothing in Cornett's background to suggest that he would focus his attention on streamlining state government, making the tough decisions to enable the state to fulfill its responsibilities within its means. Mick Cornett's weaselly refusal to offer specific answers to Pat Campbell's reasonable questions tells me he either doesn't understand what the job entails or has an agenda that he knows Republican voters won't like. Either way we can't trust him with the state's highest office.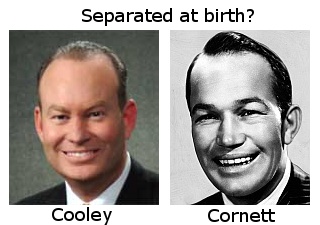 (I can't help but notice the OKC mayor's resemblance to the drug-addled pretender to the throne of Western Swing who tortured his wife to death in a hallucinatory rage and dropped dead on the verge of his release from prison. Of course, the resemblance is only superficial; Cornett simply divorced his high-school-sweetheart wife of 32 years, to her apparent surprise and dismay.)
SOMEWHAT RELATED:
Two years ago, on January 12, 2015, I posted this on Facebook, relating to Sue Ann Arnall's divorce from Harold Hamm. (Link to the relevant Daily Mail story added.)
That has to be the weirdest phone poll I've ever been asked to take. It had the usual sensitivity tests you expect in a political poll -- "If you knew XYZ, would that make you more favorable or less favorable" -- but it was about the Harold Hamm divorce settlement and whether I thought it was fair. The overall tenor of the poll was what could we include in a PR blitz about the soon-to-be-ex-Mrs. Hamm to convince you that she deserves a bigger settlement than the almost $1 billion-with-a-B that she got. This seems like a very expensive way to cultivate the opinions of the potential jury pool.