Cities: April 2013 Archives
Preserve Midtown has posted a note from Theron Warlick, City of Tulsa urban planner, on the status of Tulsa's zoning code update:
I'm the lead planner on the zoning code update and I think I can shine some light on the process. For about nine months, I've been working with the consultant, Kirk Bishop of Duncan Associates, as well as with City Staff and a citizen's advisory team. We're building up to a review draft that will be available this summer. At this point, we're still not done with our first pass through the code.

In short, there are two major thrusts of the code. First, we are focusing on reorganizing and cleaning up the code we have...there should be few changes here. If you are RS-3 today, you will still be RS-3 when the code is adopted and the rules will be the same.

There may be some minor tweaks to some of the office and commercial districts, but this is mainly for modernization and clarity, and to eliminate internal conflicts within the code, if any. The only substantive change that I can recall is that we're looking at reducing on-site parking requirements in commercial districts to line up with industry norms and requirements in other communities. Reducing this requirement should alleviate some of the pressure to create on-site and off-site parking in neighborhoods. I think there's clear support for this in PLANiTULSA, as well as from the citizen's team and staff. We should not be requiring more parking than Tulsans actually NEED.

The second work item is to create some new mixed use districts that can be applied IN THE FUTURE; these were districts that were recommended in PLANiTULSA and they will provide a predictable alternative to PUDs. I should stress that these districts will not be applied anywhere immediately upon adoption, but will be available for use in the future.

The process so far has been very slow and painstaking, and not very earth-shaking or controversial. Kirk's charge is to a) clean up a messy, thirty-year-old zoning code and b) find ways to implement PLANiTULSA through the zoning code; he's taking that very seriously. Fact is, writing code is an arduous and nerdy process. I'm a city planner with decades of experience and it takes everything I've got to follow every detail. Just getting together a working draft is taking a very long time.

The way this process is designed, we will ultimately produce a public review draft that will have a clear explanation of every substantive change, why it is needed, and what the implications of the change will be. When we have this ready for you, we will take all the time we need to walk anyone and everyone who is interested through the draft and help them understand every detail.

In the meantime, if you want to attend some of the citizen team meetings (about one every six weeks) just let me know and I'll share the date, time, and location.
Meanwhile, in Austin, developers have won repeal of the city's project duration regulation: A project's building permit used to expire after three or five years (depending on the zoning category). It prevented a developer from getting a permit and sitting on it, perhaps not building until conditions around the project had changed significantly. There are concerns that the repeal will re-enable building permits granted decades ago, long before current policy was put in place.
Here in Tulsa we have a similar issue: The possibility of zombie zoning, where a developer convinces the City Council to approve a planned unit development (PUD) or straight rezoning based on his pretty pictures and plans, but despite zoning approval, the project never moves forward. This happened with land northwest of 91st Street and S Delaware Ave. The land had been rezoned at some point to Industrial Low Intensity (IL), but it was never developed. In the intervening years, the surrounding area changed from agricultural to high-end residential, with gated communities and nice townhouse developments. When The Home Depot decided to build a store there c. 2003, they could do it under this existing zombie IL zoning that had been granted for an ancient project that was never built. Further north, the big empty lot at 14th and Utica, rezoned OM (Office Medium Intensity), could easily become a zombie lot.
The moral of the story is for the City Council to be exceedingly cautions about straight rezonings, and perhaps there should be a provision to sunset and revert a project-driven zoning change of any sort (whether straight rezoning, PUD, or other mechanism) when the project hasn't been pursued.
Some other tabs in the browser about cities and urban policy:
OU's Institute of Quality Communities has a photographic catalog of walkability challenges on Oklahoma City's Western Ave., a relatively walkable and popular neighborhood, but still with obstacles to navigating on foot (or by wheelchair): dead-end and blocked sidewalks, large curb cuts (which make it difficult for pedestrians to predict the movements of vehicles), mismatches between stop-lines and crosswalks, and elevation changes.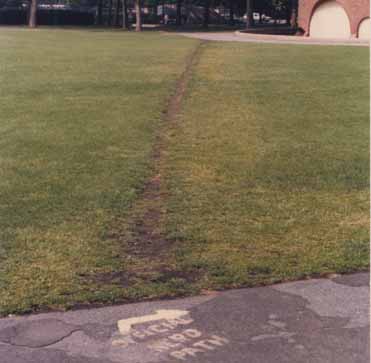 The article taught me a new phrase: "desire lines" -- the worn paths in the grass that indicate where people would like to have a sidewalk. Voting with their feet, as it were. We had one of these that cut across Kresge Oval, saving all of 70' over the alternate route. It was dubbed the "Nerd Path." One spring someone planted it with flowers to force the nerds to take a less efficient route.
Last week in Dallas, the former head of Trammell Crow delivered a scathing speech to his fellow developers, noting the unequal treatment between the city's affluent northside and poorer southside. He noted the much greater amount of government money spent on downtown and northside amenities, and the care taken in the north to mitigate the effects of expressways; the southside was not given the same courtesy:
He contrasted the interstates that bisected and destroyed southern Dallas neighborhoods with the less obtrusive Dallas North Tollway.

"We're right here in Highland Park. It didn't happen here. It didn't happen in Bluffview where I live. It didn't happen over in Preston Hollow," he said. "People in the southern half of our city did not have the power to stop these kinds of things from happening to their own neighborhoods."...

"You always have to follow the money trail in Dallas," Williams said. "We spend money on the Arts District. We spend money on big name bridges like the Calatrava bridges. We spend money on a two-city-block downtown park."

"Those area all good things, but the truth is we live in a world of limited resources. We are going to have to have a public conversation about how resources get prioritized," he said.
Something similar happened in Tulsa with the expressways -- professional white families were able to block the Riverside Expressway from coming through Maple Ridge; Greenwood, the heart of Tulsa's African-American community, met a different fate.
Finally, this article on Takoma Park, Maryland, is about open data in local government, but note the fact that Takoma Park's city hall is open to the public for activities other than basic governmental functions. Wouldn't it be nice to be on your way to an exercise class at City Hall and accidentally bump into the Director of Public Works on his way to a meeting and to have the chance to buttonhole him about some overdue sewer project?