Faith: May 2009 Archives
More than 80 Chinese Christian leaders, most of them involved in the 1989 Tiananmen Square protest movement, released a statement today calling for "forgiveness, repentance, truth, justice, and reconciliation." They call upon all Chinese Christian churches, in China and overseas, "to pray between May 12 - the anniversary of the Sichuan Earthquake and June 4 - the anniversary of the massacre. They urge churches to make May 12 and June 4 'Pray for China' days and to hold special prayer meetings during that time."
The Tiananmen Square Massacre, known in China as the "June 4th Incident, " was the tragic end to a movement of students and intellectuals calling for free media and formal dialogue between authorities and student-elected representatives. Between April 15 and June 4, approximately 100,000 Chinese citizens, the majority of whom were university students, led peaceful protests in Beijing's famous Tiananmen Square. On June 4, the Chinese government sent in armored tanks and, as the world watched, killed hundreds of the demonstrators. According to the Chinese government, the official death toll was 200-300. However, the Chinese Red Cross estimated that the actual deaths were between 2,000 and 3,000. More than 10,000 Chinese citizens from all over China who were involved in the movement were sentenced to death by the government as retribution. June 4, 2009 will mark the 20th anniversary of the massacre.

Bob Fu, president and founder of ChinaAid, was one of the student leaders in the Tiananmen Square movement. "The fact that this tragic massacre happened 20 years ago and is still not allowed to be commemorated in China by the Chinese government, should remind the international community that the road toward true freedom for the Chinese people is not an easy one, " Bob Fu stated. "We are encouraged that the persecuted Chinese church and church leaders are awakened to repent for their silence regarding the massacre and to move forward toward true justice and reconciliation."
Note to smug, pop-musician hipsters: If you want to use your clothing to proclaim your opposition to oppression and your love of freedom, forgo the bloody * hammer and sickle and wear a T-shirt with this image, instead: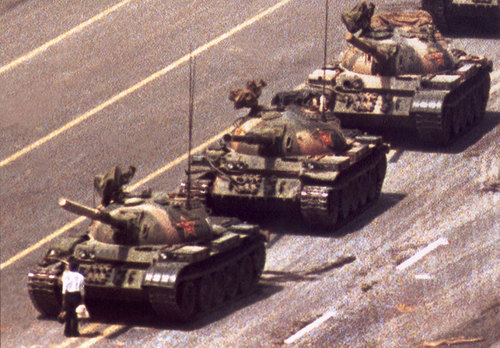 * Meant literally. With whom do you stand, Michael Ivins? The man courageously blocking the tanks? Or the Chinese Communist leaders who ordered the tanks to smash a peaceful protest for freedom?