Family: May 2009 Archives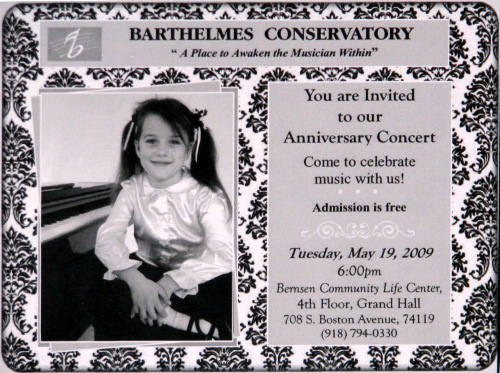 Barthelmes Conservatory will celebrate its fifth anniversary with a special concert this coming Tuesday night, May 19, 2009, at 6 p.m., in the Bernsen Center, 708 S. Boston in downtown Tulsa, in the Grand Hall on the 4th floor. Admission is free. About two dozen students will perform short pieces.
For a story in the latest Urban Tulsa Weekly, Holly Wall spoke with Aida Aydinyan, executive director of the conservatory about the school's history and mission:
"All (of Barthelmes') 63 scholarship students are unique and have fascinating personal stories," said Aydinyan. "However, two of them ... are the first two students to be graduating from the Conservatory Music School program but also that these very first graduating students have been accepted to higher education institutions because of the Conservatory. These amazing and significant happenings deserve to be recorded and achieved.

"It is an incredible feeling to realize that we have invested in the future of these scholarship students and the pride derived from the fact that we indeed prepared them for success in college and performing arts field," she said.

I'm proud to say that my daughter (shown above) was selected to perform a short solo piano piece and my son will perform as part of an ensemble. Another ensemble piece will be performed by Bo Willis and Kiersten Morales on violin, Drew Crane on piano, Emma Hardin on cello, and Zac Hardin on bass. (Emma and Zac play bluegrass cello and bass for Rockin' Acoustic Circus, so Tuesday is a chance to hear their classical side.) I heard this quintet's performance at a studio concert last week -- marvelous. Bo Willis is graduating from the Barthelmes Music School program and will attend the University of Tulsa on a full scholarship.

A couple of weeks ago:
My three-year-old son wanted to know the name of the little black stuffed toy dog.
Mom-mom looked for a name tag on the dog, but didn't find one.
She told the three-year-old, "Sometimes people name an animal after something that's the same color. You might name a black animal Midnight because at midnight the sky is dark."
"I want to name him Off, pacause when the light is off, it's dark and black."
---
Tonight:
Eight-year-old sister to three-year-old, admiring his camouflage PJs: "I like your pajamas."
Three-year-old to big sister: "When you get little-er, you can wear them."