History: September 2012 Archives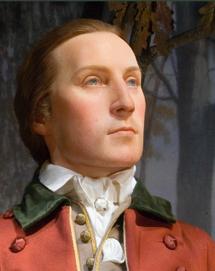 This is the final week to see a piece of George Washington's Mount Vernon right here in Tulsa. The traveling exhibition "Discover the Real George Washington: New Views from Mount Vernon" at Tulsa's Gilcrease Museum. The exhibition's final day is September 23, 2012.
The exhibit goes beyond the familiar basic facts of Washington as our 1st President and the Father of Our Country to help you get to know Washington the surveyor, young officer, churchman, and agricultural innovator, among many other roles.
Earlier this summer my family visited Mount Vernon and saw the new Donald W. Reynolds Educational Center there. The exhibit you will see here in Tulsa is a near-duplicate of the permanent exhibit in Mount Vernon, including three life-size figures depicting Washington at different ages -- as a young surveyor, as Commander-in-Chief of the Continental Army, and as President of the United States. The figures were developed using forensic analysis of a life mask, paintings, clothing, and other artifacts. Short videos from the History Channel accompany interactive exhibits.
My youngest son said he liked the exhibit at Gilcrease better, because you could look in through the side of the Fort Necessity diorama to see the battle from the perspective of those hiding in the forest.
One thing we saw at Gilcrease that we did not see at Mount Vernon: George Washington's dentures and the story of how they were made.
Unless you travel to Mount Vernon, you won't be able to see George Washington's repository for dung, see the "rustication" used to make the wooden mansion appear to be made of stone, or admire the vistas from the back of the mansion to the Potomac River, but you'll be able to learn about these things right here in Tulsa at Gilcrease Museum through Sunday or at the exhibit's companion website, Discover the Real George Washington, where you can explore an interactive timeline and see the same History Channel videos on display in the exhibit.
Gilcrease Museum is open 10 a.m. to 5 p.m., Tuesday through Sunday. Admission is $8 for adults, children 18 and under are free, and there are discounts for seniors, groups, and active duty military. Gilcrease Museum is owned by the City of Tulsa and curated by the University of Tulsa.