Maps: May 2010 Archives
My apologies for the lapse since my last post. I've been writing, but it's all technical stuff for the gig that pays most of the bills.
While I was at the Coffee House on Cherry Street cranking away on that technical documentation, a customer at the next table, a gentleman named Cecil Cloud, said hello, identified himself as a BatesLine reader, and mentioned a post here about historic maps.
Cecil showed me an amazing collection of U. S. Geological Survey maps of Indian Territory and Oklahoma, online at the University of Texas Perry Castañeda Library Map Collection. Most of the maps predate statehood.
Take a look at this map showing Tulsa as part of the Claremore quadrangle, 1897. What's fascinating is that this is before the Dawes Commission, before land was allotted in quarter-sections to enrolled tribal members, and therefore before the familiar grid of section line roads was established. The townships, ranges, and sections were established, and are shown on the map as a reference grid, making it possible to pinpoint old locations with respect to the present day arterial grid. But the roads on these pre-1900 maps show a network of roads that follows the land, connecting settlements as directly as the terrain will allow.
Here's the section of the map covering what is now midtown and downtown Tulsa.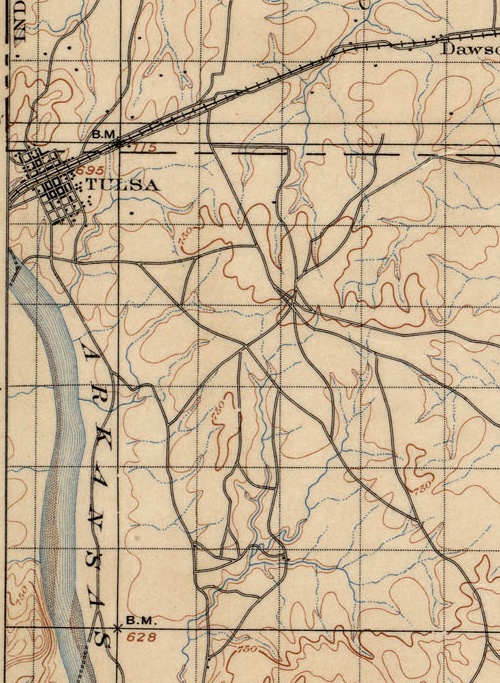 The grid of early day Tulsa is there, laid out parallel and perpendicular to the Frisco tracks which gave birth to the town. But the grid extends only from modern day Cameron St to 4th St, Cheyenne Ave to Cincinnati Ave. Beyond that, notice the hub of trails just east of present day 21st and Harvard, probably close to the high point that was more recently occupied by a water tower (just east of 21st and Louisville).
Notice too the creeks and streams, long before they were turned into underground storm sewers or rerouted into concrete channels. It's interesting, too, to see the locations of fords and ferries.
Here's an interesting contrast in the neighboring quad to the north, covering Washington, Nowata, and northern Rogers counties:
In just 16 years, the network of trails has been mostly replaced with a grid of section line roads, new towns have been established, and every few miles there's a school. Note the electric railway linking Bartlesville, Tuxedo, and Dewey.
More amazement at the PCL online archive:
1:250,000 USGS maps, including Tulsa maps from 1947 and 1967, covering all of Oklahoma northeast of Jenks. Note that the 1947 city map of Tulsa shows the Tulsa County Fairgrounds within the Tulsa city limits. The 1947 topo map shows the Union Electric Railway connecting Nowata and Coffeyville.
McGraw Electric Railway Manual Maps, 1913: Streetcar maps from nearly everywhere except Oklahoma, including Joplin, Little Rock, Dallas, Fort Worth, San Antonio, and Brooklyn.