Western Swing: October 2014 Archives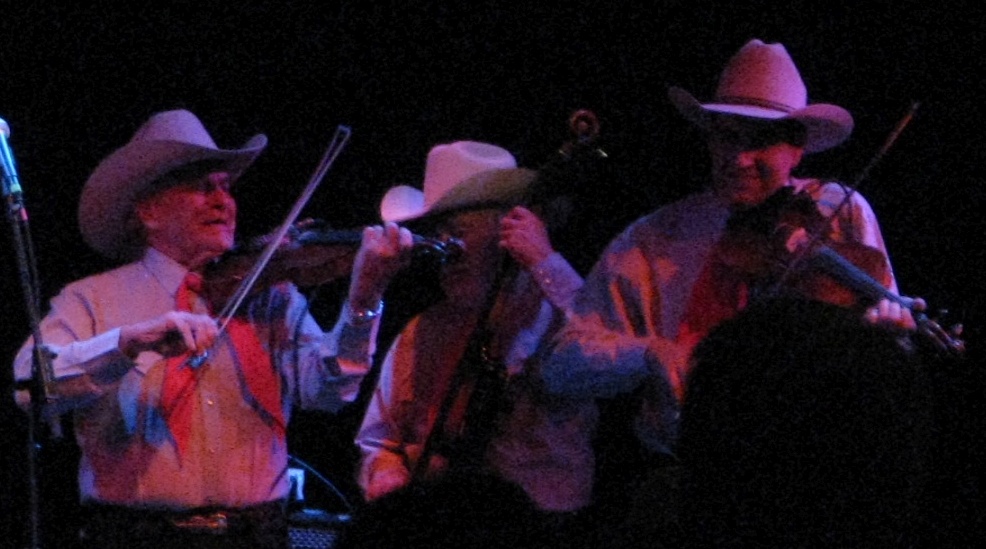 Fiddler Jimmy Young, bassist Mac Macrae, fiddler Dale Morris, Jr., with the Texas Playboys at Bob Wills Birthday Bash, Cain's Ballroom, March 6, 2010. Photo by Joseph Bates
Western Swing Hall of Fame fiddler Jimmy Young passed away Friday, October 3, 2014, in Amarillo, Texas, at the age of 85. Young played in western swing bands all over Texas and Oklahoma, performing with Bob Wills, Hank Thompson, Ray Price, Lefty Frizzell, and other western music legends.
Young was born in Dunbar, Oklahoma, grew up in Tuskahoma, and moved to Oklahoma City, where he began performing professionally with bands and on KBYE radio. Around 1950, after service in World War II, Young moved to Amarillo. In 1964, Bob Wills sold the Texas Playboys, shedding the responsibility of running a band, and he toured solo, performing with local musicians. When Wills came to Amarillo, Young would be in his band.
Beginning in 1993, Young performed regularly with Bob Wills' Texas Playboys, headed by Leon Rausch and Tommy Allsup, and for 30 years or so, he played with the Amarillo-based Sugartimers Classic Country Dance Band. In 2005, Young was inducted into the Western Swing Society of the Southwest Hall of Fame. In 2009, Young performed with the Texas Playboys at the Texas State Society's Black Tie and Boots Inaugural Ball in Washington, D.C.
It was a highlight of the annual Bob Wills Birthday celebration at Cain's Ballroom to see Jimmy do his Bob Wills impersonation when the band played "Faded Love" and "San Antonio Rose." Jimmy, very close in stature to Bob Wills, would stick a Roi-Tan cigar in his mouth (unlit) and mimic Bob, conducting with his bow, nodding his head in time to the music, doing a little jig-step, and making his characteristic commentary, for example: "Now, friends, here's the song that took us off hamburgers and put us on to steaks -- the San Antonio Rose!"
His grandson Dustin Young wrote a touching tribute to his granddad in the Amarillo Globe:
Growing up, I was always fascinated by the sound of his fiddle as he would warm up before a show.

With rosin dust hovering in the air, and the hum of his amplifier, he would go back and forth between playing and turning knobs in order to find his desired sound, by which he would enchant yet another audience. During every show I went to, the sense of pride that consumed me when he stepped on stage was both exhilarating and heartwarming. After every good lick he would always shoot me a wide grin as if to say, "Listen to this. I'm fixing to burn the hair off of this bow!" In my opinion I always had the best seat in the house at those shows.

Every musician I've met that knew my grandpa ends up telling me how much they enjoyed his playing and above all his demeanor among his fellow bandsmen. In a business where many can be very snobbish, Jimmy Young had always maintained a genuine sense of humility. Some folks can get a little bit arrogant once they have been inducted into the hall of fame more than a few times. Such accolades might boost one's ego and fill their heart with self-importance, but not in his case. He had always been the same man from my viewpoint. Never was he the fiddle-playing extraordinaire, or the Bob Wills impressionist, to me he was and always will be Opa.
MORE:
Jimmy Young feature story on the Bob Wills Day website.
2005 story about Jimmy Young, Chet Calcote, and other Texas Panhandle musicians being inducted into the Western Swing Hall of Fame
Jimmy Young obituary in the Amarillo Globe
Jimmy Young playing Faded Love and San Antonio Rose as Bob Wills, October 4, 2008, in Odessa, Texas: