Oral Roberts University: August 2017 Archives
On the occasion of the death of Jerry Lewis, Harry Shearer has posted his contemporaneous feature story about the 1976 Jerry Lewis Labor Day Telethon for the Muscular Dystrophy Association. That was the year that, during a live appearance by Frank Sinatra, Lewis was reunited with his old partner in comedy, singer Dean Martin. The 11 MB 16-page PDF scan of the article obscures the name of the publication, and I don't recognize the style. (Esquire, maybe?)
The telethon was a fixture of my childhood. 1970 was the first year I remember watching, while visiting my great aunt and uncle at their trailer house on Grand Lake for Labor Day. It was fascinating to watch the tote board spinning ever higher and to see all the big stars of the day on one great big variety show.
There's a Tulsa connection in Shearer's story. Oral Roberts made an appearance on the '76 telethon, presenting a check for funds collected from the ORU student body.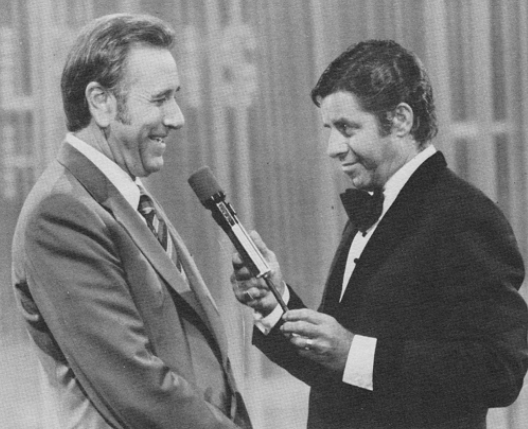 Aside from Jerry [Lewis] and [comedian] Jan [Murray], this is a very non-Jewish show. Jerry's kid-adult tug of war is also a contest between the Jew he is and the Christian he's becoming. So his office door in Century City bears a plaque that says "Super Jew." On the other hand, there is this blossoming relationship with Oral Roberts.

Oral Roberts was the first nationally-telecast faith healer, and he used to lay on hands and transmit through them the healing power of the Lord. But Oral has now classed up his act considerably. The announcer on his weekly television show introduces him as "author-educator-evangelist Oral Roberts." And he's become the benefactor of a charity that supports medical science. Look, Lord -- no hands.

Last year Oral made his first appearance on the Telethon on behalf of Oral Roberts University, a major power in both spirit and basketball. Then Jerry and his wife Patti made an extremely rare joint appearance last spring on an hour-long prime-time Oral Roberts special. Jerry did parts of his nightclub act, leaving out the rash bit, and then he and Patti chatted with Oral about life.

Now Oral has brought his whole revue to Vegas: Richard and Patti Roberts, the World Action Singers and the Ron Huff Orchestra on a pre-recorded track, and the Grandfather Mountain, North Carolina, Cloggers. This act could headline at Knott's Berry Farm, it's that polished. Then Jerry introduces Roberts as "a true gentleman and one of God's chosen people," and Oral takes center stage.

"I said to the students at Oral Roberts University, 'Think of your love for crippled children. Think of your love for Jerry Lewis. Think of your love for God.'" Not bad. Second place -- behind the Deity, ahead of the kids. Oral gives Jerry a hefty check from the students at ORU. Som eof Lou Brown's musicians start whispering behind the curtain during the Oration. Jerry shushes them. "I pray," Oral finishes up, "that every friend and every partner of the Oral Roberts ministry will step to the phone right now. God bless you, Jerry."

As Oral strides purposefully out of the Space Center, Jerry tries to explain to the Jews watching what their boy has gotten into. "It gives you a strange kind of strength to know Oral Roberts. I think it's just because basically he's a nice man, and that's all we really want in life is to deal just with nice people." (A week after the Telethon, a Los Angeles station carries another prime-time Oral Roberts special, "Don't Park Here," directed by Jerry Lewis.)

That's just a tiny piece of a detailed and fascinating behind-the-scenes glimpse of the Jerry Lewis Telethon, and if you grew up in the '70s or love that era of American pop culture, you'll want to read the whole thing.
Shearer's story captures Oral Roberts at the peak of his period of mainstream respectability. ORU's campus was shiny and new. Sawdust and canvas had given way to slick TV specials that rivaled (and strongly resembled) the network variety shows of the day. Oral's kids were students at Holland Hall. He had left the Pentecostal Holiness movement, joined Boston Avenue Methodist Church, and was admitted to the ministry in the United Methodist denomination. In 1974, the ORU Titans narrowly lost the NCAA Midwest regional basketball finals to Kansas in overtime, and in the latter half of the decade, the team managed an eight-game winning streak against their crosstown rivals, the University of Tulsa Golden Hurricane -- a streak that wasn't broken until Nolan Richardson's arrival at TU for the '80-'81 season.
In 1976, Oral Roberts had not yet overreached himself with the creation of the City of Faith (that announcement would come in 1977) or ORU's law school (which opened in 1979), moves that would put him at odds with Tulsa establishment figures who were benefactors of Tulsa's existing hospitals and law school.
MORE: Here's a stock photo of Evelyn and Oral Roberts with Patti and Jerry Lewis on an Oral Roberts TV special called "We the People". Also in 1976, Oral Roberts filmed a TV special at the Singing on the Mountain gospel music convention at Grandfather Mountain, North Carolina, directed by Jerry Lewis and featuring Richard Roberts and the World Action Singers. Jerry Lewis participated in the tribute video played at Oral Roberts's memorial service.
Jerry Lewis's other Tulsa connection: His son, Gary Lewis, had a band called the Playboys. Pianist Leon Russell (from Tulsa) and guitarist and producer Tommy Allsup (from Collinsville) were session musicians on the group's first hit, "This Diamond Ring," and in later years Tulsans Carl Radle, Tommy Tripplehorn, and Jimmy Karstein were members of the band. (Those links go to photos on the Gary Lewis and the Playboys website.)