Travel: June 2007 Archives
My 10-year-old son and I got back home about 11 p.m. Wednesday night from a week in the United Kingdom with the Tulsa Boy Singers tour. It was his first trip out of the US, and my first trip overseas in eight years. We had a wonderful time, and I'll tell you about the trip itself later on, but here are a few random notes, which I'll add to as the mood strikes me:
I don't know what is in bloom in England right now, but I am highly allergic to it. It didn't bother me in Scotland, but my nose and eyes got itchier the further south we went. (Grass pollen, evidently.)
Seven days in Scotland and England and we didn't need an umbrella once. It sprinkled a bit in Edinburgh, and I'm told it rained at night, but we never saw it. Meanwhile, Tulsa is getting muddier and muddier.
The dollar is at its lowest point against the pound in years -- $2 = £1 -- but prices are the same in pounds there as they are in dollars here. Fuel costs are pushing food prices higher. Petrol is just under £1 per liter, or about $8 a gallon, and most of that is tax. High fuel prices don't seem to be keeping people from driving -- the motorways were jammed with cars.
With regard to WiFi, the UK is about four years behind the US. Free WiFi is rare, and even working paid WiFi is hard to find. I spent sometime before leaving the US compiling maps of free and paid WiFi locations near our hotels. It wasn't that I planned to spend hours surfing, but I wanted to be able to upload photos to Flickr and videos to Google for the benefit of TBS families back home and to respond to e-mail. As we waited for our bags at Tulsa International, several parents came up to thank me for posting photos, as it was reassuring to see that their boys smiling and having a good time.
Hotel access typically runs at least £10 a day, or you can pay a pound for 10 minutes of access on a terminal in the lobby. Even though we stayed in three different Holiday Inns, each one had a different provider, so it was impractical to buy a week's worth of hotel access.
A few pubs and coffee houses have free WiFi, but many more are part of a network called The Cloud. I bought a week's worth of unlimited access for £11.99. I was only able to use it twice, for a couple of hours each time, at the Cross Keys pub in Dringhouses near York. Uploading speeds were slow, but it worked. I thought I'd be able to use it at the Little Chef cafe next door to the Holiday Inn outside of Oxford, but the cafe closed at ten (despite being located on a busy highway junction). I sat down on the sidewalk outside and tried to connect; I could get a signal, but the DHCP server didn't give me an IP address, so I couldn't sign in.
WiFi worked well in only one place -- Isobar on Bernard Street in Leith, Edinburgh's port town. Isobar is a tidy modern place, smoke-free (as are all Scottish pubs, and England will follow suit on July 1), and frequented by twenty-somethings. Drink prices were reasonable. It was quiet on Thursday night, and one other person was working on a laptop. The bartender pointed me to the area where I'd get the best signal. I went back on Friday night, after a failed attempt at connecting at another free WiFi pub (Stack Bar and Grill -- could connect, but couldn't get a DHCP address). Isobar was almost packed, but a found a place at a long common table and wound up next to a group of female office workers out on the town. The one sitting next to me apologized for the rowdy behavior of her coworkers, but I found it entertaining.
The Jolly Judge Pub on Lawnmarket near Edinburgh Castle had good beer, a nice traditional atmosphere, free WiFi, and a decent signal, and I might have stayed longer, but I needed to eat dinner and they only had crisps. A search for a free WiFi restaurant in the Old Town -- the Honey Pot -- was fruitless, and I later learned the restaurant was no longer in business.
The Royal National Hotel had free WiFi, but only in the lobby, and the signal was weak and intermittent.
I had a delicious lamb keema wrap at Wrapid in York, a place that offered not only free WiFi, but, unusually for the UK, free refills on fizzy drinks and coffee. The free WiFi is actually advertising-supported WiFi -- you watch a short commercial, and you get connected. Unfortunately, the website that served the commercial was down, so the sign-in web app didn't work. Flickr Uploadr was able to connect and upload at a very slow speed, but I couldn't check e-mail or the web.
UPDATE 2007/06/25: Some further notes about what worked and what didn't.
A few weeks before the trip I purchased a set of grounded plug adapters from Family on Board. These were not converters or transformers. They simply allowed you to take a dual-voltage device with a U. S. grounded plug to and plug it into a British three-prong grounded outlet. $15.95 covered three adapters, and all shipping and handling costs. They worked wonderfully with my Dell laptop AC adapter and the charger for my Palm Treo 650. (Even though my Treo didn't work as a phone over there -- CDMA instead of GSM -- I still used it as a PDA to make notes and keep track of scheduled events.)
To emphasize, these US-to-UK adapters should only be used with devices that accept inputs of at least 240 V -- there should be a label on the device, charger, etc., that indicates, volts, frequency, amperage, and wattage for input and output.
Even then, a device may fail. My Duracell rapid AA/AAA battery recharger blew a fuse -- or at any rate stopped working -- the first time I plugged it in. It professed to be dual voltage, but I suspect it drew too much current when first powered. It was a 25 W device. (The laptop, which uses 70 W, had no problems.) The slower-charging 8 W charger might have fared better, but I didn't bother to bring it along.
Thankfully, the Duracell rechargeable AA batteries performed well enough that I didn't have to buy any on the trip, even though I couldn't recharge. For the digital camera, a Canon S3 IS, I started out with two sets of 2650 mAh batteries and a set of 1800 mAh batteries, all fully charged. Each set lasted me through two days plus a bit. All three sets together got me through eight days, 900 pictures, and nearly an hour of video.
I can't say enough good things about the Canon S3 IS. The photos were wonderful. While its critics are right that, at the ISO 800 setting, images in low light are grainy, it's still wonderful to have the option of taking relatively low light photos without the need for a flash. It takes great video, too, although it wasn't always easy to hold it steady, and the audio quality is wonderful. You can see the photos for yourself, and this link will take you to a search for the videos from the TBS tour and their concerts here in Oklahoma.
A cool thing about Flickr is the ability to connect photos to a map. I've done that for most of the TBS tour photos. Zoom in to a particular city, and you'll see photos placed to the street and block.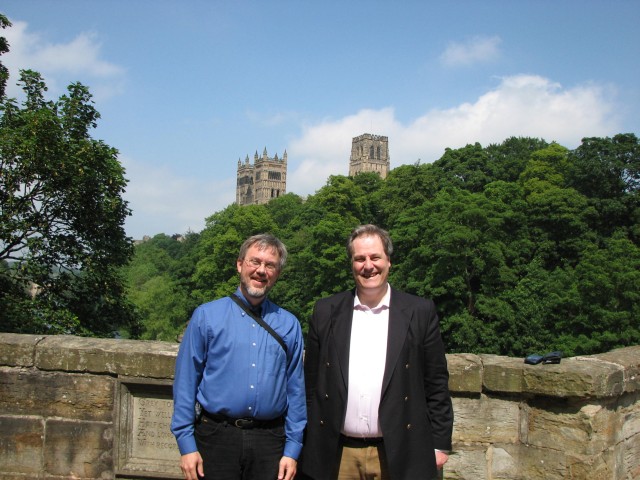 On the left, Michael D. Bates, columnist for Urban Tulsa Weekly and proprietor of batesline.com.
On the right, Michael W. Bates, former Member of Parliament and Paymaster General, now director of the Northern Board of the Conservative Party.
In the background, Durham Cathedral on a brilliant June day.
I had the pleasure of spending a lovely but all-too-brief hour and a half in the company of Michael and his son Matthew, strolling along the Wear, having a light lunch in the cathedral's Undercroft Restaurant, and talking about British and American politics and the remarkable story of the Emmanuel College in Gateshead and how high expectations can transform an underprivileged area.