Tulsa Downtown: March 2012 Archives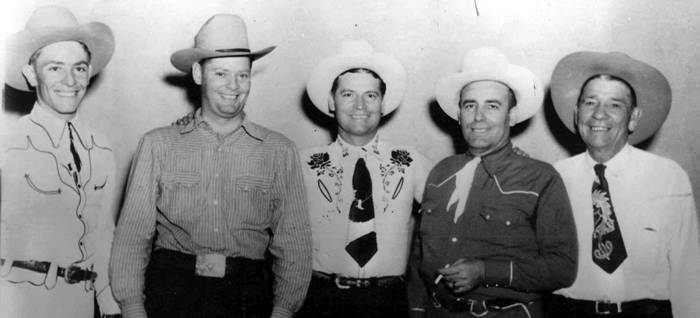 The Wills boys, from left to right, youngest to oldest: Brothers Billy Jack Wills, Luther J. "Luke" Wills, Johnnie Lee Wills, and Bob Wills, and their father John Tompkins "Uncle John" Wills. From BobWills.com
The George Kaiser Family Foundation is looking for public input on the name of the park GKFF is building on Brady Street in downtown Tulsa:
As Downtown Tulsa continues to blossom into a center of creativity and an economic hub benefiting the greater community, it soon will be a destination for those wanting to spend time in an outdoor setting at the park located on Brady and Cincinnati.

We are looking for input regarding the name of this new park in the Brady District. The name should commemorate a person with Tulsa roots, who has an enduring legacy through their contributions to the community in the areas of arts, music, culture or education; or, in the alternative, should simply reflect Tulsa's history in these areas.

Learn more about the park in the Brady District on our website -- http://ow.ly/9wZbt and submit your ideas for names to inquiries@gkff.org.
My idea, which I've already passed along to the folks at GKFF, is to name the park in honor of Bob Wills and Johnnie Lee Wills, two brothers who together ruled the Tulsa music scene for a quarter-century and built a musical legacy that has spread their fame around the world. They amply fulfill GKFF's criteria.
Name it Wills Park, then name individual park features and facilities to honor Bob Wills, Johnnie Lee Wills, and key Wills sidemen like guitar pioneer and arranger Eldon Shamblin and steel guitar legend and Tulsa bandleader Leon McAuliffe. (Maybe we could even find a spot to acknowledge Junior Barnard, the proto-rock guitarist from Coweta who played for Johnnie Lee, Bob, and Luke Wills.)
Bob Wills brought together ragtime, blues, swing, and traditional frontier fiddle music and turned it into something new, something that would eventually be known as western swing. Bob Wills was also a pioneer with regard to amplified stringed instruments -- Leo Fender was a western swing fan -- and using them to carry the melody, in place of horns an important evolutionary step on the path to rock 'n' roll. It's why Bob Wills and His Texas Playboys were inducted into the Rock 'n' Roll Hall of Fame in 1999 as an Early Influencer.
Chased out of Texas by a vengeful ex-boss who pulled advertising from any radio station that dared to put him on the air, Bob Wills and His Texas Playboys found a home at KVOO in Tulsa when station manager Bill Way refused to knuckle under to Pappy O'Daniel's threats. Wills settled in at Cain's Ballroom, home base for daily broadcasts and twice-weekly dances.
Tulsa became Bob Wills's hometown. He bought a ranch in Osage County north of town -- near the present-day Million Dollar Elm Casino on 36th Street North -- and brought his extended family from Texas to Tulsa to live there with him. He held fiddle contests and founded a rodeo. The band played dances six nights a week all over Oklahoma and surrounding states and often spent Sunday playing for the funeral of a Texas Playboys fan somewhere within driving distance of Tulsa.
GKFF has already honored Woody Guthrie by acquiring his library and establishing a center about his career. It would be even more fitting for GKFF to acknowledge these musicians with a much stronger and longer connection to Tulsa. While Guthrie was in New York singing and raising awareness of the common man's burden, Bob Wills was here in Tulsa playing music to lift the common man's burden for a little while each day.
Bob married a Tulsa girl -- well, a few Tulsa girls, but the last and longest marriage was to a Tulsa girl named Betty Anderson. Bob dreamed of making Tulsa his home for the rest of his life, surrounded by his family and his Texas Playboys, but World War II changed all that. California, then Texas, became home base for a while, but he came back to Tulsa often to see family and to perform at Cain's. He came back in the late '50s to reunite with brother Johnnie Lee in Tulsa for a few years. After his death, he was remembered in a service at Tulsa's Eastwood Baptist Church and laid to rest at Memorial Park Cemetery.
Johnnie Lee Wills, next oldest of "Uncle John" Wills's four sons, launched his own band to help cover the high demand for western swing music in the Tulsa area. When brother Bob left for a brief stint in the Army, Johnnie Lee Wills kept things going at Cain's and on KVOO. After his service ended, rather than take the spotlight back from his brother, Bob headed out to California. Johnnie Lee Wills and All His Boys continued the daily radio program, the weekly dances at Cain's, and the dance hall circuit through the end of the 1950s, rejoined by Bob for the last few years.
But Johnnie Lee did more than carry on. He was an innovator and a great bandleader in his own right, and he had hit songs of his own, two of which -- Milk Cow Blues (1941) and Rag Mop (1949) -- have been suggested as candidates for the first rock 'n' roll song.
Johnnie Lee Wills carried on with the annual rodeo -- the Johnnie Lee Wills Stampede -- and opened a western wear store on the south side of 21st Street just east of Memorial. Tulsa remained his home for the rest of his life.
The musicians who defined the "Tulsa Sound" in the '60s and '70s grew up listening to Bob and Johnnie Lee, and I know of at least one -- Rocky Frisco -- who actually performed a few times with Johnnie Lee at Cain's Ballroom.
(I don't want to leave the rest of the Wills boys unacknowledged. Luke Wills and Billy Jack Wills each had great bands based in California. Billy Jack returned to Oklahoma; he's buried beside Bob at Memorial Park. Luke settled in Las Vegas, but many of us remember him performing at Texas Playboys reunion concerts in the '80s and '90s. Their father, Uncle John Wills, played his fiddle at ranch dances all over Hall County, Texas, and had his own band for a time after the family moved to Tulsa.)
There is already an effort underway, spearheaded by artist Lee Roy Chapman, to rename the district north of the Frisco tracks as the Bob Wills District. Its current name, Brady Arts District, is taken (indirectly, via Brady Street) from Tulsa founder Tate Brady, who was a member of the Ku Klux Klan and a supporter of vigilante violence. Brady's history notwithstanding, it makes more sense to name an arts district to honor an internationally famous man whose music put Tulsa on the map.
Whether the name Bob Wills District ever catches on, there still ought to be some public space named in his and his brother Johnnie's honor. This new park, just a couple of blocks from Cain's Ballroom, would do nicely.
Western swing music has an international fan base, and every country in Europe seems to have a few western swing bands who play the music of Bob and Johnnie Lee Wills. (See previous entries in the western swing category for a few examples.) Tulsa should have a public place where visiting fans can connect with their musical legacy. To some extent Cain's Ballroom fulfills that role, but Cain's is a working music venue and can't be a full-time tourist attraction. Having a public, always-open space nearby to honor the Wills boys would complement Cain's irreplaceable spot in the heart of western swing fans from around the world. In that regard, it's crucial to have a name that will turn up in web searches.
Bob Wills Stage at Wills Park would be a great venue, along with Cain's, for the International Festival of Western Swing that Tulsa should have every year.
If you agree with me that Wills Park is the perfect name for the new park in downtown Tulsa's arts district (or even if you don't), sit right down and drop a line to the folks at GKFF -- inquiries@gkff.org -- and let them know what you think.
Duane Lester, the All-American Blogger, links to an article in Der Spiegel about a photographer, Stefan Koppelkamm, who toured former East Germany in 1990 and 1991, shortly after the fall of the Berlin Wall, and returned a dozen years later, re-photographing the buildings he captured twenty years ago. These buildings had survived World War II and more than 40 years of Communist urban renewal, and they looked as if nothing had been done to repair or renovate them since the war. The photo gallery is stunning. Within 10 years after the end of Communist rule and reunification of the West, private owners had turned ruins into beautifully restored, useful buildings.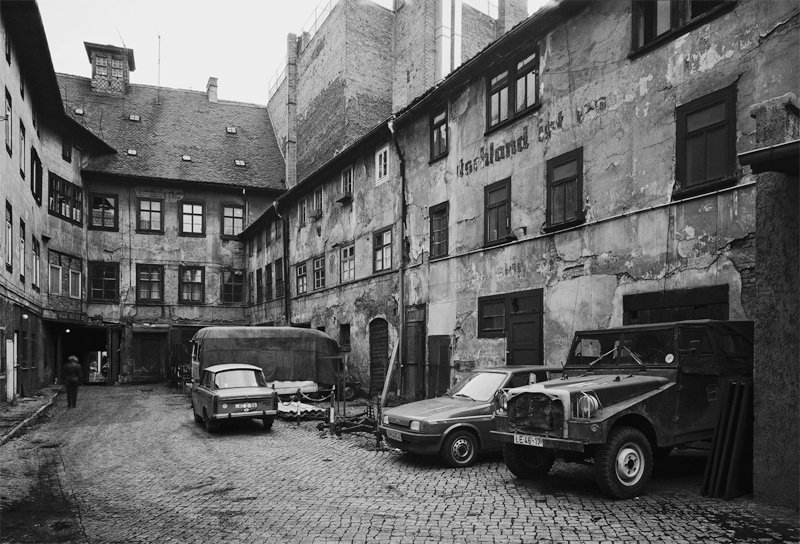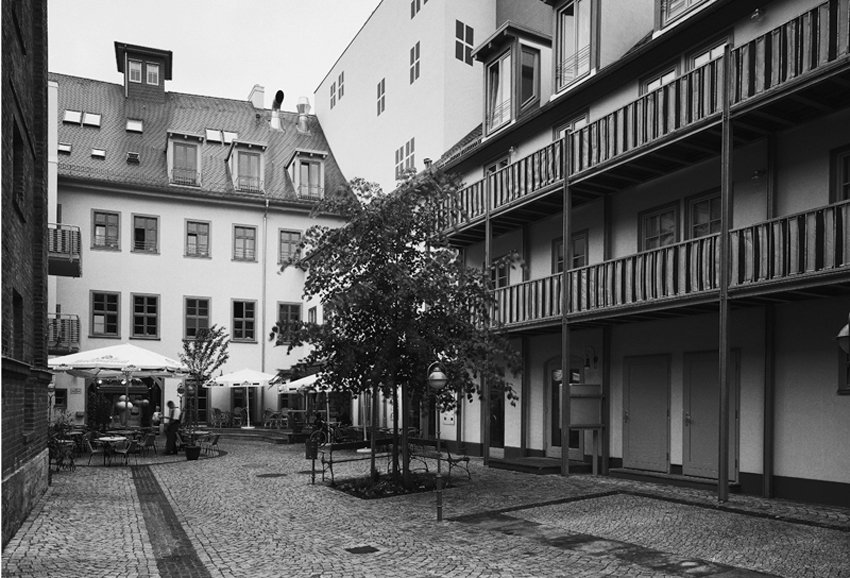 Duane Lester is right to say that these photos "tell an economic story leftists either can't comprehend or simply refuse to believe." 45 years of Communism did little to restore East Germany's cities. The economic incentives weren't there: Rent control kept a building owner's income too low to fund renovations. From Der Spiegel's story:
Neither housing associations nor private owners had the money to renovate the older buildings. From the end of the war onwards the government had fixed rents in the GDR and in practical terms they remained constant -- at between 0.40 and 1.20 East German Marks per square meter. On average the estimated cost of restoring an old building in East Berlin was 75,000 Marks, the equivalent of 80 years' rent for a GDR citizen. Many owners preferred to pass their dilapidated buildings onto the state to avoid the cost of the repairs. But the state wasn't in a position to save the buildings either.
Within 10 years, private capitalists had done what a Communist government couldn't do in over 40 years.
The photographer lamented that the renovations had spoiled many of the buildings. For example, a massive former stables in Zittau with exposed exterior masonry had been renovated, including plastering and painting the exterior. Perhaps the result was less romantic than a dilapidated building, but it's surely closer to the original condition of the building when it was being carefully maintained. In Germany, they plaster over brick and stone and whitewash or paint it.
It gave me a sense of hope that came to mind again as I took a walk downtown last night. and looked up to see the Tulsa Club at 5th and Cincinnati, a lovely Art Deco building, but long-abandoned with broken windows, tattooed with graffiti and smoke. I thought of the old Temple Israel synagogue building at 14th and Cheyenne, just a burned out shell. If these dilapidated East German buildings could be restored and returned to profitable use, surely Tulsa's abandoned historic buildings can be restored, too.