Urban Tulsa Weekly: November 2011 Archives
It's a sad day. Urban Tulsa Weekly editorial cartoonist Dave Simpson has resigned (or, reportedly, was fired) and has announced an end to his career amidst revelations that some of his recent submissions were ripoffs of the work of the late nationally syndicated cartoonist Jeff MacNelly. Indications are that the admitted ripoffs are just scratching the surface.
On October 25, the Daily Cartoonist revealed that, in the October 20-26, 2011, issue of UTW Simpson had repurposed a MacNelly cartoon from the Carter Administration, down to bits of junk and blades of grass, making minor alterations and relabeling it as some sort of indecipherable commentary on the Supreme Court's rejection of the Great Plains Airlines / Bank of Oklahoma settlement.
This Land news editor Holly Wall (former managing editor and arts columnist for UTW) brought the plagiarism accusation to Tulsa's attention this past Monday, and shortly thereafter the Daily Cartoonist had learned that the then-current issue of UTW, October 27 - November 2, 2011, contained yet another Simpson re-draw of MacNelly -- a cartoon about US involvement in Bosnia recycled to make some obscure point about Oklahoma selling water rights to Texas.
Before long, This Land had uncovered more examples of Simpson's cribbing from other cartoonists and invited its readers to look for still more.
On Wednesday, the Daily Cartoonist ran Simpson's apology to MacNelly's widow ("I accidentally stole the cartoon 25 years ago") and her reaction:
Mike Peters so accurately described David Simpson as a cartoon kleptomaniac. Tulsa must be in a black hole with different journalistic ethics because neither Simpson nor his editor/publisher seem repentant. His editor wanted me to write the retraction....I declined. Mr. Simpson's next gig should be matriculating at a state run giggling academy.
This was not the first time Simpson had been caught copying. His June 7, 2005, cartoon for the Tulsa World was a near-exact copy -- words and pictures both -- of a 1981 cartoon by Bob Englehart of the Hartford Courant. In November 2005, the World fired him, months after earlier attempts by Englehart and the Courant to seek redress.
Englehart said at the time, "Having not learned his lesson in the late 1970s when he was busted for stealing Jeff MacNelly's cartoons, he has recently stolen one of mine." This week Englehart elaborated for the Washington Post: "In the '70s, Simpson lost his syndication gig but not his newspaper job."
Cartoonist Mike Peters was a victim as well:
"I think it was sometime in the '80s, maybe earlier, I was syndicated with United [Feature] Syndicate and someone sent me a bunch of Simpson's cartoons traced from large parts of my cartoons, with just the caption changed," Peters, who is now syndicated by King Features, tells Comic Riffs. "I was mad but was not going to do anything about it until I realized that we were syndicated by the same syndicate.

"That meant that he was picking up papers using my cartoons with different captions on them [for] the same syndicate. So I sent my cartoons with the Simpson copies to my syndicate and he got fired the next day."

I don't imagine too many UTW readers will lament Simpson's departure. It's wonderful that an alt-weekly would have a cartoonist to poke fun at local politicos, but Simpson's work for the weekly rarely elicited a laugh, rarely seemed to have a coherent point, rarely seemed to be tuned in what was happening in Tulsa. It was as if 13 years at the World, drawing their favorites in iconographic style and toeing the editorial line, had drained all the creativity and edginess out of him.
You see, I am old enough to remember when Dave Simpson was funny. (That's pretty darned old.)
To confirm that my recollection of Simpson's past glories wasn't just a reflection of my immaturity when I first encountered him, I went to my shelf of comic and cartoon paperbacks and pulled out a 1980 collection of over a hundred cartoons he did for the late, lamented Tulsa Tribune.
As I paged through the collection, I found myself laughing out loud. Sure, they're topical, but Simpson was so on target most of the time, that the cartoons refreshed my recollection of the news stories that inspired them.
As you can see from the cover (above -- click to enlarge), Simpson was quite a good caricaturist. These 1970s newsmakers are exaggerated but recognizable to those of us who lived through the decade (and were paying attention).
I love this one. He used no labels, and at the time this cartoon needed none.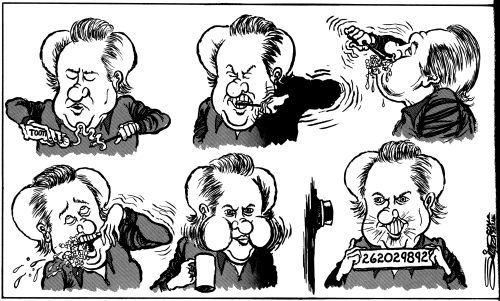 The man with the brilliant smile and the pompadour? Former Oklahoma Governor David Hall, on his way to federal prison on bribery and racketeering charges for steering state pension funds to a favored banker.
The collection includes national and global topics and covers locals that made national news: the prison escape and recapture of Rex Brinlee (apprehended at last by the ferocious Oklahoma chigger); Oral Roberts, his university, and his hospital; Anita Bryant. Sadly, the editors of the book left local politics out entirely, perhaps thinking it would limit the book's appeal, so it doesn't include caricatures of Mayors Jim Inhofe or Robert LaFortune or gadfly Betsy Horowitz or takes on the local controversies of the day.
The book includes several gently satirical pokes at Oral Roberts: A divine hand giving the big thumbs up as doctors give the thumbs down to his planned City of Faith hospital (the licensing board claimed it would create too many hospital beds for Tulsa); God as depicted on the Sistine Chapel, wearing a referee's shirt, blowing the whistle on an ORU basketball player (NCAA sanctions), a junior demon on the phone to HQ, asking for a transfer, complaining that Oral just got him to contribute $777, and this one, poking fun at ORU's strict physical fitness and appearance policies: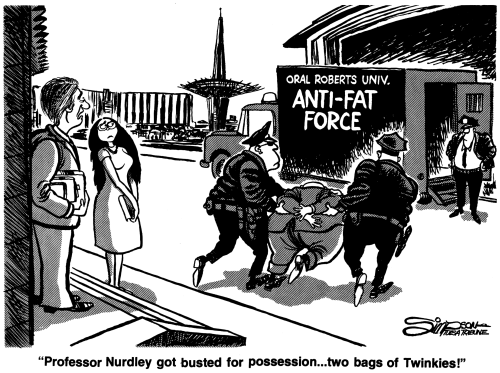 Paging through this collection and the recent work posted by This Land, it's apparent that Simpson has been recycling his own material (or material he'd recycled long ago from other cartoonists) for some time. The cartoon at the top of the page is a recaptioning of a cartoon from that 1980 book. I immediately recognized image 15:
as a recaption of this cartoon from the 1970s: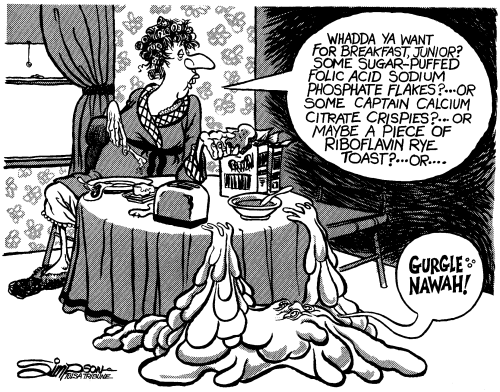 which we now know appropriated its central figure from a Gahan Wilson cartoon:
The lady in curlers and bathrobe appears a few pages away in the same collection, this time with a human toaster that is clearly the work of Mad magazine cartoonist Don Martin. (Haven't scanned this one yet.) Any nerdy teenage boy in the 1970s could have spotted that; it's amazing that Tribune editors didn't. And while he acknowledges Charles Schulz and Walt Disney in comics that spoof their style, he didn't acknowledge Don Martin or Gahan Wilson.
When the Tulsa World bought and shut down the Tulsa Tribune in 1992, Simpson sold off some of his originals at the Tulsa Press Club. Pickings were slim by the time I got there -- perhaps local pols had long since bought up his spoofs of them -- but I found one featuring Henry Bellmon and House Speaker Jim Barker for me and another featuring Michael Dukakis for the friend who kept me supplied with Howie Carr columns during the 1988 presidential campaign.
A month after the Tribune's death, Simpson debuted in the World, the paper's first cartoonist, as far as I'm aware, since Clarence Allen decades before. Over time, the constraints of the World's editorial position seemed to squeeze all the playfulness out of his work. I don't know that he ever poked fun at Mayor Susan Savage.
When he wound up at UTW shortly after I began writing for them, I thought he might loosen up, but it never happened. Only rarely did his work elicit even a chuckle.
For whatever reason, at some point, he stopped doing what made him successful in the first place and started phoning it in. To some extent there was clearly some phoning-it-in happening in his '70s heyday, but you might write that off to the pressure of five original cartoons a week. Did he stop paying attention to the news? Did he fail to set aside enough time to create something new and fresh? What was he doing instead?
It's sad to see talent left to atrophy. Tulsa could use the kind of editorial cartoonist that Dave Simpson was in the '70s.