Whirled threatens BatesLine
NOTE to those of you who normally skip the Tulsa stuff here: Please read this entry. This is not just about the sordid little world of Tulsa politics. This is the old media trying to intimidate their critics in the new media into silence. It has repercussions for any blogger engaged in media criticism. It strikes at the heart of what blogs do. I'd appreciate your help in putting the blogosphere's spotlight of shame on this legal threat.
Tulsa City Councilor Chris Medlock wasn't the only one to get a special valentine from our friends at the Tulsa Whirled. The Vice-President [sic] of the Tulsa World has threatened legal action against me for "reproduc[ing] (in whole or in part) articles and/or editorials" and for "inappropriately link[ing my] website to Tulsa World content." ("World" is the legal name, although here at BatesLine we call it the Whirled, in the spirit of Private Eye's renaming of the Guardian as the Grauniad.)
Here's the actual letter (click to enlarge):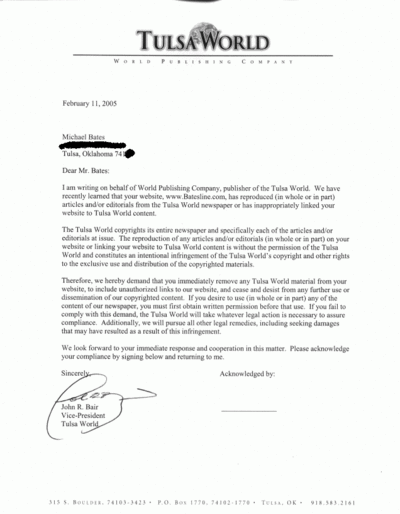 Here's the text of the letter:
Dear Mr. Bates:

I am writing on behalf of World Publishing Company, publisher of the Tulsa World. We have recently learned that your website, www.Batesline.com, has reproduced (in whole or in part) articles and/or editorials from the Tulsa World newspaper or has inappropriately linked your website to Tulsa World content.

The Tulsa World copyrights its entire newspaper and specifically each of the articles and/or editorials at issue. The reproduction of any articles and/or editorials (in whole or in part) on your website or linking your website to Tulsa World content is without the permission of the Tulsa World and constitutes an intentional infringement of the Tulsa World's copyright and other rights to the exclusive use and distribution of the copyrighted materials.

Therefore, we hereby demand that you immediately remove any Tulsa World material from your website, to include unauthorizedlinks to our website, and cease and desist from any further use or dissemination of our copyrighted content. If you desire to use (in whole or in part) any of the content of our newspaper, you must first obtain written permission before that use. If you fail to comply with his demand, the Tulsa World will take whatever legal action is necessary to assure compliance, Additionally, we will pursue all other legal remedies, including seeking damages that may have resulted as a result of this infringement.

We look forward to your immediate response and cooperation in this matter. Please acknowledge your compliance by signing below and returning to me.

Sincerely,

(signed)
John R. Bair
Vice-President [sic]
Tulsa World

As I wrote regarding the same letter sent to Councilor Medlock, excerpting copyrighted material for the purpose of criticism is covered by the fair use exemption, and linking to content cannot be a copyright violation because nothing is actually copied. The threat is empty, an attempt at using intimidation to silence my criticism of their editorials and news coverage.
Why would a big ol' daily paper, with over 100,000 daily circulation, send a nastygram like this to someone who gets about 1,000 visits a day? And why now? Here's a little background, especially for you out-of-towners:
The Tulsa World has been the only daily newspaper in town since September 30, 1992, when its publisher refused to renew its half-century-old Joint Operating Agreement with the Tulsa Tribune then bought the Tribune and shut it down.
The World is more than just an observer of the local scene. It is an integral part of the tight social network that has run local politics for as long as anyone can remember. This network, which I have dubbed the Cockroach Caucus, has pursued its own selfish interests under the name of civic progress, with disastrous results for the ordinary citizens of Tulsa and its metropolitan area. The World, and the way it wields its influence in the community, bears a strong resemblance to the Dacron Republican-Democrat, the fictional subject of the National Lampoon Sunday Newspaper Parody.
The Cockroach Caucus is most recently infamous for convincing state and local elected officials to pour $47 million in public funds into Great Plains Airlines. This airline promised to provide non-stop jet service between Tulsa and the coasts, but in the end was not much more than the Mrs. Grace L. Ferguson Airline and Storm Door Co. It went bankrupt, leaving local taxpayers liable for millions in loan guarantees. Many leading lights of the Cockroach Caucus, including World Publishing Company, were investors in Great Plains Airlines.
The Cockroach Caucus has wasted tens of millions in public funds on failed economic development strategies, at a time when tens of thousands of Tulsa high-tech workers had lost their jobs, ignored the plight of small business, and has bent and sometimes broken the rules of the land use planning system to favor those with political and financial connections. The same small number of connected insiders circulates from one city authority, board, or commission to another, controlling city policy, but beyond the reach of the democratic process.
Many people in this city are fed up with the World and its allies. For the first time, in Tulsa's March 2004 municipal elections, Tulsa's voters elected a bipartisan majority of councilors who were not endorsed by the newspaper, five councilors committed to reforming city government so that it serves the interests of all Tulsans, not just a favored few. Alternative media outlets played a significant role in helping these reform councilors get their message out and win election -- principally, Talk Radio 1170 KFAQ; the Tulsa Beacon, a conservative weekly newspaper; and this blog. These same sources continue to subject the World's content to critical review on a daily basis. Now all three of us have received some sort of threatening letter from the World.
The empire is striking back. Leading a broader Cockroach Caucus effort, the World has engaged in a sustained campaign in its news pages and editorial pages against the reformers, painting them in the worst possible light. Two of the five-member Reform Alliance majority on the Council, Republicans Jim Mautino and Chris Medlock, have been targeted for recall from office by a shadowy group calling itself the Coalition for Responsible Government 2004. No criminal wrongdoing or negligence is alleged -- they are being targeted because they have voted the "wrong way". They have pursued reforms and investigations that the Cockroach Caucus seems to find threatening to its interests. (The Coalition for Responsible Government used copyrighted World photographs and articles in the Tulsa Tribunal, crypto-racist smear tabloids targeting Mautino and Medlock, but have apparently faced no similar threats from the World.)
The deadline for the submission of recall petitions is this week. I believe the World is hoping to silence alternative low-budget media voices as the recall campaign proper gets underway, so as to create a clear channel for the pro-recall campaign, which will continue to have the tacit support of the World alongside a massive paid-media campaign.
I am not concerned for myself. I believe I have respected the World's copyrights within the fair-use exemption. Let the World name the specific articles in which it alleges that I have exceeded fair use. I have violated no law by directing readers to the Tulsa World's own website to read the Tulsa World's own content as the World itself presents it. I am seeking legal advice for dealing with the matter.
The World deserves the scorn and ridicule of the blogosphere for using bullying tactics against its critics. Let's give it to 'em.
TRACKBACKS: Thanks to fellow bloggers who are showing their support. Click on the links to read all that they have to say on the matter.
Joe Carter of evangelical outpost asks "Did someone at the WPC lose their mind? ... It takes a special brand of idiot to bully a guy with a megaphone. But you have to be a world class moron to push someone around who has thousands of compatriots with megaphones."
Ace writes "the next phase in this battle [between new and old media] is nonstop legal harassment. They've had a monopoly for 50 years and they're not giving it up without a fight... or at least without calling in their lawyers."
Kevin of the Primary Main Objective knows the World and says they're worthy of contempt rather than pity.
Matt of Nerf-Coated World provides some guidelines for bloggers on fair use.
Scott Sala of Slant Point asks "Does the paper intend to only sell its news to those who like what it has to say? Will conversations on the street condeming the paper now be monitored, and those individuals barred from buying future copies?"
Dan Lovejoy calls the World a "fossilized fecolith of the dinomedia."
Charles G. Hill gets to the heart of the local political situation and the World's part in it:
If it weren't so pathetic, it would almost be tragic. There are many cities like Tulsa, where a favored few seek to maximize their profits at the expense of everyone else; what makes Tulsa different is the World, which evidently would rather be a conspirator than a crusader. The people of Tulsa are the poorer for it.
Top-ten blogger and columnist Michelle Malkin reacts to the World's attack: "Can you spell U-N-H-I-N-G-E-D?" And she hit my PayPal tip jar! Thanks!
Thanks to all of my "compatriots with megaphones." Watch this space as more bloggers pick up the story.
UPDATE 9:14 AM: Ironically, I didn't link to the Tulsa World's website anywhere in this entry. That was unintentional (subconsciously trying to protect myself?) but I've fixed it with a link up near the top. Wouldn't want anyone thinking I'm scared.
UPDATE: You'll find a quick intro about this site and me via this link.
UPDATE (12/28/2005): Here is the category archive of all entries related to the Tulsa World.
99 TrackBacks
Listed below are links to blogs that reference this entry: Whirled threatens BatesLine.
TrackBack URL for this entry: http://www.batesline.com/cgi-bin/mt/mt-tb.cgi/1138