Are we really about to elect a far-left president?
It just hit me tonight.
If the Democratic nominee were Nancy Pelosi, Barbara Boxer, Barney Frank, Ted Kennedy, Chuck Schumer, Charles Rangel, or any other left-wing congressman from a left-leaning part of the country, he or she wouldn't stand a chance, not even in a bad year for Republicans. These politicians have never had to moderate their views to win election, the way their brethren in the rural south or west have. However freaky-left they want to be, their constituencies are just as far out there.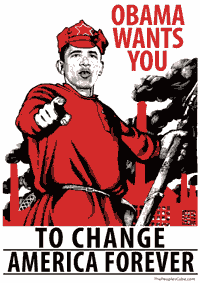 Barack Obama is cut from the same cloth. All of his close friends and mentors have been far-left radicals. He won a state senate seat in a heavily Democratic area (eliminating his opponents from the ballot), then swept to a U. S. Senate victory after his primary and general election opponents were driven out of the race by embarrassing and appalling revelations about their private lives. Obama has never before had to compete for the votes of moderate to conservative voters.
Obama is farther left than George McGovern, Michael Dukakis, Walter Mondale, John Kerry, and Al Gore, all of whom were too far left for a majority of the national electorate.
So why is Obama succeeding where Pelosi et al. would have failed? Let's assume that the media would have been just as in the tank for another Democratic nominee. Where's the difference?
(1) No paper trail. His lack of legislative accomplishments works to his advantage here, as any substantive legislative achievement would almost certainly have been abhorrent in the eyes of middle America.
(2) His cool demeanor and professorial tone of voice doesn't set off alarm bells the way the shrill and strident tones of a typical left-wing moonbat does. The ideas are the same, but the delivery is smoother.
The poster above, and the skinny piggy bank poster below are from The People's Cube, a website that had its origins in the Communists for Kerry movement of 2004, a satirical look at the similarities between left-wing American policies and those of the former Soviet Union.