Nominate your Tulsa A to Z for a chance to win a DVD
UPDATE: I counted 14 discrete suggestions. The number 11 was selected from a range of 1 to 14 by the random number generator at RANDOM.ORG. And the winner is... Adam, who nominated "C is for the Center of the Universe." Thanks to all for the excellent ideas, which induced a powerful combination of nostalgia and appetite.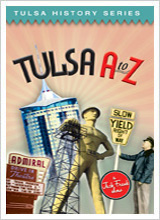 A week ago I told you about Jack Frank's latest DVD, Tulsa A to Z, a collection of 26 fascinating pieces of Tulsa lore from the Admiral Twin drive-in to John Zink and his race cars.
I finally had the chance to watch the entire thing, including the wonderful extras -- material that didn't fit in the main presentation but was worth including in some way. If you've missed those QuikTrip commercials from the late '70s with Ben Jones and Lamar the sheepdog, you'll find them here, along with a couple of even older Quik-Trip commercials celebrating the Koolie. There's also some sad but sweet home movie footage of a visit by Muhammad Ali and Joe Frazier to Nelson's Buffeteria in 1993.
Jack has generously provided BatesLine with a copy of Tulsa A to Z for a contest giveaway. So here's the deal: To enter the contest, post a comment on this entry with your nomination for a future edition of Tulsa A to Z. For example, "Y is for Yahola, the big lake at Mohawk Park." Or, "Z is for Mr. Zing and Tuffy."
Now, it's going to be impossible for me to pick the best idea from what I'm sure will be a wealth of great suggestions, so I'm going to pick a random entry of those submitted before the deadline of 11:59:59 p.m. CST, Monday, December 7, 2009. Multiple entries are OK, but don't go overboard. (Too many comments from one IP address, and you're likely to get auto-flagged as spam.) Profanity or vulgarity will get your entry excluded and your IP banned. Please keep it positive, in the realm of something Jack might actually use on a future show. I reserve the right to exclude an entry if (in my opinion) it doesn't include a suggestion that meets these criteria. The decision of the judge (me) is final.
All submissions (and ideas contained therein) become my property, and I hereby grant Jack Frank and Tulsa Films license to use the submitted ideas in future productions. In order to win, you must include a valid e-mail address with your comment so I can contact you if you win, and you must be willing to provide a valid mailing address so I can send you the prize. (Please don't post your mailing address with your entry. I'll get it from you later if you're the winner.) Your submission constitutes your agreement to the rules of this contest.
MORE: Ida Red, Brookside's rock'n'roll boutique, will be screening Tulsa A to Z at an open house this Thursday evening, December 10, 2009, 5:30 - 8:30 pm, celebrating their new location at 3336 S. Peoria Ave. (just a few doors down from the old place).
Come check out our new location, our new items while shopping with a glass of wine and some holiday treats!

Jack Frank will be with us to talk about and sign his new DVD! Talk about an amazing Holiday Gift! We will be viewing his DVD BIG on our projector!

We will also have the music of the Red Dirt Rangers!

The party will last from 5:30-8:30! Don't want to miss this great combination of fun!