Dan Boren pulls off the mask...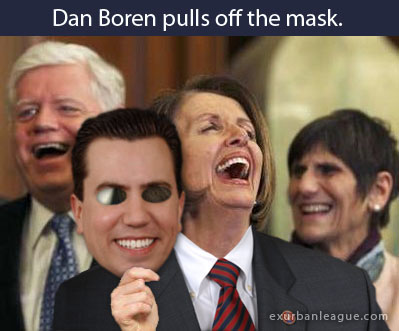 (Photoshop kindly provided by ExurbanJon of Exurban League, who had created similar images for Arizona's so-called Blue Dog Democrats, who are, in reality, "Pelosi's Poodles.")
The most important vote a congressman casts is the vote for Speaker. That vote determines who will control committee chairmanships, who will control the staff who write legislation, who will control the legislation that reaches the floor. Whatever marginal good Dan Boren has done with votes on individual bills, he has undone a hundred times over by his votes in 2007 and 2009 to make Nancy Pelosi Speaker of the House and to keep her roster of radical leftists in charge of congressional committees. (UPDATE: Boren also voted for Pelosi in 2005.)
Boren says he's for gun rights and claims to be pro-life, but his vote for speaker keeps gun-grabber, radical pro-abortion John Conyers in control of the Judiciary Committee. Dan Boren has voted to keep Barney Frank, who deserves a great share of the blame in the housing bubble and collapse, in charge of the Financial Services committee. Dan Boren says he's for energy independence and against cap and trade, but he votes to keep radical Henry Waxman, who supports cap-and-tax and opposes expanding energy exploration in the US, in control of energy and climate legislation.
Although Oklahoma's 2nd Congressional District has a long history as a Democrat Party stronghold, the overwhelming majority of its residents are conservative. Every county in the district voted for George W. Bush over John Kerry in 2004 and for John McCain over Barack Obama in 2008.
2nd District voters need to understand that Dan Boren is betraying their values by caucusing with the Democrats in Washington and voting to give left-wing leadership control of the House of Representatives.
There's a great alternative on the 2nd District ballot this year: Republican nominee Charles Thompson, a veterinarian and Army veteran from Hulbert. Not only does Thompson support 2nd Amendment rights, domestic energy exploration, and fiscal sanity, if elected he'll vote for congressional leadership that shares those views.
Thompson is not well-funded, and the pundits don't give him much of a chance to win. But if there was ever an election year when a grassroots candidate in tune with a district's values can beat the money and famous name of an out-of-step incumbent, it's this year. To make it happen, Charles Thompson needs your volunteer time and campaign contributions, so that District 2 voters will get the message that a vote for Dan Boren is a vote for San Fran Nan and her leftist pals to continue to control Congress.
2 TrackBacks
Listed below are links to blogs that reference this entry: Dan Boren pulls off the mask....
TrackBack URL for this entry: http://www.batesline.com/cgi-bin/mt/mt-tb.cgi/5795
In the previous entry, I mentioned that there are congressional districts that could be competitive for conservative Republicans, districts which have voted for Republicans in the past, where the GOP challenger is a credible community leader. But they ... Read More
I originally had this challenge buried in the bottom of this article, but I want to be sure you see it: Are any of you volunteering your time for a candidate between now and Tuesday? You can join me in Muskogee on Saturday campaigning for Charles Thom... Read More