John Eagleton for District Judge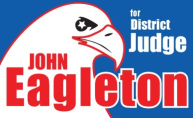 This will come as no surprise to anyone: I endorse John M. Eagleton for District Judge, in the election for Judicial District 14, Office No. 9. John Eagleton has the character, temperament, experience, and commitment to the law to serve us well as a District Judge.
Am I biased? John is a good friend of mine, but if he's elected I gain nothing personally, and I would lose the services of my attorney and an ally on the City Council. But I would benefit along with all the citizens of Pawnee and Tulsa Counties (Judicial District 14) to have John Eagleton on the bench.
John and I have known each other since the 2002 city elections, his first run for City Council and my second. He's done legal work for me, and I've done computer work for him. I've helped out with several of his legendary barbecues. I've had the opportunity to see his response to both happy and trying circumstances. John Eagleton is loyal, generous, principled, good-humored, insightful, and hard-working: Those are the character qualities that stand out in my mind.
Eagleton's extensive courtroom experience sets him apart from many attorneys who have sought a judgeship. For the last twenty years, he has handled hundreds of cases, specializing in criminal defense, family law, and general civil litigation, trying cases not only in the Tulsa County Courthouse, but across northeastern Oklahoma. Before hanging out his own shingle, Eagleton served three years as an Assistant District Attorney, giving him experience as a prosecutor to add to his many years as a defense attorney.
Eagleton's work as a City Councilor is well-known. He has served as City Council chairman, vice chairman, and over numerous council committee meetings, maintaining order in often contentious and emotionally charged circumstances.
Eagleton is arguably the most fiscally conservative member of the council, often standing alone for fiscal restraint. Back in 2006 when the city coffers were flush and no one gave a thought to the financial difficulties that were just around a corner, Eagleton proposed limiting spending growth to the growth in population and inflation.
Eagleton opposed plans like the City Hall move, which has proven to be more expensive and financially risky than its supporters promised, and the stadium assessment, a tax on downtown property owners that may yet be overturned by the courts. He was one of only three Tulsa city councilors to oppose the Tulsa County river sales tax, a stand that took courage given the tax's influential supporters and the massive amount of campaign money backing the proposal.
After years of persistent advocacy, Eagleton succeeded in bringing about the implementation of an electronic ticketing system, designed to help our police officers make better use of their time when issuing a citation. The system reduces errors in the traffic citation process, and it gets officers back on the street patrolling as quickly as possible, helping to prevent the property damage and injuries caused by reckless and unlawful driving.
In 2007, Stephen Williamson, CEO of EMSA, Tulsa's ambulance service commended Eagleton: "EMSA's statistics suggest that your work [Eagleton's 2006 proposal to boost traffic enforcement] has led to a significant reduction in the number of crash-related injuries suffered by Tulsans. Quite possibly, your efforts have saved lives."
In the interest of fair treatment for all business owners who seek city contracts and better value for Tulsa taxpayers, Eagleton pushed for funding for the City of Tulsa Disparity Study. No one is well-served if a qualified contractor is barred in some way from competing to do work for the city.
I have not always agreed with John's actions as a councilor, but when we have disagreed, I have always felt sure that his decisions were grounded in principle, not political expediency or personal advantage.
John Eagleton is also a social conservative, solidly pro-life. A committed Christian, Eagleton and his family attend First Presbyterian Church. He is a graduate of the O. W. Coburn School of Law at Oral Roberts University. He became an Eagle Scout in 1972, and he continues to be active in Boy Scouts of America Troop One. He is also an active member of the Tulsa Downtown Kiwanis Club.
Eagleton has been married for nearly 18 years to Alison Eagleton, a captain in the U. S. Navy Reserve and a Nurse Corps officer. Capt. Eagleton was mobilized for participation in Operations Noble Eagle, Enduring Freedom, and Iraqi Freedom in response to the September 11 attacks on the World Trade Center and the Pentagon. In 2009, she was appointed by the Navy Surgeon General to be the reserve perioperative nursing speciality leader. The Councilor and the Captain have two sons, Alex and Mark, who attend Tulsa Public Schools.
In addition to Alison's service in the Navy Reserve, the family supports the military through John Eagleton donation of his time -- more than $20,000 worth of free legal services -- to American sailors and marines being deployed in the Global War on Terror.
Prior to beginning his race for judge, Eagleton was active in local Republican politics, attending county, state, and district conventions, donating his time and money to smoke barbecue for Republican fundraisers, and filing five times as a Republican for City Council. His opponent, a registered independent, is married to a former Democratic county party chairman and two-time Democratic candidate for public office.
Some readers have objected to my mention of the political affiliation of judicial candidates, protesting that the office is non-partisan. Certainly the administration of justice should not be distorted by associational loyalties, whether political, familial, civic, religious, or social.
But there is an ideological battle in this country over the interpretation and application of the law. The conservative approach takes the law at face value, takes the language of constitution and statute as it would have been understood by those who approved it. A conservative judge respects the acts of the legislature -- even when he disagrees with them -- and does not exceed his bounds by legislating from the bench. The only reason to overturn a legislative act is when it contradicts the higher law of our Federal and state constitutions.
There is also a radical approach to law, judicial activism, in which a judge may take it upon herself to set aside the clear meaning of the law and constitution and the intent of those who ratified it if the judge believes the law fails to serve the cause of social progress (as understood by the judge).
Over the last three decades or so, supporters of the radical approach have tended to sort themselves into the Democratic Party, while supporters of the conservative approach have tended to sort themselves into the Republican Party. So it's reasonable to treat party affiliation as a strong indicator of someone's judicial philosophy, in the absence of evidence to the contrary. (Call it a rebuttable presumption.)
Do you want more strict constructionists like Samuel Alito, Clarence Thomas, and Antonin Scalia on the U. S. Supreme Court? Do you want Federal and state appellate judges who believe in judicial restraint? Are you sick of high court judges who think of themselves as philosopher-kings anointed to propel society in a "progressive" direction over the noisy objections of the majority conservative rabble?
De-radicalizing the judiciary begins at the district court level, even though district judges rarely deal directly with the constitutionality of legislation. District judges are the pool from which state appellate judges and Supreme Court justices are chosen, the pool from which Federal judges are appointed. Deprive a radical of a seat at the county courthouse, and you've cut off her ability to advance to higher courts where there is greater scope for judicial activism. Elect a strict constructionist as district judge, and you've increased the "bench strength" of conservative jurisprudence in America.
John Eagleton's conservative, strict constructionist inclinations are clear. On his website, there is a quote from The Law by Frederic Bastiat: "It is impossible to introduce into society a greater change and a greater evil than this: the conversion of law into an instrument of plunder." His belief in individual liberty and limited government has been evident throughout his years of service as a Republican elected official and his advocacy of fiscal restraint at City Hall.
Eagleton's opponent, Linda Morrissey, is the incumbent in this election. Although Morrissey herself is registered to vote as an independent, her husband, John Nicks, is a former Tulsa County Democratic Party chairman and was a Democratic candidate for Oklahoma Attorney General in 1994 and Tulsa County Commission in 2002. The two younger voters listed at that address, her sons, are also registered Democrats.
In 1992, Morrissey and her husband were listed, along with another judge on this year's ballot, Kurt Glassco, by the political director of the Oklahoma Democratic Party, as expected guests at Bill Clinton's 1993 inaugural gala, an honor typically given to the most fervent supporters of the man who would later become famous for "It depends on what the meaning of the word 'is' is." Her choice not to share the surname of her husband and children may also be regarded as an ideological marker that sets her apart from the traditional views of most of her constituents.
But beyond Morrissey's political and philosophical outlook, a number of Tulsa County residents simply don't consider her a fair or competent judge. Members of courthouseforum.com gave Morrissey an aggregate grade of C, and she has received more votes than any all but one other Tulsa County judge for "Worst Judge of 2010." (CORRECTION: Morrissey is actually in second place in the race for worst.)
Morrissey's rulings have been the subject of a number of significant reversals on appeal, most recently in June 2010; the Court of Civil Appeals ruled that Morrissey's award of $10,000 in attorney fees was not authorized by state law.
At a time when Americans are expecting greater government transparency, Morrissey seems to be moving in the other direction. Earlier this year, Morrissey ordered docket information on two cases -- one involving medical negligence, one involving condemnation -- removed from the Oklahoma State Courts Network website, a move that may well serve as precedent for other judges to block the basic details of cases from public view.
There are more stories to be told, more reversed cases to be reviewed over the next four weeks.
I believe that Linda Morrissey should be turned out of office by Tulsa and Pawnee County voters. I believe that John Eagleton would make an excellent district judge, and I urge you to give him your support and your vote on November 2.
MORE: I've just created a Facebook page for John Eagleton for District Judge -- show your support by clicking that Like button (see above). If you want to show your support in a more traditional way, John Eagleton yard signs are now available.
2 TrackBacks
Listed below are links to blogs that reference this entry: John Eagleton for District Judge.
TrackBack URL for this entry: http://www.batesline.com/cgi-bin/mt/mt-tb.cgi/5793
In the previous entry, I mentioned that there are congressional districts that could be competitive for conservative Republicans, districts which have voted for Republicans in the past, where the GOP challenger is a credible community leader. But they ... Read More
Early voting for the Oklahoma 2010 general election began today, Friday, October 29, 2010, at your county election board headquarters. The Tulsa County Election Board is at 555 N. Denver Ave., just north of downtown Tulsa. Here are the dates and times ... Read More