Phil Lakin and G. T. Bynum: The (as yet) unchallenged
At the end of day one of filing for the 2011 Tulsa city elections, two districts had a single candidate with no announced opponent preparing to enter the race.
Phil Lakin is the sole candidate so far in far south Tulsa's District 8. Lakin, CEO of Tulsa Community Foundation and a trustee of the George Kaiser Family Foundation, ran a close second to incumbent Bill Christiansen in the 2009 Republican primary; Christiansen is not running for re-election. His pre-election ethics filing that year showed that Lakin received 71% of his funds from out-of-district donors, primarily (41%) from District 9.
I had plenty of differences with Christiansen, but he grew to be a solid advocate for homeowner concerns in planning and development over these last few years, and I was happy to see him re-elected in 2009. There are some strong homeowners' associations in District 8; a neighborhood association president or South Tulsa Citizens Coalition leader willing to knock doors could beat Lakin, despite Lakin's likely massive financial advantage. Voters may well feel that the massive resources of TCF and GKFF give Lakin enough of a seat at the city's policy-making table. Given a choice on the ballot, south Tulsans may reasonably prefer to entrust their seat at the table to a neighborhood leader focused on the basic quality of life issues that concern them.
In District 9, G. T. Bynum is so far unopposed for reelection to his third term. Bynum has not yet had to run hard in his political career, but that may -- and should -- change.
I like G. T., and he's always been accessible to respond to questions. I appreciate his leadership on the city's "rainy day" (economic stabilization reserve) fund and the proposal to require city lawsuit settlements above a certain value to come to the City Council for approval. He loves public policy and respects the City Council's institutional role in city government. But I've got concerns.
Bynum's defection from conservatism on a key cultural issue, equating sexual orientation to race and ethnic origin in city HR policies -- a capitulation to the cultural imperialism of the Left -- ought to draw a primary challenge from a social conservative. Bynum's support for the County River Tax increase and the inequitable downtown ballpark assessment undercuts his claim to libertarianism as well. Bynum's backing for the Economic Stabilization Reserve (Rainy Day) Fund deserves praise, but it's puzzling that Bynum never backed Councilor John Eagleton's efforts to hold departmental budget increases to the rate of inflation.
But perhaps the biggest problem with Bynum as a councilor is his day job as a lobbyist. Bynum founded a Federal lobbying firm, G. T. Bynum Consulting, in 2009, with Williams & Williams, his former employer, as his first client. Sometime this year, Bynum's business name on disclosure forms changed to Capitol Ventures Government Relations LLC, a name registered with the State of Oklahoma in 2009; Bynum's title is now listed on disclosures as managing partner.
In 2010, Bynum's single biggest client, according to U. S. Senate lobbying records, was the George Kaiser Family Foundation, which had Bynum and his partner Stuart McCalman lobbying Congress regarding female incarceration rates, the OSU Medical Center, trail rehabilitation, and Arkansas River low-water dam development. At least two of those items have direct public policy implications for Tulsa city government. (Bynum's lobbying relationship with GKFF came to an end last December.)
As I wrote last year:
To clarify my concern about Bynum representing GKFF as a lobbyist and serving on the City Council: GKFF is actively engaged in civic and governmental issues here in Tulsa, as are closely related individuals and entities. George Kaiser is a significant political donor in local elections, as is the BOK Financial Political Action Committee. Kaiser and GKFF were heavily involved in the 2007 Tulsa County sales tax increase for river improvements and in the downtown Drillers stadium deal, to name two recent examples of their engagement in local political issues. I cannot think of another example of an elected official at one level of government simultaneously serving as a lobbyist at another level of government. It would be a different matter if Bynum limited his lobbying practice to organizations and businesses that had no interest in City Hall affairs.
Bynum now lobbies on behalf of Family and Children's Services, a Tulsa non-profit, regarding female incarceration rates, one of the issues that Bynum worked on for GKFF. Family and Children's Services are 2009-2010 and 2010-2011 recipients of Emergency Shelter Grant funds, a federal block grant that the City Council allocates.
None of this is to condemn Bynum's clients or his work on their behalf, but there is the potential for a conflict of interest when a city councilor serves as a federal or state lobbyist for clients who have a substantial involvement in local public policy. The question is unavoidable -- just what do your clients think they're buying?
Potential opponents may be deterred by Lakin and Bynum's access to funds, but you can beat money with sweat in a city council race. In 2009, despite the mayor's race on the ballot and a very competitive council race, only about 5,000 were cast in the District 8 primary. Other GOP primaries that year drew less than 2,400 votes each. Turnout is likely to be lower with no mayor's race this year. For less than $2 per household, you can make contact by mail with every likely voter in your district; $10 a household buys you a barrage of postcards, push cards, and yard signs; spend more than that and you're throwing money away.
While District 9 has historically contained the core of Tulsa's "Money Belt," several Money Belt precincts were moved into District 4, and District 9 gained six precincts to the south and east from District 7, including the home precinct of District 7 incumbent John Eagleton. This area could provide a base of support from which a primary challenge could be launched.
Residents of the districts and the city as a whole would benefit from vigorous, competitive campaigns in District 8 and District 9.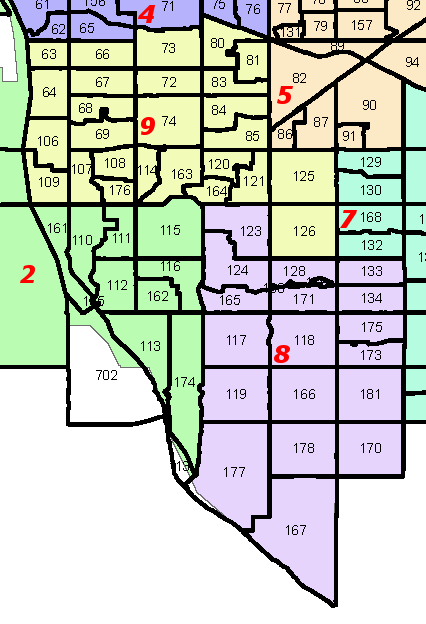 UPDATE: Small businessman Mike Batman, a Democrat, filed on Tuesday for the District 9 seat. Batman is the owner of Batman's Good Food and Convenience Store at Pine and Mingo and Batman's Auto Sales east of Yale on 11th St. No other candidates filed for District 8 on Tuesday.