Ewing re-elected; Henderson, Mansur face November challengers; county incumbents file
Filing for November's Tulsa City Council elections ended at 5 Wednesday. Tulsa District 4 City Councilor Blake Ewing (a Republican) has been re-elected, having failed to draw an opponent. Long-time District 1 Democrat incumbent Jack Henderson is being challenged by fellow Democrat Twan T. Jones, while Republican District 7 freshman Tom Mansur faces a challenge from 25 year old Republican Arianna Rachelle Moore. Because only two candidates filed in Districts 1 and 7, those contests will appear on the November general election ballot.
Meanwhile, three Tulsa County incumbents -- Republican Sheriff Stanley Glanz, Democrat District 2 County Commissioner Karen Keith, Republican County Court Clerk Sally Howe Smith -- have filed for re-election, while deputy County Clerk Pat Key, a Republican, has filed to replace her longtime boss, incumbent Earlene Wilson. No opponents have yet to file.
It's time for a regime change at the County Clerk's office; it remains to be seen whether Key will offer the voters a significant change of direction from Wilson's policies, but we won't find out without a competitive election.
We need a Tulsa County Clerk who believes in the value of online access to public records. Because of Wilson's footdragging and unwillingness to work with fellow officials, we have a "stovepiped" county clerk database that doesn't mesh well with the assessor's and treasurer's databases, and doesn't seem to be accessible through the clerk's website. For many years, Wilson resisted even the current, minimal amount of online information, supporting instead a system that required a monthly fee and the county commission's permission for access. Meanwhile, Oklahoma County has had an integrated system, cross-linking assessor, treasurer, and clerk records, since 2004.
We also need a change in County Commission District 2 We need someone on the Commission who will shutdown efforts to raise or renew expiring special county sales taxes. We need a District 2 commissioner who will put someone sympathetic to homeowner's concerns back on the TMAPC, rather than trying to get rid of a neighborhood-friendly planning commissioner, as Keith did.
For both County Clerk and Commission District 2, we need officials who will work alongside County Assessor Ken Yazel in his often-lonely battle to increase accountability and scrutiny for county government spending. Notwithstanding publicized awards, There's still a problem with transparency at the County Courthouse.
One problem area is the Tulsa County Industrial Authority. While many county contracts are now online, you will look in vain for the TCIA's contracts with bond attorneys, bond advisers, and bond brokers. You won't be able to find out to whom the TCIA is lending money. Google turned up some TCIA audit documents, but these too are short on specifics, long on generalities.
Also not on the county website (as far as I can find): The county fair board's contract with Murphy Brothers for the Tulsa State Fair midway and the Big Splash contract.
County Commission District 2 includes Sand Springs, Berryhill, Jenks, west Tulsa, downtown Tulsa, and parts of midtown, east, and north Tulsa: Everything southwest of the river and north of 121st Street; everything north of the river and west of downtown; 31st to 81st, Riverside to Lewis; I-244 to Pine, Utica to US 169; I-244 to 31st, the River to US-169 & I-44. (Click here for a map of the new Tulsa County Commission boundaries, or click the image below to blow up the District 2 map.)
The voters deserve some competition. Will you run? Do you know someone who would?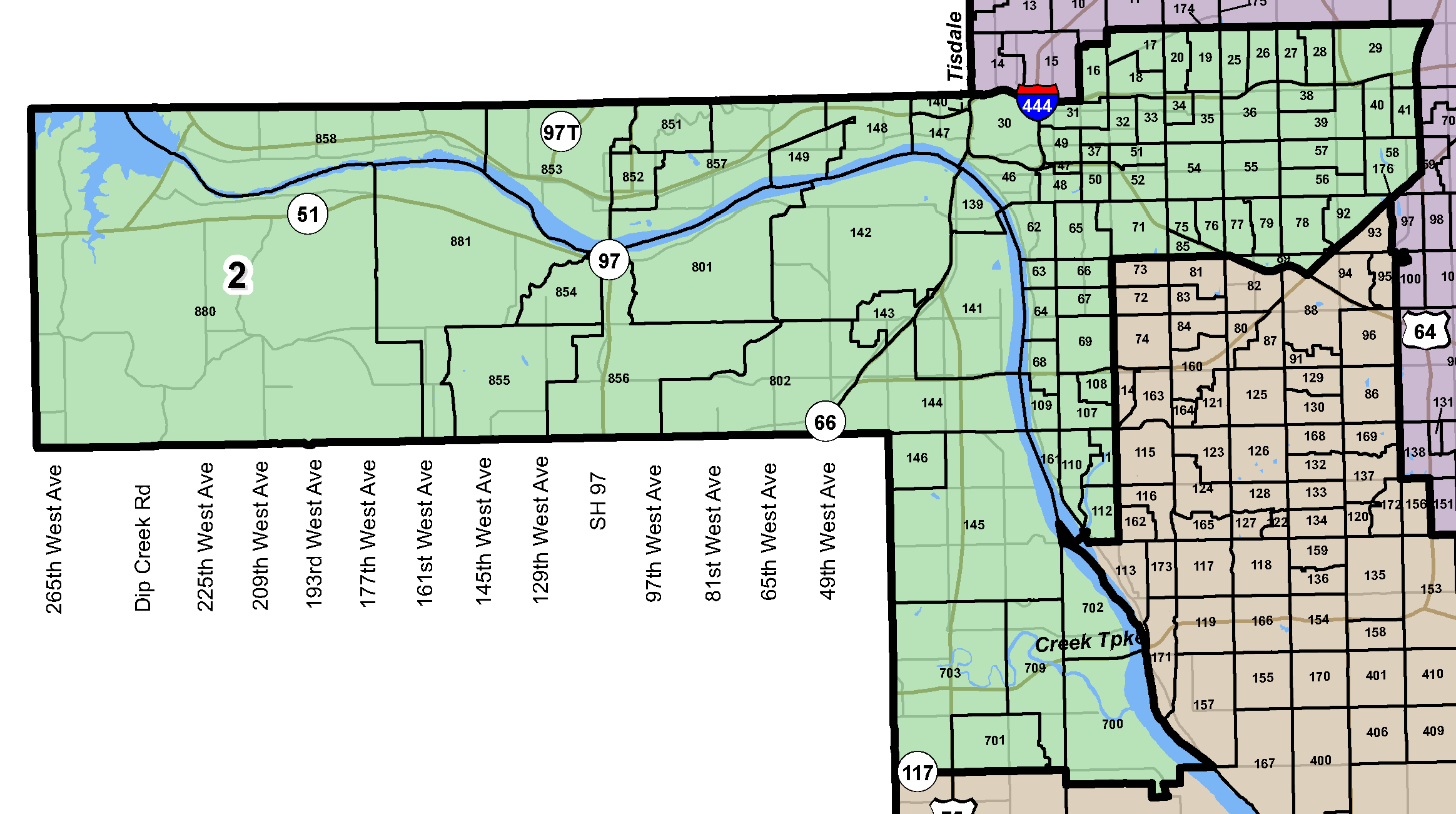 1 TrackBacks
Another race that will be decided in the August 28, 2012, runoff election is the race for Tulsa County Clerk. No Democrats filed for the open seat, and none of the three candidates received a majority in the June primary, so the runoff between the top ... Read More