Runoff 2012: Dean Martin for Tulsa County Clerk
Another race that will be decided in the August 28, 2012, runoff election is the race for Tulsa County Clerk. No Democrats filed for the open seat, and none of the three candidates received a majority in the June primary, so the runoff between the top two finishers -- Pat Key and Dean Martin -- will decide who will take over this important county post.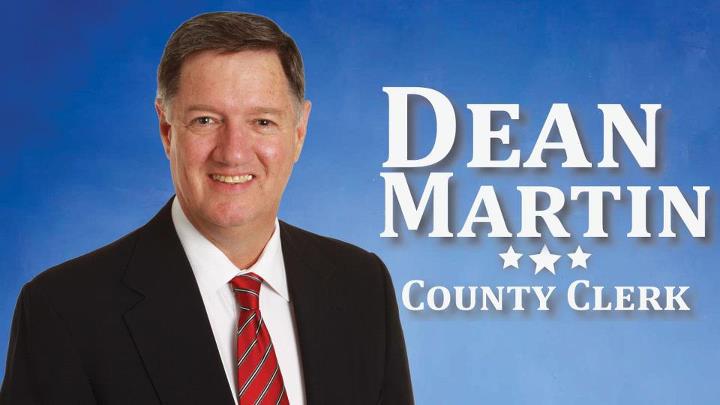 Although many people I respect are supporting Key, and although Key bought an ad on this site, I believe it is time for a change in leadership at the County Clerk's office, so I am endorsing Dean Martin for Tulsa County Clerk.
Key is the current chief deputy, running to succeed her boss, Earlene Wilson. Wilson was first elected in 2000 to succeed her boss, Joan Hastings. The County Clerk's job is keeping and providing access to public records, including deeds, contracts, agendas, and meeting minutes. As I wrote before the primary, the current County Clerk's office administration, in which Pat Key has been chief deputy, has dragged its feet in providing complete access to the public, and thus Tulsa County lags badly behind other jurisdictions:
The inconvenience of driving to the county courthouse to get complete information about property transactions is no accident, sadly. It's part of the philosophy of the incumbent, a philosophy I assume is shared by Key, the current deputy. The incumbent administration seems to see public access as a problem to be managed, not as an opportunity to serve the public interest. There's a stark difference between the openness and ease of access to be found on the Oklahoma County Clerk's website compared to what you find on the Tulsa County Clerk's website....

Long-time readers will know that I've long been frustrated by the Earlene Wilson/Pat Key administration's foot-dragging on public disclosure. (Here's a complaint from 2004, a response to a March 2009 Journal Record column by Ted Streuli titled "Tulsa County Clerk Earlene Wilson is picking your pocket," and a concern raised this year when Pat Key might not draw an opponent.) Pat Key was Wilson's deputy throughout Wilson's tenure as County Clerk and never raised a public objection, as far as I've found, to Wilson's access-thwarting policies.

Pat Key seems like a decent person and by all accounts a competent manager. It might be very wise for Dean Martin to keep her on as chief deputy if she were willing to stay. But competent management is not enough when an organization isn't moving in the right direction.
The County Clerk's office needs a new direction, a new guiding vision, a change from the leadership of the last twenty years, which seems stuck in the pre-World Wide Web era. I believe that Dean Martin can bring that kind of leadership to the County Clerk's office.
Dean Martin is a lifelong Tulsan, a graduate of Will Rogers High School and Oklahooma State University. Martin has over 30 years of business experience, including the recruitment, training, and management of personnel. He has been endorsed by County Assessor Ken Yazel, former State Senator Randy Brogdon, and former TU football coach and Tulsa County Republican Vice Chairman Dave Rader.
As Tulsa County Clerk, Dean Martin will also give taxpayers another strong advocate for their interests and public transparency on the Tulsa County Budget Board. The County Clerk is one of eight members of the budget board. Right now, only one member of that budget board believes that all county revenues and expendtitures, including those of authorities and trusts, should be included in the county budget. Dean Martin agrees with County Assessor Ken Yazel that the budget should cover all sources of revenue and all county expenditures. Pat Key's boss didn't support that idea in the budget board meeting this year, and Pat Key hasn't expressed any disagreement with her boss on that point.
I'm also pleased that Dean Martin has come out in opposition to the idiotic Vision2 proposal -- the tax, AA corporate welfare, and pork barrel package put forward by the County Commission for November's ballot. Many elected officials may think Vision2 is poorly thought out, but few will have the courage to speak out against it. Hundreds of thousands of dollars will back the vote yes side, much of it from people and companies who stand to make a pile of money if it passes. It's a big help for the opposition when elected officials are willing to speak out against an ill-considered tax, borrow, and spend plan like Vision2. Pat Key has not taken a public stand on the issue.
Dean Martin's vision for greater access and transparency has already encouraged some positive changes in the county clerk's office. The office used to close over lunch hour, and Dean Martin said that as clerk he would have workers stagger their lunch breaks so that the office could remain open. Since so much information is only available by going to the office in person, it's important to keep the office open when people with regular jobs have the opportunity to visit. Sometime recently, this policy was implemented.
Pat Key's campaign has made much Tulsa County's A+ rating from Sunshine Review. As someone who uses government websites to research what I write here, I've always been baffled by that A+, as so much of the information I seek has not been available online. The website's disclaimer page may explain the gap between perception and reality (emphasis added):
Sunshine Review is an online open-content collaborative encyclopedia, that is, a voluntary association of individuals and groups working to develop a common resource of human knowledge. The structure of the project allows anyone with an Internet connection to alter its content. Please be advised that nothing found here has necessarily been reviewed by people with the expertise required to provide you with complete, accurate or reliable information.

That is not to say that you will not find valuable and accurate information in Sunshine Review; much of the time you will. However, Sunshine Review cannot guarantee the validity of the information found here. The content of any given article may recently have been changed, vandalized or altered by someone whose opinion does not correspond with the state of knowledge in the relevant fields.

That means it's entirely possible for a Tulsa County employee to have rated the county's website and given it an A+.
As I look at the criteria by which county records are supposed to be graded, it seems to me the county deserves an "incomplete" in most categories. For example, I don't see a checkbook register or credit card receipts posted online, a requirement listed in the budget category. Minutes of past meetings are there for some boards and authorities, but not all.
Some contracts are posted, but many appear to be missing -- e.g. any contracts for the Tulsa County Industrial Authority (TCIA), the Tulsa County Public Facilities Authority (TCPFA, aka the Fair Board) contract for the Tulsa State Fair midway, the TCPFA lease agreement for Big Splash, the County Treasurer's contract with the office's outside legal counsel -- and others are missing appendices and attachments -- e.g. the Arabian Horse Show contract. Sunshine Review says that a vendor's campaign contributions should be posted with the contract, but I don't see any campaign contribution info on the website at all.
With incompletes in at least five of 10 categories, Tulsa County's website should have a C at best from Sunshine Review. While there have been some recent improvements -- making it easier to find minutes from the agendas, hotlinking agenda items to backup information, both at least partly as a result of my feedback -- it is not an A+ site, and it's a ridiculous boast to claim that it is. There is plenty of room for improvement, as you can see by comparison to the county website that the Sunshine Review criteria list points to as a paragon of transparency: Anderson Co., South Carolina.
It's time for an honest assessment of Tulsa County's efforts to gather, preserve, and make government information public, in an age when "public" means "online." We need an honest grade, not grade inflation, and a concrete plan for improvement. I see no reason to believe that someone from the current administration would depart from the current administration's foot dragging.
The Tulsa County Clerk's office needs new leadership devoted to convenient and complete public access to public information. Dean Martin has that aim as his vision, and that's why I'm voting for Dean Martin for Tulsa County Clerk.