Personhood: David Derby responds
Rep. David Derby (R-Owasso) sent me a response to my comments regarding his decision to withdraw his endorsement of his colleague, George Faught, in the race for the Republican nomination for Oklahoma's 2nd Congressional District, in connection with Faught's news release on the failure of SB 1433, the personhood bill, to get a hearing in the Oklahoma House of Representatives. As the response was a series of text messages, I've taken the liberty to expand abbreviations:
I pulled my support from Faught because his press release said he was disappointed with the Republican caucus. I'm part of the Republican caucus, and there is no way I will ever stand for being called pro-choice. I chaired the health committee that personhood came through. I kept the liberal amendments from being added. I voted yes on all the whip counts to hear the bill. So I was disappointed in Faught's press release by not calling out leadership. I will not be called pro-choice, nor will I stand for a press release that implies that I am pro-choice. I have an adopted son, and my wife and I personally have had issues that led us to adopt, and thus my pro-life stance. I hope and pray that this clears up the confusion.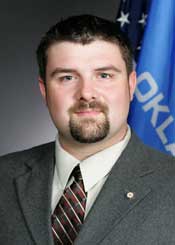 In response to my question about his absence when Rep. Mike Reynolds was trying to appeal the speaker's ruling and bring SB 1433 to a vote, Derby said that he had left the chamber for a short break while the previous bill was being heard and so was out of the chamber when Reynolds was trying unsuccessfully to get Speaker pro-tem Jeff Hickman (R-Dacoma) to recognize him. Derby pointed out that on the subsequent roll call vote to adjourn, he voted against adjournment, which would have kept the door open for another attempt to have the bill heard. (A vote in favor of adjournment killed the bill, by closing the door on voting on it during this session, as April 26 was the deadline for Deadline for Third Reading of bills and joint resolutions from the Senate. Voting nay, as Derby did, was the right vote from the pro-life perspective.)
Derby did indeed chair the Public Health Committee, and voted yes on the motion to move the bill forward with a "Do Pass" recommendation. The yeas were David Derby, Grau, Holland, Jadine Nollan, Mike Ritze, Roberts (S.), Schwartz. The nays were Ed Cannaday (D-Porum), Doug Cox (R-Grove, one of the most consistent Republican votes against pro-life bills), Jeannie McDaniel (D-Tulsa) one of the most consistent Democrat votes against pro-life bills), and Ron Peters (R-Tulsa, term-limited Republican who often votes to the left of the rest of the caucus).
0 TrackBacks
Listed below are links to blogs that reference this entry: Personhood: David Derby responds.
TrackBack URL for this entry: http://www.batesline.com/cgi-bin/mt/mt-tb.cgi/6438