Oklahoma general election 2012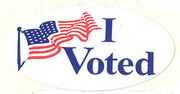 Happy Election Day! Polls open in Oklahoma at 7 a.m. and close at 7 p.m.
Tonight, I'll be on KJRH's election night coverage, part of a panel discussing state and local elections. While the main channel carries NBC's national coverage, KJRH's digital subchannel 2.2 (Cox Cable 222) will focus on state and local elections. It will also be streamed live over the internet.
You can find the your cheat sheet to the 2012 Oklahoma election here: BatesLine 2012 Ballot Card.
Statewide, Oklahoma will elect seven presidential electors, will vote on six state questions, and will vote on the retention of state supreme court justices and appeals court judges. The only statewide office up for election this year is Corporation Commission; Bob Anthony won his fifth six-year term in the Republican primary, and Patrice Douglas, appointed to fill the unexpired term of Jeff Cloud, did not draw an opponent for election to the remainder of the term.
All five congressional districts have a Republican, a Democrat, and at least one independent on the ballot.
Tulsa County races were all decided in the primary or runoff (or not at all in a couple of cases), so, as if to prove that idle hands are the devil's workshop, the County Commissioners decided to put a sales tax on the ballot four years before it goes into effect. The marketing name is Vision2, but on the ballot it's Tulsa county propositions 1 and 2, and you can read all about it here: http://www.batesline.com/vision2.
In the Tulsa area, there are contested State Senate races in District 11, where Democrat State Rep. Jabar Shumate faces Republican Dave Bell and independent Curtis Mullins for an open seat, and District 39, where Republican Sen. Brian Crain is running for his final term, being challenged by Democrat and neighborhood leader Julie Hall.
The main event among the metro area State House races is the rematch in House District 71 between Republican schoolteacher Katie Henke and Democratic social service lobbyist Dan Arthrell. Henke was certified the winner in an April 3 special election, but the discovery of a couple of ballots for Arthrell in a ballot box led a judge to throw the election out and leave the seat vacant until the regular election.
There are also contested elections in Wagoner County's House District 12 (incumbent Democrat Wade Rousselot faces Republican challenger David Tackett), House District 23 (Republican Terry O'Donnell vs. Democrat Shawna Keller for an open seat), House District 66 (incumbent Republican Jadine Nollan vs. Democrat David Phillips), House District 72 (incumbent Democrat Seneca Scott vs. Republican Randall Reese), House District 76 (incumbent Republican David Brumbaugh vs. Democrat Glenda Puett), and House District 78 (incumbent Democrat Jeannie McDaniel vs. Republican Paul Catalano).
Almost lost in the shuffle are two city council races -- non-partisan and for two year terms under the charter amendments passed last year. District 1 incumbent Jack Henderson, a supporter of Vision2, is being challenged by Twan Jones, an opponent of Vision2. In District 7, incumbent Tom Mansur is on the ballot but has taken a job in Ardmore and will resign his seat if elected; his challenger is Arianna Moore. If Mansur wins and resigns as he intends, a special election would be called, as the next election for this seat, under the amendment passed last fall, will be in 2014.
Results should start rolling in soon after 7 p.m. The Oklahoma State Election Board website will update results as they are received from the county election boards. Although results are posted on each precinct door shortly after the polls close, a precinct's results have to be taken to the county election board to be read into the state election computer system.
After some significant difficulties with the outside company that provided election night results earlier this year, the Oklahoma State Election Board has developed its own in-house capability; the templates are already online. Data nuts will be able to download results by precinct for the entire state in one download -- a huge improvement over the previous system.
A few resources as you go to vote:
If you run into any difficulty voting or spot any irregularity, contact the your county election board. The phone number for the Tulsa County Election Board is 918-596-5780.
Posted 12:11 a.m. Tuesday, November 6, 2012. Postdated to remain at the top of the blog through poll closing time.
0 TrackBacks
Listed below are links to blogs that reference this entry: Oklahoma general election 2012.
TrackBack URL for this entry: http://www.batesline.com/cgi-bin/mt/mt-tb.cgi/6632