Dewey Bartlett Jr: Republican for Kathy Taylor
I'll be on 1170 KFAQ Wednesday morning at 7 with Pat Campbell to talk about mayoral candidate and former Tulsa mayor Kathy Taylor's record during her term from April 2006 to December 2009.*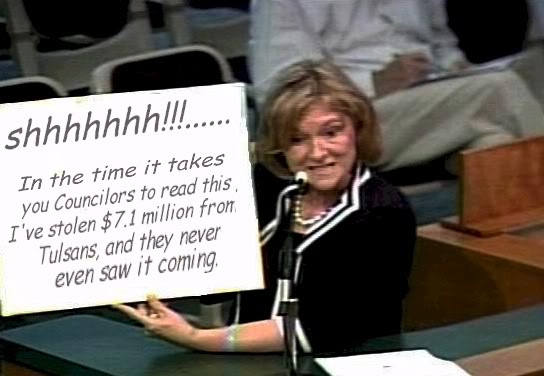 Taylor is claiming to have "cut wasteful spending," but in fact the general fund budget under her reign climbed from $215,413,000 (LaFortune's last budget, FY2005-2006) to $255,271,000 (FY2008-2009), an 18.5% increase in just three years, about twice the rate of inflation over the same period. Her final budget ($244,511,000 for FY 2009-2010) was only slightly lower in response to the worldwide fiscal crisis, despite Councilor Bill Martinson's warnings, only 4% below its high water mark; spending had to be cut more drastically after she left office.
I'm sure we'll be talking about Taylor's budget record and about her decision to join Mayor Michael "Nanny" Bloomberg's Mayors against Illegal Guns, a group that wanted the federal government to be able to keep records of lawful gun purchases, and her pledge for local implementation of the provisions of the Kyoto Treaty on global warming, among other low-lights of her term. Almost certainly we'll talk of how Taylor surrendered to a questionable lawsuit so as to force Tulsa taxpayers to pay $7.1 million owed by defunct Great Plains Airlines, a locally based carrier that claimed it would fly non-stop jets from Tulsa to the coasts but which never got farther than Albuquerque. The Oklahoma Supreme Court set aside the Tulsa-Great Plains judgment in 2011.
What we cannot forget, however, is that Dewey Bartlett Jr., the current mayor, was OK with Kathy Taylor's record. In 2009, when Taylor was running for re-election -- before she decided to bail out -- Dewey Bartlett Jr endorsed Kathy Taylor for re-election: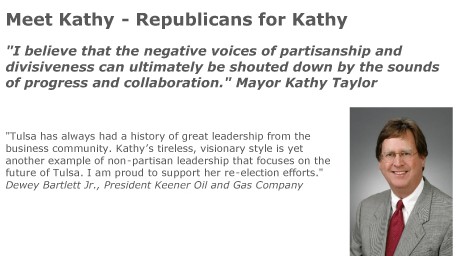 "Tulsa has always had a history of great leadership from the business community. Kathy's tireless, visionary style is yet another example of non-partisan leadership that focuses on the future of Tulsa. I am proud to support her re-election efforts." Dewey Bartlett Jr., President Keener Oil and Gas Company
Recently, Dewey Bartlett Jr was asked by KFAQ's Pat Campbell, whether he would endorse fellow Republican Bill Christiansen if he himself failed to make the runoff. Bartlett Jr's reply: "Absolutely, I think the Republican philosophy of conservatism... is the type of philosophy we need to run this city... we have to have that." And yet in 2009, Bartlett Jr supported re-electing a Democrat, specifically a big-spending, gun-grabbing believer in anthropogenic global-warming malarkey, without even waiting to see who her Republican opponent might be.
And not only did Dewey Bartlett Jr endorse the Kathy Taylor who improperly gave away $7.1 million in our taxes to Bank of Oklahoma, Dewey Bartlett Jr actually praised Taylor and BOK for this Great Plains Airlines raw deal, and then he voted for it, as a member of the Tulsa Airport Improvements Trust. (Click the link to watch the video.)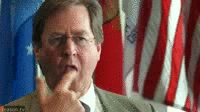 I don't know how to account for the cognitive dissonance between Bartlett Jr's 2009 endorsement of a big-spending, leftist Democrat running for re-election and his 2013 statement that we need the "Republican philosophy of conservatism" running Tulsa. I'd call him Dewey Gump, but I think it'd be an insult to Forrest Gump, who was a better judge of character and seemingly more aware of his surroundings.
MORE: Taylor for Tulsa has been running misleading Facebook ads to juice up the number of "likes" for Kathy Taylor's campaign page. The ads tell you to click "Like" if you like little baby ducks, old pick-up trucks, slow moving trains, and rain, among other things. A recent example -- a picture of the Tulsa skyline with the caption "Click 'Like' if you support a mayor committed to reducing crime in Tulsa." This is a misleading ad, and should be reported as such by clicking the X that appears when you hover your mouse over the ad, then click "Hide this ad," then click the circle next to "Misleading."
---
*The odd length of term was the result of the switch from mayoral elections in the spring of even numbered years to the fall of odd numbered years.
2 TrackBacks
Today, March 23, 2013, the Tulsa County Republican Party held its biennial convention at the Jenks High School Performing Arts Center. In the spring of each odd-numbered year, Oklahoma Republicans gather in precinct caucuses, where they elect precinct ... Read More
Dewey Bartlett Jr: Republican for Kathy Taylor - BatesLine Read More