Tulsa Election 2014: Last day of filing
Today is the final day of the filing period for the 2014 City of Tulsa elections. For the first time since 2011, all nine council seats are on the ballot at the same time, along with the City Auditor's seat.
You may find this news puzzling. Yes, there was a filing period last week. That was for state and county offices. No, I don't know why Tulsa had to be different. The language adopted by Tulsa (second Monday in April) will sometimes result in a filing period the same week as the state filing period (overlapping on Wednesday) and sometimes result in a filing period the following week.
This election marks the end of over five years of thrashing about with terms and election dates. In 2008, Tulsans voted to approve a charter change to move elections from the spring of even-numbered years to the fall of odd-numbered years. This was a wise move. It allowed campaigning candidates to take advantage of warmer weather and longer days, and put the elections at a normal time of year for voting, while maintaining separation from national and state elections, so that voters could focus on local issues.
A couple of years later, Tulsans voted to change the council terms of office to a three-year term, staggered so that no more than three seats would expire in any given year. 2011 was to be the last all-council election. Seats 1, 4, and 7 were up in 2012, seats 2, 5, and 8 in 2013, and seats 3, 6, and 9 in 2014. There were conflicts with state-authorized election dates in the even-numbered years.
In 2011, the same year that staggered terms were set to begin, Tulsans for Badder Government Same Old Tulsans Save Our Tulsa successfully pushed initiatives to move the council back to a two-year term and to move city elections to the even-numbered years, and to make council elections non-partisan. (Their at-large councilor proposition failed.) The three-year terms for the councilors elected in 2012 and 2013 and the city auditor elected in 2013 were truncated so that all seats would be up for election in 2014. The Mayor's office will next be on the ballot in 2016, along with the auditor and all nine councilors -- barring another charter change.
I opposed the Save Our Tulsa charter changes for a number of reasons, including the sense that non-partisan city elections sharing a lengthy federal and state ballot would be ignored by voters, volunteers, media, and candidates. The dearth of filers for this fall's election seems to bear out my predictions.
As of the end of the second day of filing, there are only three contested seats. It looks like three councilors who have shown a degree of independence from the city establishment are being targeted for defeat: Jack Henderson in District 1, Blake Ewing in District 4, and Arianna Moore in District 7.
Two of the challengers are the campaign managers from last year's mayoral race: Danny Patten, Dewey Bartlett Jr's campaign manager, is challenging Ewing, and Anna America, Kathy Taylor's campaign manager and a former Tulsa School Board member, is challenging Moore. It may well be that these two folks made independent decisions to run, but I suspect both will have substantial establishment backing.
The other six councilors and the new city auditor are as yet unchallenged, but all have filed for re-election. They are:
City Auditor Cathy Criswell: In 2013, she defeated incumbent Clift Richards.
District 2 Councilor Jeannie Cue
District 3 Councilor David Patrick
District 5 Councilor Karen Gilbert
District 6 Councilor Skip Steele
District 8 Councilor Phil Lakin
District 9 Councilor G. T. Bynum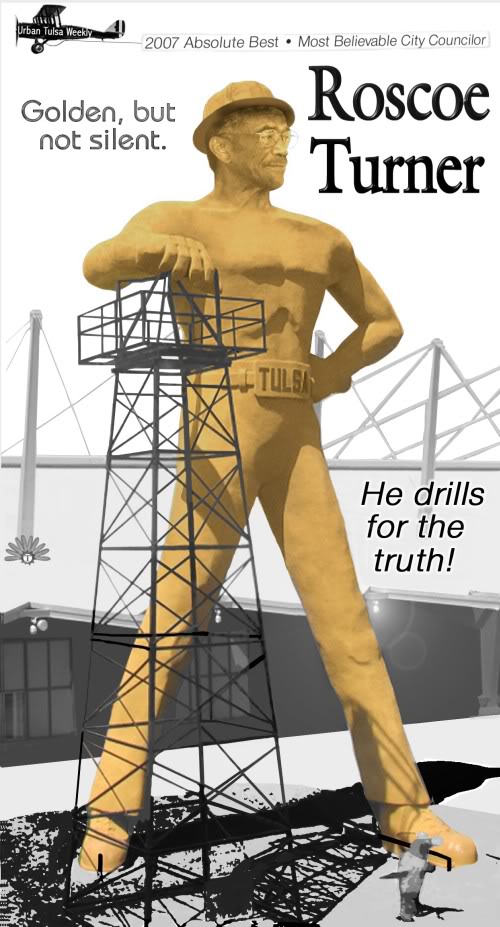 It would be a particular shame if David Patrick draws a bye in the first election following the death of former District 3 Councilor Roscoe Turner. Turner and Patrick faced each other in every election since 1996 (except the 1998 special, when Patrick's sister took his place), either in the Democratic primary or, when Patrick changed his registration to independent, in the general election.
District 3 includes most of the area north and east of I-244 and US 75, plus the area north of 11th Street between Sheridan Road and I-44.
We need a council full of Roscoe Turners (and a mayor of that caliber as well) if we want city boards and commissions to be responsive to the concerns of citizens in all of Tulsa. That process starts today, by making sure that each of our city elected officials are held accountable to the voters in a competitive election campaign.
KNOW BEFORE YOU GO: Filing for City of Tulsa offices is at the Tulsa County Election Board, 555 N. Denver Ave., in the former "Mission style" Safeway supermarket with the arched roof. You'll need a notarized declaration of candidacy and a $50 cashier's check.
Here is a current map of City of Tulsa council district and precinct boundaries.